Violinist Arturo Delmoni creates the ultimate audiophile experience.
Following the tragic events of September 11 last year,
Audio Asylum
and
Audiogon
co-sponsored a
charity auction
of audio equipment to benefit the NY Firefighters' Fund and other related charities. Manufacturers, dealers, magazine writers and editors, and audiophiles donated equipment, recordings, and memorabilia for sale, and as
reported on this website
, the auction ultimately raised almost $175,000 for 9/11-related charities.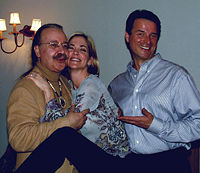 Among the items auctioned was Stereophile columnist and record company owner John Marks' unique offer of a personal concert and evening with the world-renowned violinist Arturo Delmoni, which went for no less than $1720. The winning bidders were Kassie and Jim DePaiva, stars of the ABC soap One Life to Live; the recital, attended by 25 or so audiophiles and friends and colleagues of the DePaivas, took place at their Manhattan apartment last Tuesday.
I was among those present, and my thanks to Jim and Kassie—shown in the photo with Arturo Delmoni politely holding Mrs. DePaiva's leg—for their hospitality and generosity.
It pleases me to report that in a program that ranged widely among different musical genres, Arturo turned in a blistering performance of the Bach Chaconne that literally had listeners holding their breath! Fine stuff, and the ultimate in high fidelity: to actually have a live musician playing in your living room.
And, of course, I am also happy to report that Jim's system—big Genesis speakers driven by Mark Levinson No.33H monoblocks, a Mark Levinson No.380S preamp, and a Sony SCD-777ES SACD player, also sounded fine. The Genesis speakers won Jim's heart over strong competition from Avantgarde horns, but those concerned that ex–bass player Jim is a solid-state kind of guy should note that his dressing room at One Life to Live features a system based on a Cary tube amplifier driving ProAc speakers. Singer Kassie, by the way, has a CD worth checking out—Naked (Nudgie 91022 17892)—which features a fine version of Jimmy Webb's "The Moon is a Harsh Mistress," as well as several songs of her own.