Ypsilon Electronics Hyperion monoblock power amplifier Page 2
The recording sounds simply miked, à la Decca's microphone "tree," with a strong, stable center image: the piano was locked firmly in place, despite the rich field of reverberation surrounding it, and presented the orchestra convincingly arrayed behind and to the sides of it. The Hyperions' presentation was intensely holographic, and harmonically generous and convincing without sounding overripe. The sensation of "hearing" the air in the recording space produced a strong feeling of being in the Mariinsky Theater during these performances.
Playing an original pressing of Fritz Reiner and the Chicago Symphony Orchestra's justifiably legendary 1954 stereo recording of Strauss's Also sprach Zarathustra (LP, RCA Living Stereo LSC-1806) produced many rewards: the opening low C on contrabassoon, double basses, and pipe organ, the lush strings, the well-focused solo trumpet pealing out the famous three ascending notes appearing in three-dimensional space, and all the other sonic wonders this recording provides, were more richly and fully drawn than I'd ever heard them, yet with the bite of the brass still fully intact. The sound was richly drawn yet light on its feet and absolutely explosive, the weight of the orchestra's low end reproduced fully and well controlled. And that was just side 1!
Side 2 was mind-bogglingly better than I'd ever heard it, all of the inner instrumental voices clearly revealed. Especially amazing was the return of the trumpet call, backed by delicate, barely audible woodwinds that were now clearly delineated—and, a few minutes later, the triangle, each stroke's attack, sustain, and decay convincingly reproduced with great deliberateness and delicacy. And string pizzicati were perfection.
We interrupt this review for a word about power cords . . .
As I listened to that LP of Reiner's Zarathustra, I realized that the piccolo, clarinets, oboes, bassoons, trumpets, and horns all sounded more recognizably "right" than I'd ever heard them. Each was individually well defined without pulling apart the sound of the entire orchestra, and within and among the various sections there was instrumental dimensionality and separation. Succumbing to temptation, I removed my reference power cords, AudioQuest's Dragons, and replaced them with a pair of stock molded-rubber cords. Though the Hyperions have the fairly rare 20A IEC AC jack, they are not supplied with cords.
I gave the Ypsilon amps some time to again warm up and listened again. Anyone who claims that power cords can't possibly make a difference in the sound is wrong. Especially at this level of sound quality, the wrong cord (and/or speaker cable) can ruin everything. In the past few months I've heard two great systems—one costly, one moderately priced—whose sounds were destroyed, tonally and spatially, by unbearably bright- and hard-sounding speaker cables.
The rubber power cords produced a glaring overall brightness that bleached the harmonic structures of instruments and flattened what had been three to little more than two dimensions. The nuanced orchestral balance the Hyperions produced with the AudioQuest Dragons was messed up, and the Ypsilons' convincing reproductions of attacks, sustains, and decays were smeared.
The best I could say for what I heard with the stock cords was that the opening trumpet call was big and gloriously bright, but incongruously so—it sounded as if it had been added in postproduction.
Under favorable conditions, the Ypsilon Hyperions could put on a spectacularly realistic, impressively well-balanced display of power, grip, depth, and delicacy, and do all of the right things for acoustic music, whether performed by full orchestra or small scale chamber ensemble. You need to hear what they can do with the new 45rpm edition of Duke Ellington's Masterpieces by Ellington (2 LPs, Columbia Masterworks ML 4418/Analogue Productions AAPJ 4418-45).
What about rock?
Some ripe-sounding amps can be wonderful with acoustic music but won't do rock. Once I'd been floored by the Hyperions' reproduction of recordings of acoustic music, I moved on to the Who and homed in on Who's Next, comparing an original UK Track pressing mastered by "Bilbo" (Denis Blackham) with Classic Records' 2005 reissue, mastered by Chris Bellman from the original master tape. In 2005, people complained about this reissue's price: $30. Today, a copy will cost you a few hundred.
The Classic toasts the Track original, as well as MCA's mid-1990s "Heavy Vinyl" edition I was involved with. While Keith Moon's drums in "Baba O'Riley" are disappointing in every edition, "Bargain" is stupendous in every way, especially on the Classic reissue. Through the Hyperions the kick drums on this track had believable texture, tonality, and especially drive, and John Entwistle's bass had great growl, extension, and definition. But what really stood out were the handclaps and, most particularly, the tambourine, which sounded as if it was being played by someone standing in the room. The wet reverb around Roger Daltrey's voice was presented with the same well-defined clarity, transparency, and balance of direct and "reflected" sound as was Trifonov's piano in the Tchaikovsky concerto. This rock album confirmed that one the Hyperion's greatest strengths was its midrange transparency. Its sound was remarkably transparent throughout, but especially from the lower to the upper midrange.
With its generous, powerful, well-controlled bottom end, its extraordinary midband transparency, its high-frequency delicacy and airiness, its ideal attacks, sustains, and decays at all frequencies, and its richly drawn harmonic palette and dynamic authority, the Ypsilon Hyperion amplifier did justice to every genre—from the string-driven subtleties of Willie Watson's Folk Singer, Vol.2 (LP, Acony 174LP), to Ogilala, the edgy new album by confessional solo rocker William Patrick Corgan (LP, Martha's Music 538321011), produced by Rick Rubin and mixed by Jan Erik Kongshaug, best known for his engineering and mixing for ECM —to, of course, the grand orchestral recordings cited, and many others.
Some amplifiers that sound as lush and beautiful as this one are simply not useful as reviewing tools. But I found the Hyperion as reliable in that regard as the most "analytical" amplifiers I've used, while giving me far more musical and sonic pleasure from both analog and digital sources.
Rolling tubes and preamps
I used three different input tubes in the Ypsilon Hyperions: two pairs of 6H30s and one pair of 5687s. Unlike with the Aelius amplifiers, in which different tubes produced profoundly different sounds, here the differences were more subtle. The stock Sovtek 6H30 Pi's sounded great, while a set of Balanced Audio Technology 6H30pDRs (NOS) notably improved the already impressive bottom end, widened and somewhat deepened the already finely drawn soundstage, and improved instrumental focus.
Both the darTZeel NHB-18S and the even more costly Ypsilon PST-100 Mk.II Silver Edition preamplifiers are impressively transparent and quiet. I was able to use the Ypsilon in passive mode, which made it essentially invisible. (When, in July 2011, John Atkinson measured the PST-100 Mk.II Silver in passive mode, it was flat from 10Hz to 200kHz!) Equally impressive was the transparency of the active darTZeel. Either would make a great mate for the Hyperions—though if I were buying, I'd opt for a preamp and monoblocks of the same brand.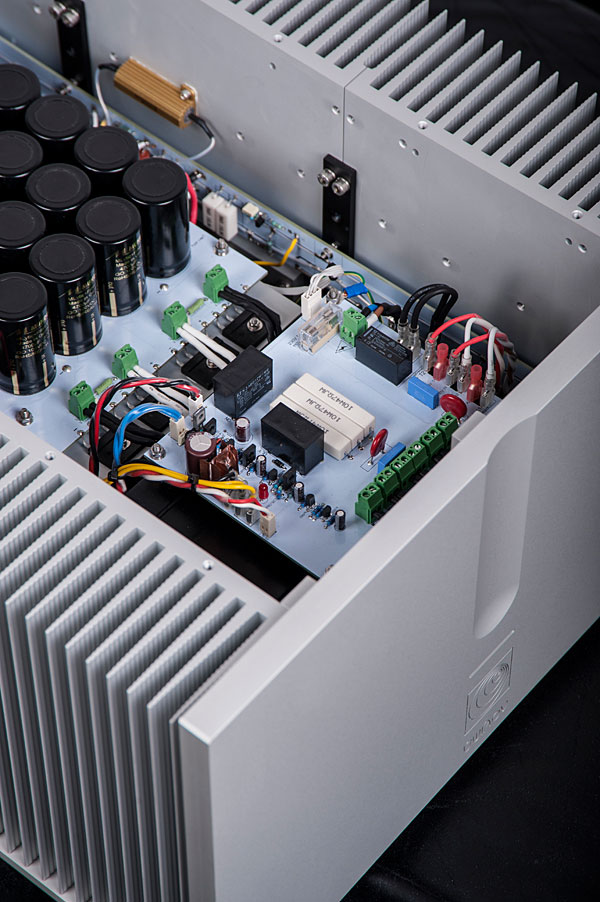 Conclusions
Ypsilon Electronics' Hyperion is a powerful, cannily designed, exquisitely voiced monoblock power amplifier. Inside and out, its construction quality is as impressive as it should be for $93,000/pair. Because of its tubes, its distortion spec of 0.7% at 100W into 8 ohms will probably freak out the measurement fetishists, to whom I say: Just listen to it, and keep in mind that the tube microphones used in the making of many of your favorite recordings probably measured similarly.
The Hyperion strikes the ideal balance between tube-amp richness and flow and solid-state quiet, authority, and dynamic swagger. And it does this without making you conscious of each technology's contribution to the whole—something I felt that Ypsilon's far less expensive Aelius didn't manage quite as well.
When I first heard, and then bought, the Ypsilon VPS-100 phono preamplifier, I concluded that its designer, Demetris Baklavas, was some kind of genius. His PST-100 preamp didn't shake that conclusion, but I was somewhat disappointed with the original Aelius. With the Hyperion, I must again characterize Baklavas as an electronics design genius whose name deserves mention alongside the more familiar names you probably know. He's seriously underrated, and deserving of greater acclamation.
When you make your living by listening to audio gear, at some point you inevitably suffer burnout. While I can't live for long without hearing music in my listening room, there are times when I crave silence to avoid such a burnout. But during the time the Hyperions were here, I think I did more listening for pleasure alone than I've done in years.
If you've got the money, I wholeheartedly recommend the Ypsilon Hyperion. However it measures, it's among the handful of the best-sounding power amplifiers I've heard, and it's the most musically enjoyable of the lot.