Technics SU-G700M2 integrated amplifier Page 2
The G700M2 imbued files with a sense of warmth, but it wasn't overly colored. The G700M2's occasional sins were forgivable. Occasionally, I heard a slight, processed-sounding, oversaturated sheen. Not once did it jab my skull with aggressive treble or fail to deliver deep bass in round, convincing measure. It paired well with my
DeVore Fidelity O/96
loudspeakers, bringing out their inherent richness and musicality without laying on the creamy fat with too heavy a scoop. And it was
plenty
powerful, from the most belligerent rock to the most dynamic large-scale classical.
As I skipped around Roon, sampling pop, jazz, and classical, the G700M2 brought excitement to every selection. Marc Anthony's raucous "Pa'lla Voy," from the album of the same name (24/48 FLAC, Sony/Qobuz), exploded through the G700M2, including the track's slinky percussion and goading guitars. The amplifier's crisp top end made every vocal lyric pop. The G700M2's power and transparency delivered Marc Anthony's polished pop like a mad night out at SOBs.
In need of relaxation after Anthony's high-octane Latin pop, Horace Andy's "Try Love" (24/44.1 FLAC, Qobuz) delivered the big-dub goods. The Technics laid down a bass slab thick enough to fill the deep end of a swimming pool. Synth bass via the G700M2 was a wet tone-fest. The G700M2's bass was perhaps softer than firm, relaxed more than hard-driven, but that need not be a fault. It always satisfied. That was also true for its midrange, which was always rich but never veiled or opaque.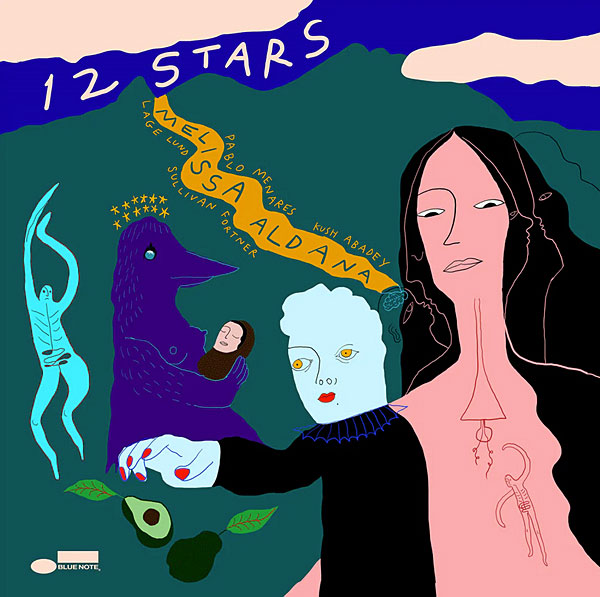 Chilean tenor saxophonist Melissa Aldana has recorded six albums of flowing, intricate, hard-swinging urban jazz. Her latest, 12 Stars, is her Blue Note debut. Surrounded by a remarkable supporting cast—Norwegian guitarist Lage Lund, Sullivan Fortner on piano and Fender Rhodes, Kush Abadey on drums, and Pablo Menares on bass—12 Stars blows through a room like a soft tornado, Aldana's breathy playing recalling Stan Getz by way of Billy Harper. Aldana's a fluid, terrific soloist with a beautiful sound, and a composer of striking, original music that takes a few listens to grasp.
The jagged lines of Aldana's "Falling" (24/48 FLAC, Blue Note/Tidal) sounded present and palpable from the G700M2; the music filled my listening den with an intricate dance of melody and rhythm, from her velvety sax blowing to Kush Abadey's whirlwind drumming. The G700M2 created a big soundstage of ample height and depth, with good clarity and realism.
The G700M2 also made the most of Cécile McLorin Salvant's experimental Ghost Song, the orchestral flurries of Ophélie Gaillard's A Night in London, and the alt-country stomp of Sarah Shook & the Disarmers' Nightroamer. Streaming music was rousing fun through the Technics integrated's USB input. The G700M2 is a warm, generous amp that speaks clearly, with solid dynamics. It's hard to fault a $2700 integrated that communicates so many styles of music with such convincing skill.
LAPC
As I already mentioned, the G700M2 retains the LAPC function from the SU-R1000, with similar results. When I pressed the LAPC button on the remote, I heard a moment of silence followed by music with a bit more presence and impact and a more powerful sound. When I turned off the LAPC, the soundstage seemed to shrink, becoming subtly less dramatic, engaging, and powerful.
A phono beast
Curious to hear the standard Technics phono stage, I plugged my reference analog front-end—Kuzma Stabi R turntable/4Point tonearm/EMT TSD 15N MC cartridge—into the RCA jacks of the amplifier's onboard phono section, connected the ground wire, and chose the MC setting using the remote. The G700M2's digital-file playback was very good; its playback of vinyl records was outstanding.
Comparing original jazz pressings against new, cut-from-original-analog-tape reissues is a pleasurable pastime. It's interesting to hear how tape degradation in often 60-year-old tapes has been corrected—or not—with reissues and how they fare against LPs made when those tapes were still young. The G700M2's phono stage let me hear the differences clearly and definitively.
Blue Note's Classic Vinyl Series 2022 reissue of Lee Morgan's 1968 release Caramba! (LP, Blue Note 006024387761852) is another fantastic Blue Note reissue: spacious, clean-sounding, with clear mids, soft but weighty bass, and solid attack from the unusual frontline pairing of Bennie Maupin on tenor sax and trumpeter Morgan. Billy Higgins's drums and cymbals had brilliant air and texture, and Reggie Workman's acoustic bass was tightly well-defined. My original 1968 issue (LP, Blue Note BST 84289) was more recessed, less powerful and alive sounding, and less three-dimensional. Cowbell and piano had more drive, but instruments sounded less cohesive.
The same findings could be applied to Jackie McLean's Destination...Out!. The Classic Vinyl Series edition (LP, Blue Note 006002438761579) was full-sounding, dynamic, more refined, and weightier than my 1971 Liberty reissue (LP, Blue Note BST 84165). Individually the differences were small, but combined they result in major sonic differences between pressings. The G700M2 showed me everything.
To me, my 1964 stereo pressing of John Coltrane's Crescent (LP, Impulse! AS-66) sounded slightly more unified, immediate, and natural than the 2022 reissue (LP, Acoustic Sounds/Impulse! AS-66), but a clean original or even an early reissue of this Impulse! title is very hard to find, impossible at the cost of this first-rate Acoustic Sounds reissue.
Clear, lucid, with fine dynamics and even top-to-bottom frequency response, vinyl played through the G700M2 left me wanting nothing. Typically, when I evaluate an amplifier's onboard phono stage, I can't wait to return to my separates. With the G700M2, that thought never crossed my mind. I was having too much fun playing records and comparing pressings to bother.
Technics meets Parasound
The Parasound Hint 6 Halo is the only similarly priced ($2999) integrated I have on hand that includes an MM/MC phono stage. The Parasound is more powerful, at 180Wpc into 8 ohms, 270Wpc into 4 ohms, and its amplification technology is class-AB.
Playing Ella Fitzgerald's Ella Swings Lightly (LP, Verve MG VS-64021) through the Parasound, the vocal and Marty Paich's orchestra sounded big, fleshy, first row. Ella was projected intimately, every nuance and subtlety exposed in a honeycomb of warmth. Through the Technics, Ella's voice was more forward in the mix and more transparent. Vocals and instruments sounded purer, and LP surface noise was more noticeable than through the Parasound. Other than the Technics's slightly forward treble, the two amplifiers' presentations were more similar than not. Both sounded excellent.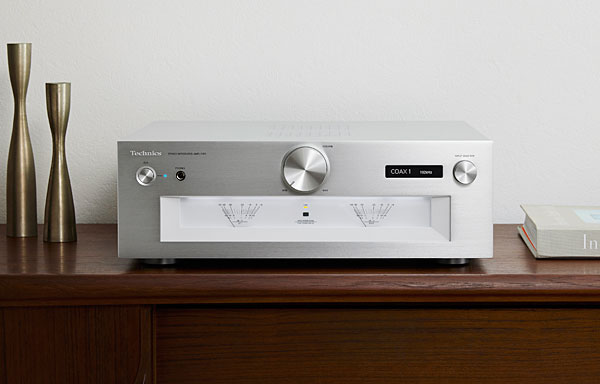 Conclusion
At the beginning of this review, I was determined to find the similarities and differences between the Technics SU-G700M2 Grand Class integrated amplifier and its powerhouse kin, the Technics SU-R1000 Reference Class Stereo Integrated Amplifier. I took note of its similar components, similar specs, and the like. But midway through the review process, I forgot the past and got caught up in the present—in listening to music.
I enjoyed the Technics's digital playback—even more its rendering of vinyl records via its authoritative phono stage. The G700M2 is a warm-blooded, even-keeled, dynamic, capable amplifier. Offering ample power, robust build, and good value, the Technics SU-G700M2 Grand Class integrated amplifier sounded great in my reference system. If $2699 is in your comfort zone, the G700M2 offers exceptional bang for your hard-earned bucks.