Schiit Audio Ragnarok integrated amplifier Page 2
With the KEF LS50 speakers:
Listening to Red Norvo's beautifully recorded
Just Friends
, with the Bucky Pizzarelli Trio (LP, Stash DST230), not only put me in a carefree mood, it showed me how much I'd underestimated the virtues of the KEF LS50s ($1499.99/pair). Folks, I know I sound like a skipping LP, but you can't hear a speaker without an amp, and a good speaker will sound unsubtly different with every amp you connect it to. The pairing of Ragnarok and LS50s played Norvo & Co.'s light jazz with cheerful, articulate, supersweet abandon. Norvo's vibraphone emitted pulsing spheres of glowing energy. This wasn't a ringing, or a tubey halo—just the singular, full-bodied sound of vibes setting the air in my room into shivering harmonic motion. This super-vivid recording of the 75-year-old Norvo delivered the juiciest euphonic tones I have experienced since my return to audio—a euphony I would not characterize as coloration. Why? Because, in the case of this recording by Norvo, guitarist Pizzarelli, pianist Russ Kassoff, and bassist Jerry Bruno, everything felt just right. The Norse Apocalypse moved the music along, keeping each note steadfast, fresh, and engagingly clear.
Conclusion 1: The Schiit Audio Ragnarok plus KEF LS50s ($1299) is the most enjoyable stereo system I've used in the 21st century.
With the Falcon Acoustics LS3/5a speakers: "Play 'Freebird'!" "Freebird"? Forget "Freebird." (Because "there's too many places I've got to see"!) Play Ervin T. Rouse's "Orange Blossom Special"—now that's my idea of a close-the-show stage burner! If it happens to be sung and strummed by Jerry Howarth and Schuyler Snow, with Ralph Jones on mandolin, I promise you won't care if you "do-die-do-die-do-die-do-die"—you'll have already passed over and gone to heaven.
That 1947 version of "Orange Blossom Special" can be found on Bluegrass: Early Cuts 1931–1953 (4 CDs, JSP Records JSP7731A). Played through the Ragnarok and Falcon LS3/5a's ($2195/pair), that scratchy, crunchy, train-sound wonder did the old vestigial audiophile trick: It made my skin bump up. Tone and texture were well-worn Ozark denim. The Ragnarok drove the Falcons like the fastest train on the line. Pace? Rhythm? Timing? Like a locomotive with a boiler full of steam. Wooo-Wooo! With the Ragnarok, I felt hauntingly close to a paintless wood porch, a rocking chair, and some drunk-Deliverance mandolin plucking.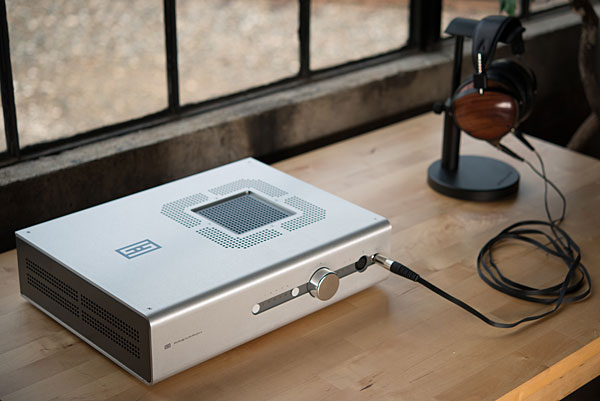 With the Magnepan .7 speakers: I don't want to sound judgmental, but if your expensive stereo is playing some New Orleans R&B—like Frankie Ford's "Sea Cruise," from The Best of New Orleans Rhythm & Blues, Volume Two (CD, Rhino R2 75766)—and you're sitting in your soft chair all serious and thoughtful—well, it's a crap system. Box it up and give it to a needy oldster. High fi-del-i-ty is not ever about sound or "accuracy"—it's about feeling. The most important thing a quality stereo can do is let you feel the music. The Schiit combo of Ragnarok and Bifrost DAC ($399) played this entire Big Easy CD with such naturally soulful strut that never once—not even for an instant—did I wish for a 7" 45rpm single.
Hi-fi systems should be admired only for the types of records they play enjoyably. The Schiit played New Orleans R&B and every other genre I tried, without any obvious sonic deficiencies. It drove the Magnepan .7s effortlessly, and with more flat-out boogie-woogie and glittering tone than did the Rogue Audio Sphinx ($1295) or the Simaudio Moon Neo 340i ($4700). Its sound wasn't as refined or transparent as the 340i's, and maybe it couldn't hammer spikes and lay track like the Sphinx—but its midrange tone was more saturated than either. Oo-ee! Oo-ee, Baby!
Conclusion 2: The Schiit Audio Ragnarok and Magnepan .7s ($1400/pair) comprise a stereo of ridiculous quality and the second most enjoyable hi-fi I've used in my patrimonial lean-to.
With balanced headphones: The only headphones for which I had balanced cables were MrSpeakers' Ether open-back planar-magnetics ($1599), and AudioQuest's dynamic-driver, semi-open-back NightHawk ($699). Powered by the Schiit Ragnarok, the Ethers' V-planar pleated diaphragms sounded even more linear and low-distortion than they had with Linear Tube Audio's tubed microZOTL2.0 ($1100) or Simaudio's silicon-state Moon Neo 230HAD ($1500) headphone amps. Remember how I said that the Schiit integrated didn't sound like a tube or a solid-state amp? With the MrSpeakers, the Ragnarok sounded more tube-like than the microZOTL and more controlled and forceful than the Neo 230HAD. In contrast, the Linear and Simaudio amps were both more absent than the Ragnarok. The Ragnarok's sound was clean and clear, but with an assertive, undeniable, and slightly thick presence that made it difficult for me to assess its talents for transparency.
In the past, the MrSpeakers Ethers always sounded more cerebral than corporeal. Not with the Schiit. The combo of Ragnarok and Ethers was equally good with blissful choral reverie and wall-of-death metal moshing.
In balanced mode, the pulp-driver AudioQuest NightHawks delivered the most scrumptious midrange textures imaginable. Faced with the Norse Apocalypse, the NightHawks loosened up and boogied down, playing every song with near-perfect tone and tangible believability. Unfortunately, with the Ragnarok, some of the NightHawks' finer detailing and distant spaces felt like they were immersed in and obscured by a thick morning fog—a fog I barely noticed because banjos, bongos, accordions, and Farfisa organs sounded so ecstatically real!
With single-ended headphones: The headphones I most often use are AKG's oh-so-precise and neutral, open-back, dynamic K812s ($1500). If I were a record producer, these would be my monitors. I love them. They're what I used to align phono cartridges, evaluate recordings, and assess headphone amps. Their overt transparency and aggressive resolving power give a mediocre amp or a mechanical-sounding DAC nowhere to hide. Through the Ragnarok, they were the exact contrary of the slightly dark and thickish AudioQuest NightHawks or the overtly sunny and ethereal MrSpeakers Ethers. Their sound was completely open and rock solid, fresh and transparent—no fog at all! All I heard was big-time boogie-woogie and what seemed low levels of odd-order distortion.
I played Steeleye Span's Below the Salt (LP, Chrysalis CHR 1008) over and over through the Ragnarok with the KEF LS50s (punchy, engaging, highly resolved) and the Magnepan .7s (sweet, big, detailed, open, with extraordinary tone character)—but through the Schiit and the AKG K812s, I felt I was experiencing this old favorite for the first time. The a cappella "Gaudete" gave me chills. The K812s and Ragnarok made a perfect marriage. I fell in love all over again with the songs and artists behind this British folk classic. If you've ever wondered what a vibrant live-mike feed might sound like, try the Ragnarok with the AKG K812s.
With JH Audio IEMs: JH Audio's Siren Roxanne in-ear monitors ($1549), also made in America, are as neutral and professional-sounding as my beloved AKG K812s, but sound considerably more full-bodied in the lower mids and upper bass (their bass level is adjustable). Though not as open or transparent as the K812s, which occasionally sound a little bumped up between 1 and 2kHz, the Roxannes' dynamics, tone balance, and resolution seem almost beyond reproach.
Each earpiece of this Jerry Harvey design contains 12 balanced-armature drivers—four bass, four midrange, four high-frequency—and a three-way crossover. Their impedance is specified as a fairly low 15 ohms. Through the Ragnarok, the Roxannes sounded a bit softer from top to bottom than with the Moon Neo 230HAD. However, the Raggy let the Roxies play melody and rhythm with better bounce and sweeter élan. The Schiit amp and JHA Roxannes generated some of the most satiny instrumental tones I've ever heard through headphones.
Conclusion 3: Even if the Ragnarok were only a headphone amp or only a loudspeaker amp, it would be worth more than $1700.
Overall Conclusions
One of the definitions of shit that Merriam-Webster's Collegiate Dictionary, 11th Edition lists as "usually vulgar" is: "any of several intoxicating or narcotic drugs." Schiit Audio's Ragnarok fits that definition perfectly. Most important, it's the first amplifier of my experience that plays earth and sky, mind and body, brown eyes and blue, speakers and headphones, with equal narcotic intensity. It likes every type of music. It's fully balanced. It's frolicsome. The Raggy is made in California by two exceedingly Ras dudes. It looks expensive and it isn't. And if you buy a Ragnarok, disagree with my assessments, and send it back within 15 days of purchase, put a handwritten note in the box, be rude, use lots of vulgarities, and blame your mistake on me.
Like the classic NAD 3020 of the 1970s, the Ragnarok signals the beginning of a new Renaissance in high end audio. It is the perfect introduction to the joys of quality music reproduction in the home.