RMAF 2014: Serinus on Saturday
My biggest surprises at RMAF were delivered by lower-priced systems that sounded mind-blowingly good. One of the biggest delights came from the new Emerald Physics EP-X three-way dynamic dipole loudspeakers ($1795/pair, or $2595/pair in the marbleized Rosewood finish shown in the photo). These small floorstanders, which were designed by Mark Schifter in collaboration with Dan Mullins, have a sensitivity of 93dB, and an amazing frequency range of 34Hz–20kHz. Shown at T.H.E. Show in prototype form, they made their formal production debut at RMAF.
Paired with the speakers were Wyred 4 Sound's equally impressive for the price MS-1 music server ($2000), mPRE ($1099), and two mAMPS ($999 each). (Discounted speaker/electronic packages are available.) With everything connected by Wyred 4 Sound cabling, the system bowled me over with the quality of its engaging, right on sound. The Fairfield Four singing "These Bones" and Boz Scaggs giving "Thanks to You" sounded absolutely great. Ditto for the female vocalist we heard—it may have been Shawn Colvin—whose absolute identity, at the end of the day, escaped my fried little brain. Bass was also in control, which is no small accomplishment for a hotel room set-up of speakers that descend so low, and that don't offer the DSP that comes with the higher-priced Emerald Physics models. Given the astounding price vs performance ratio, this modest system earns one of my Best of Show recommendations.
Hats off to Matt Alterman, sole proprietor of Crescendo Fine Audio. At virtually the same time that he moved his one-person operation from Boulder, where he shared a ventilation system with a marijuana dispensary, to a new location in Wheat Ridge, CO, near Denver, he decided that he had to return to RMAF. Although he had very little set-up time, and looked more than a bit shell shocked, Matt managed to produce fine sound from a set-up that consisted of Aerial Acoustics 6T loudspeakers ($6795/pair), Octave HP700 preamp ($16,000), Ayre VX-5 amplifier ($7950) and QB-9 DSD DAC ($3250), Pro-Ject Signature 10 turntable with Sumiko Pearwood, low-output MC cartridge ($7000), Shunyata Research Hydra Triton power conditioner ($4995), and a full complement of Shunyata cabling.
Listening to Tony Bennett and Bill Evans go to it on their LP, "Young at Heart," which was recorded maybe 35 years before the still fine sounding Bennett recorded his latest hi-def collaboration with Lady Gaga, I could only admire the system's neutral and non-fatiguing tonalities. The presentation was rather dark (which many people prefer), with a bit of an analytical edge on top that may have been due to something in the analog chain. I base my presumption on the sound of 16/44.1 file of Doug MacLeod singing "Funny Deal Going Down," which was not only far more transparent and alive, but also conveyed a really nice and natural edge on voice and guitar.
This was a fine showing by a dealer who took great risks to make it to RMAF. Here's hoping that Matt, along with half the other exhibitors at RMAF, will be able to catch up on sleep this week.
Given that I use an old, battery-powered Sutherland phono preamp, I was really eager to hear the new Sutherland Spatial Edition phono stage (sitting by itself on an elegantly appointed table top). If only the rest of the chain—Merrill-Williams turntable, Sutherland N1 preamp and class-D amps, new Thrax loudspeakers (no models or prices supplied on the handwritten list), and Enklein cabling—had been up to the task. I encountered such strange distortion on the piano that I wondered if the both the needle and LP were clean. The notes had nice color, but its sounds were unfocused, and the instrument seemed trapped in the speakers. A Brubeck LP didn't sound much better, with bass booming like crazy. I have a feeling that had Ron been in the room, the issues would have been attended to.
Bass booming and a bit of disconnect between bottom and top aside, there was much to admire in Klaus Bunge's Odyssey room. This modestly priced system made music. I hadn't heard Joan Baez's Diamond and Rust for a long, long time, and the system's extremely spatial, colorful presentation took me back, back, back to a time long ago and far away. My thanks for the magic carpet ride provided by Odyssey's Kismet Beryllium Ref loudspeakers ($4200/pair), Khartago monoblocks ($1995/pair), and Candela preamp ($1600). With Groneberg Quattro cables, the complete system cost $6900.
I was really eager to visit the all-Colorado exhibit in the Al Stiefel Room. Name for Marjorie Baumert's late husband, who made RMAF possible, the room honors mainly up-and-coming Colorado dealers. In point of fact, the Jeff Rowland Design Group has already ascended to the legendary level, but its Aeries DAC ($10,000) was in fine company with 3beez's Wax Box 2 24/192 Music Management System ($5400), PranaFidelity's Purna/ma amplifier ($8950) and Fifty90 loudspeakers ($3950/pair), and MG Audio Design Planus III speaker wire ($1500/pair) and Planus AG2 interconnects ($1600/pair).
Never did I expect to encounter at an audio show a playlist so rich in vocal gems, and accompanied by easily accessible information that included cover art and recording dates. Tracks from Jonas Kaufmann's recent Wagner recital (albeit not in the 24/96 download version from HDtracks), Cecilia Bartoli's Mozart, and Barbara Bonney's Richard Strauss all sounded quite fresh, with a fair amount of color and a natural, unhyped midrange.
My timing wasn't impeccable in the Bryston room—everyone was chatting away—but what I could hear over the din sounded quite nice. Doing the honors, as far as I can tell from the handwritten list, were Bryston's BDP-2 ($2995), BDA-2 DAC ($2395), BP26 preamp (approx. $6000), 28BSST2 amps (approx. $20,000/pair), unidentified power conditioner, and Middle T loudspeakers ($5400/pair), the last to be reviewed by Kalman Rubinson in our February 2015 issue.
When I entered Tim Ryan of SimpliFi's room, he was in the midst of a very convincing demo of room correction that paired DSPeaker's Dual Core ($1199) with those excellent sounding lookers, the Klangwerk Ella loudspeakers ($15,000/pair). As much as I could make out during a loquacious, rapidly shifting, "now it's on, now it's off, now it's on again" presentation that told everyone exactly what we were supposed to hear, the sound was very spacious and three-dimensional. Thankfully, I previously heard this combination at T.H.E. Show, where I was thoroughly impressed with how well it serves music.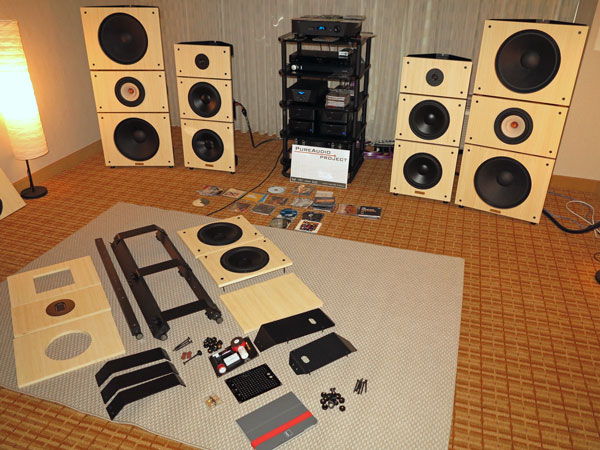 As I've discovered from reading several other show reports, both on this site and others, I am not alone in preferring to draw my own conclusions rather than having them dictated to me before or during a demo. In fact, to be brutally honest, when I approach a room filled with loudspeakers I've never encountered before, only to have literature thrust into my hand and be told, even before I take my first step into the vast audio unknown, "You're going to love this," I can't help feeling that I've encountered a cross between a carny show barker and someone trying to lure me into a topless bar in San Francisco's North Beach.
Nonetheless, rather than switch into resistance mode and bask in self-satisfied cynicism, I did my best to breathe deeply and remain open as I entered the room showcasing PureAudio Project of Israel's hardware kits for open-baffle loudspeakers. ("Choose your size, select your model, select your drivers, and select your finish.") Why Jimmy Scott's intriguingly androgynous vocals on the Jazz Passengers "Imitation of a Kiss" had a bright and harsh edge on the small loudspeakers, I do not know. But I do know that the room included Wyred 4 Sound's STP-SE preamp ($1999), DAC-2 DSD ($2549), mAMP monoblocks ($1998/pair); a full complement of excellent Wireworld Cable technology cabling; the miniDSP 4 x 10 HD ($499); and acoustical surfaces from Acoustic Geometry.
It was subwoofer city in the fun room sponsored by Boulder Amplifiers, VANA Ltd., and Soundings of Denver. The videos of Sting, Chris Botti, and Yo-Yo Ma were great, and the super bass only added to the gonadal aspect of the experience. Shaking it up were Wolf's SDC-12 projector ($12,000); Screen Innovations' Black Diamond Projection Screen ($3299); Kaleidescape's Cinema One video server ($3995) and DV-700 Disc Vault ($3995); Boulder Amplifiers' 1021 Network disc player ($24,000), 1010 stereo preamp ($15,000), and 1060 stereo amp ($25,000); Primare's BD32 universal player ($6000); IsoTek'a EVO3 Sigma line conditioner ($4500); Vienna Acoustics' Liszt loudspeakers ($15,000/pair), Analysis Plus' Silver Oval cabling, and—you thought we'd never get there—a mighty REl S/5 subwoofer ($2499) that set out to teach the walls of that room a thing or two.