RMAF 2014: Serinus on the Home Stretch
In one of their many rooms, the Audio Alternative of Fort Collins showcased a luscious system that paired an AMG Viella 12 turntable and 9W2 tonearm ($21,500 total) and a Linn LP12 table with Lingo Mk.III power supply ($6000), both outfitted with Lyra Kleos MC cartridges ($2995 each), with D'Agostino Master Audio Systems' integrated amplifier ($43,000), Audio Research Corporation's Reference 2SE phono preamp ($13,000), and Wilson Duette Series 2 loudspeakers with dedicated stands ($22,500/pair). With AudioQuest cabling and Harmonic Resolution Systems stands and bases completing the chain, this system really rocked out in a mean way on Jeff Beck's debut LP from 1968. Although it was handicapped a bit by an insufficiently burned-in preamp, and a disc player whose provenance was perhaps intentionally omitted from the room sheet, the system nonetheless succeeded in digging into the meat of the percussion on my SACD of Revueltas'
Sensemaya
, and conveying it wonderfully.
I wanted to bow down and kiss the ground when I entered the room showcasing EgglestonWorks loudspeakers, VTL electronics, and the Bricasti DAC. The sound was that good. Violins were flowing in perfect balance and proportion, with the extremes of hi-resolution dynamics too much for the small room and sensitive ears to handle without turning the volume down in peak passages. "Extremely dynamic, with great depth" only begins to tell the tale of a simply gorgeous and remarkably controlled presentation of two movements from Stravinsky's Firebird Suite, performed by the Royal Concertgebouw Orchestra, and "Make a Joyful Noise" sung by the Turtle Creek Chorale on Reference Recordings' well loved issue, Psalms. The percussion was as impactful as can be, with no booming, and massed voices were depicted with reference quality clarity.
Doing the honors were the EgglestonWorks Andra III Signature loudspeakers ($24,900/pair), VTL's TL7.5 III Reference line preamplifier ($25,000) and MB450 III Signature monoblocks ($20,000/pair), Bricasti M1 DAC ($8995), and Hemingway Audio cable ($19,000 total). Note that the Bricasti M1 upsampled everything to 384kHz. In this case, that meant "yummy."
As with the Simaudio room I visited earlier on the last day of RMAF, Audio House of Denver's Parasound/Halo/Joseph Audio/Kimber Kable/SME room showcased these brands to best advantage. When I played Astor Piazzolla's "Oblivion" on my Yarlung CD of cellist Antonio Lysy at the Broad, both the violin and cello sounded as natural and timbrally true as I've ever heard them sound. The presentation was both relaxed and soulful. Rather than sounding like really excellent hi-fi, this system conveyed the heart and soul of music.
"I spent a significant amount of time finding the right Kimber Kable model to produce the ideal sound," Audio House proprietor David M. McPhee told me. The results not only confirmed that McPhee has a good pair of ears, but also that he is willing to follow their dictates and go the extra mile for music lovers and manufacturers alike.
I also listened to track 6, "Northern Lights," for tenor, tuned wine glasses and choir, by Latvian composer Eriks Esenvalds (b. 1977), from the recently released CD, Into Unknown Worlds, that John Atkinson recorded with the Portland State University Chamber Choir, of which Stereophile contributor Erick Lichte was former assistant conductor and choir member. (Erick, who also produced the album, now directs both Vancouver's Chor Leoni Men's Choir and the choir at Portland's First United Methodist Church.) The presentation was beautiful and spacious, with not a hint of congestion on massed voices. As for the music itself, which is made even more inviting by the extraordinary spaciousness that JA conveys on the recording, you simply must hear it.
"Gets right to the heart of the tone," I wrote of a $51,451 system that included Halo by Parasound's JC 2bp preamp ($4795), JC 3+ Phono ($2995), excellent-sounding CD 1 CD player ($4495), and A 21 stereo amp ($2495). Doing the honors at the other end of the chain were Joseph Audio Pulsar speakers in Sapele ($7700/pair), supported by Sound Anchor Signature Custom 4 post stands for the Pulsar ($750). Kimber Bi-focal X speaker cable ($3710/8 ft. pair) and two different kinds of Kimber interconnects and power cables, as well as Kimber Select KS1216 phono cable ($1225) were as essential as the SME10 turntable with SME Model 10 300 series arm ($8100) and Ortofon MC Windfeld cartridge ($4095). Also producing audible benefits were IsoTek Sigma's Power Mains Conditioner ($4495) and Syncro power cord ($1995), as well as a Sound Anchor custom component stand ($1650).
Here's a second look at Parasound's new Halo 2.1 integrated amp ($2500) that Tom Norton discusses here. Note the other Parasound products beneath it, plus the Audeze headphones that, in one model or the other, are becoming ubiquitous at demos.
Since we've already mentioned Joseph Audio, let's skip to the other end of the hall where, in an equally large if not larger room, Audio House sponsored another sonically superior system that mated Joseph Audio Perspective loudspeakers ($12,999/pair) with VTL's TL-5.5 Series II Signature preamplifier w/internal phono stage ($10,500) and S-200 Signature stereo amplifier ($12,500).
Of special interest was the very first showing of Cardas Audio's Reflection interconnects and speaker cables. A Grand Prix Audio Monaco turntable ($23,500) outfitted with Tri-Planar Ultimate 12 Carbon Fiber wand, Pure Silver wire ($9,800) and Ortofon MC Anna cartridge ($8924); Grand Prix Audio's 5-shelf Monaco Modular Isolation stand ($8400) and two Amplifier Isolation Stands ($1950 each) that Hugh Fountain of Music Lovers Audio in the Bay Area says are so good that they sell his equipment for him; and IsoTek's EVO3 Titan High Current Power Mains Conditioner ($4995) and EVO 3 Aquarius Mains Power Conditioner ($2250) completed the chain. If you can say all that equipment in one breath, you deserve to own such a great sounding system.
To lapse into the dialect from the region in which I was born, so you want to know how great it was, dahlink? Shortly after I entered the room, Jeff Joseph produced an LP reissue of Zubin Mehta's recording of Mahler's Symphony 3, with Maureen Forrester as the alto soloist. To be honest, I was so mesmerized by how well this system conveyed everything that Forrester could possibly bring to the Urlicht movement (including some unsteadiness) that I didn't even take notes. Jeff may have been a little confused as to why I was going on and on about how Forrester failed to plumb the depths of this exceptionally difficult piece of music, but the only reason I was able to do so is that the system projected her artistry through such a clear and tonally neutral lens that everything was laid bare. I could admire the beauty of her voice, yet at the same time note that Forrester was unable to convey the full spiritual profundity of Mahler's message. Few systems allow a music lover to get so close to the source of creation, let alone understand the depth of a musician's soul. Bravo to all for a job well done.
Down the hall, speaker designer Klaus Heinz's Adam Classic Column MK3 loudspeakers ($7000/pair), which made the August 2012 cover of Stereophile thanks to a favorable review by Kal Rubinson, kept company with Cary Audio's SLI-80 Ultimate Edition stereo integrated amplifier ($7995, and one of only two made), DAC-100 solid-state DAC ($2495), and another product that isn't identified in the beautiful brochure that the company prepared for RMAF. Kal described the Adam loudspeakers as delivering "a smooth and natural spectral balance, remarkable transparency across the spectrum (and most notably from the midrange up), and tight, full, well-extended bass. It could also deliver dynamic contrasts both subtle and staggering. It's excellent soundstage, however, was quite forward, and seemed to begin in the room, right at the speakers' baffles."
I didn't spend enough time in the room to begin to match Kal's eloquence. But I can say that, on a 16/44.1 track by Joe Bonamassa, and a far more spacious 24/192 file of Kenny Burrell's "Love is the Answer," I found the bass very tight and multi-dimensional, but the mono-tonality of the treble a less than ideal match for my admittedly picky preferences. Regardless, I continued to marvel at the ultimate bass control that was achieved by adding a few plants, then spending no less than four hours finding the ideal listening position in the middle of the room. Ultimately, when the speakers were placed close to the wall (sacrificing some depth), and the seat positioned optimally, everything came together beautifully.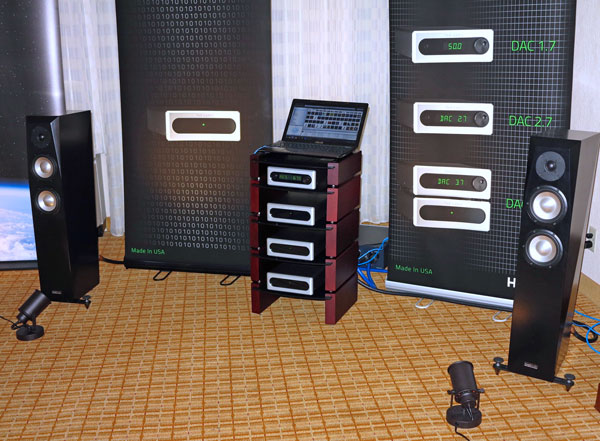 Complete with a Leaning Tower of Pisa Custom Design Milano Series center rack whose skew Bel Canto sales manager P.J Zornosa attributed 100% to a sloping floor, Bel Canto paired Joseph Audio Profile loudspeakers with their own, newly upgraded e.One Dac2.7 ($2495). Also in the chain was the first showing of the brand new e.One REFStream Network Audio Renderer ($2495, and what a name!) and e.One REF500M balanced monoblock amplifiers ($1995/each).
I was clearly feeling "it," aka mounting fatigue, as the clock ticked away at the end of the third day, because my notes on this room amount to zilch. Maybe I was imagining myself sitting atop the leaning rack, and was too busy trying to regain my balance. A lame excuse, I confess. My apologies for not taking notes on classic Bel Canto sound.
For what turned out to be a stunning 8th floor Tower finish, Arcam's Andy Moore blew me away with the sound of Arcam's flagship "Faithful Musical Joy" FMJ CDS27, a combined CD player, SACD player, and Network audio player that can play tracks over a network interface at up to 24/192. Also making music were Arcam's FMJ C49 preamp and two FMJ P49 2-channel power amplifiers in bridged mono mode ($5000/each). The latter is a class-G design by Arcam's legendary John Dawson, and capable of outputting its initial 50 watts in class-A. (John Atkinson, whom I believe will be reviewing these amps, can tell you more about them, or you can check out Arcam's website, which has technical information galore.) Cables were Nordost's superb, maximally transparent and bass rich Valhalla 2, and the loudspeakers Canton 2.3 Reference.
I quickly forgave Andy for playing, for at least the 5th if not 6th time I encountered it at the show, a 24/96 file of the "Dance of the Snow Maiden" from the Reference Recordings' version of Rimsky-Korsakov's colorful and energetic warhorse, Dance of the Tumblers. As if on cue, Andy then quickly steered away from the tried (as in trying) and true to a home-brew Russian techno piece, which had been laid on him by a hilariously domineering Russian with a Putin-like demeanor who had visited his room at a recent audio show. The sound was as full range as can be, completely under control, and nail-me-to-the-wall fabulous. Even though Andy continued to express reservations that this opera critic, who encountered classical vocal music exactly twice at RMAF, would somehow turn to a pillar of salt upon being blasted by such a loud, computer-generated track, I thought it so superior to the Mexican polka music that permeated our East Oakland windows for ten years that I was ready to dance the troika in praise of Arcam and the vast electronic unknown. This was a marvelous showing.