RMAF 2014: Reichert ongoing . . .
Room 550:
Entering the PS Audio room, I felt like a Yankee fan waiting to meet Derek Jeter. I got to speak with audio legends, Paul McGowan (PS Audio), Arnie Nudell (Infinity/Genesis), and one of my old-school engineering heroes, Bascom King (
Audio
magazine). And . . . I got to hear vintage audio-salon chestnuts like the Eagles'
Hotel California
, played through a NOS pair of Infinity IRS Beta speakers. (If they were mine, I would have got their designer Arnie Nudell to sign them right there on the spot!) Getting to hear an old song played through vintage speakers via brand new, leading-edge electronics seemed very revealing of how far we've come and where we are now—design-wise
and
audio aesthetic-wise. The pristine-sounding Betas were driven by the new, Bascom King designed, PerfectWave 250Wpc stereo amplifier, which employs a Russian 6H23 triode driving a MOSFET output stage ($7500). Source was the PS Audio, "PW" Transport which is a fully asynchronous "Memory Player" ($3995) and the DirectStream "DS" pure-DSD, high-resolution DAC ($5995) running Ted Smith's latest firmware.
Room 412: Newton Square, PA audio dealer, Doug White (The Voice That Is) is rapidly becoming one of my new go-to guys for good vibes and top-level sound at audio shows. He represents Tidal loudspeakers—which have an extremely balanced and convincing way of putting sound energy into a room. The soundstage is always big and transparent but it is also solid and articulate. Nothing sticks to the speaker cabinets and nothing is fuzzy or diffuse. Here, the Tidals were sourced by the beautiful Bricasti Design M1 USB DAC ($8995) and powered by the new Bricasti M28 monoblocks ($28,995/pair).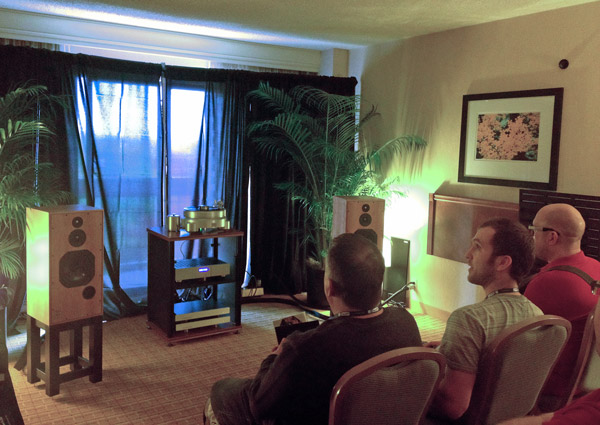 Room 407: Harbeth loudspeaker distributor Walter Swanbon and Dwight DeMartino of Fidelis Distribution are two more of audio's super nice guys and you know what? Everywhere I see Walter the room is always filled with beautiful enjoyable music. The sound in the Fidelis room continued this tradition. The Harbeth Super HL5+ speakers ($6895/pair) were singing happily while powered by the La Rosita Maverick Integrated amp ($8995) and the Sutherland Duo phono stage ($3995). The "vinyl spinner" source that was making all this good sound happen, was the Acoustic Signature Thunder turntable ($12,995) and the Acoustic signature TA 1000 tonearm ($1595).
Room 517: Gracious, informative, and wise, Steve Norber of Denver's Prana Fidelity played an "all Colorado" audio system. A big sign in his room read, "Where Music and Truth Become a Life Force." Pretentious? Maybe. But he played the Elvis version of "Fever" using the Prana Fidelity Fifty90 loudspeakers ($3950/pair) and purna/ma 400Wpc amplifier ($8950), purna/ca phono preamp ($9950), and the venerable VPI Classic turntable with Miyajima Kansui cartridge. The King sounded rich and real and "true" and—no question—the music played in this room put me in touch with plenty of good rocken' Memphis-Denver energy. Thank you, Steve Norber.
Room 538: This year, every other room was playing some variation on the Eddie Cooley/Otis Blackwell song, "Fever." (Strangely, no one played the 1956 King records, 78rpm, original by Little Willie John.) The Norma Audio room played the next best thing: the Peggy Lee "signature" version (1957). They also played Nat King Cole and the system sound was fast, detailed and leaning towards luscious. The Grand Cru Audio "Essentiel" loudspeakers ($8200/pair) were driven by the Norma PA-150 stereo amp ($8600), the SC-2 line stage ($8600), and the DS-1 transport ($6300).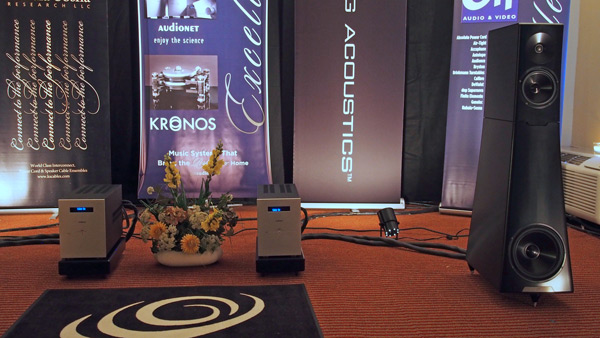 Room 535: When I arrived at New Jersey retailer GTT Audio & Video's room I felt like the only person at the show that had never really listened to at least some version of "The best loudspeaker(s) on Earth. Period." Therefore, I was amped up to sit down and (hopefully) discover what all the fuss was about. Bill Parish of GTT Audio was demonstrating the brand new YG Acoustics Hailey 1.2 loudspeaker, which consists of a Hailet 1.1, interlocked atop a matching bass module ($42,000/pair). The rest of the system consisted of the new Kronos Sparta turntable ($21,500) with its matching new 10.5" Helena tonearm ($6500). Electronics consisted of the German made Audionet PAM G2 phonostage with EPC power supply ($16,500), Audionet PRE G2 preamp ($23,350), DNC streaming DAC ($10,100), and the Audionet MAX mono amps ($30,000/pair) . . . plus a bevy of Kubala-Sosna cables and power cords. And how did YGs play music ?
Well, I spent the Tuesday night before RMAF at Carnegie Hall listening to Simon Rattle conduct the Berliner Philharmoniker playing some Schumann symphonies and the amazing mind-bending Dark Dreams by Georg Friedrich Haas, and, in addition to having my best night ever at Carnegie, I took a little time during the Schumann (yawn) to notice how a real orchestra sounds in a real hall. My conclusion: A real orchestra sounds way more big, balanced, and whole than any hi-fi I have ever heard. The difference between live and reproduced seemed to be mostly a matter of scale, smoothness and coherency. My take on the YGs was that they narrowed this gap a bit. They reproduced Ansermet conducting Falla's The Three Cornered Hat with a kind of sweet, seductive, but unusually authoritative coherency. I could hear the mikes and the mix—but not too much. Everything had a kind of just right quality. Totally impressive!