RMAF 2014: Reichert Redux
Like all audio shows, the talk in the halls in Denver is feverish and typically centers on, "So? What have you heard that was good?" And, "Who's room do you like the most?" But, just so it doesn't get too goody goody this wild boy-toys enthusiasm is always seasoned with a bit of dodgy gossipy critique: "Do you believe so and so is showing such and such?" And, "To me it sounded like over priced crapola!" Or more commonly, "At that price it better sound good."
Let me say now, I try my best to avoid all of the above. I had dinner last night with a famous loudspeaker manufacturer who is also a world-class art collector specializing in tribal art. Buying this type of art is extremely difficult because the collector has to feel certain that each piece he is buying is both high quality and not a fake! I asked him how he has managed to rise above these dangerous pitfalls. He responded, "Scholarship and connoisseurship.' Well folks, that is what we need more of among audiophiles. RMAF appears to be well attended by consumers and this is good because shows like this are perfect venues for developing our collective good audio taste. I am learning more here than ever before. Not only about what's new, but about what is possible. Most importantly, I am learning how to listen and recognize what good sound is. When buying audio, we can't find what we are not looking for. At shows like RMAF we can all experience what 100 different stereo systems sound like playing music. Shows like this are our best tools for developing our audiophile scholarship and taste.
Room 589: In that spirit, I checked in on my best old running buddy Jeffery Catalano of High Water Sound NYC (top). He is a complete connoisseur. Jeffery's taste in records and playback gear is beyond world-class. He always plays the indisputably best NON-AUDIOPHILE LPs on articulate natural sounding phono front ends. This show was no exception. Jeff was showcasing the world premiere of the Thomas Woschnick designed TW-Acustic RPS B tube phono stage ($17,000, above) driven by the TW-Acustic GT SE turntable ($12,500), with two TW 10.5 tonearms ($5500 each) and the Ortofon Winfield ($3899) and Ortofon Cadenza Mono cartridges ($1219). This was partnered to the new Woschnick-designed 6B4G SE monoblocks, which use the exotic Siemens D3A as a driver tube. (I could have stayed and talked with Thomas and Jeffrey for the rest of thee day). Speakers were the "Eufrodite Ellipse by Horning Hybrid Systems ($30,000).
Room 582: Because of its location, RMAF is truly a festive gathering from the four cardinal points and festive was how it felt listening to music in the Chapman Audio Systems room. Stuart Chapman Jones (from Vashon, WA) played quality music to excellent effect via the modest but full-range Chapman T-5 loudspeakers ($4995) and a Hegel DAC ($2500). I walked out smiling.
Room 577: Still smiling, but now eyes wide open I entered the Vegas Image Audio room. My pulse quickened. The view was so amazing I had to stop at the door and collect myself. Gold, bling, house of blue lights and the sound was. My first words to Vegas Image owner, Roy Insco were, "What in thee holy second coming are those loudspeakers?" When he answered, my mind rolled backwards. They are the legendary VMPS RM/X Elixirs designed by the recently deceased audio wizard, Brian Cheney. I don't remember ever meeting Mr. Cheney, but he is one of my audio heros and (seriously) one of my favorite audio "reviewers"—ever! (See Stereophile, 1988). A moment of silence with our hats off please. Brian designed these rare VMPS speakers (only 17 pairs were made) with some crossover design help by another audio Pantheon god: James (Jimmy) Bongiorno. These same VMPS Elixirs won Best Sound of Show at the 2003 CES. The sound was rich, clear and humbling. Roy had the beyond-the-beyond Triangle Arts, Ultimate LE turntable ($129,000) with the Osiris 12" arm ($5800) and the Triangle Arts Apollo cartridge ($8000). Besides making the Elixirs sound good, the NAT 160-watt single-ended triode, Magma 450DH amp ($50,000/pair) was sending me back to my UFO-Outer Limits childhood.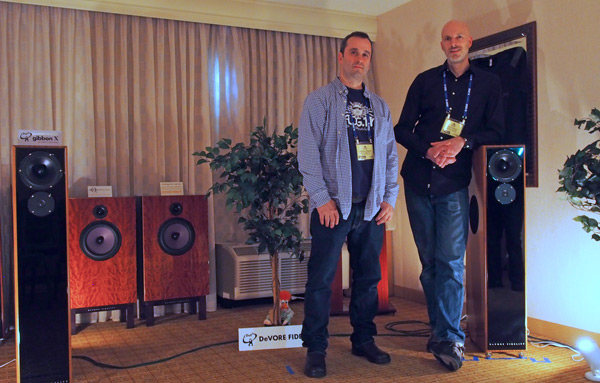 Room 1004: Do you remember Syretta Wright? I didn't. She was Stevie Wonder's beautiful wife (with the biggest most electric smile ever). Its Saturday night and I hanging out in room 1004 with speaker manufacturer John DeVore (above right), Anthony Abbate (above left, of Box Furniture), Michael Lavorgna (AudioStream.com), and a mixed group of overtired reviewer types. Everyone is slumping in their chairs—completely dazed. John gets up slowly and puts the self-titled Syreeta LP on a Well Tempered table with an EMT cartridge. When the music started, I felt my eyes open and my chest expand . . . then I let out a big breath, relaxed, and fell into the music. In just moments, I remembered why I was at RMAF (to try and telegraph a bit of the 'Mountains of Sound" experience to our readers). Then he played Donny Hathaway Live. What a great hobby we have and what a beautiful way to spend an evening with our friends.
The new Gibbon X speakers were arranged sort of cock-eyed in the room and the set-up must have been perfect because every song sounded bigger, more articulate and dramatic than they ever did at my house. The system was dialed in and when DeVore put on the Temptations' "Papa Was a Rolling Stone" (Gordy Records 1972) I just started giggling and everyone know why I was giggling. It was like; when did any of us ever experience this song sounding like this? Answer: Never. Sharing moments like these is why we all made the pilgrimage to the show and why we obsess and save and dream and spend—hoping for ever more intense experiences—sitting and staring—at that space between the speakers.
Room 573: The people in Raven audio room were celebrating the "world debut" of the Spirit Mk.2 300B monoblock amplifier, which was driving the truly beautiful Burnwell and Sons' loudspeakers ($80,000/pair). I complimented Gordon Burnwell on the finish and sound of his "mini Altec A5s" (my words) and he laughed. Yes, he said, they do have that shape and yes they even use an Altec Lansing 803 15" woofer, but with a JBL le 85 mid driver and the classic JBL 2405 tweeter. This was a beautiful room with smooth fast colorful sound.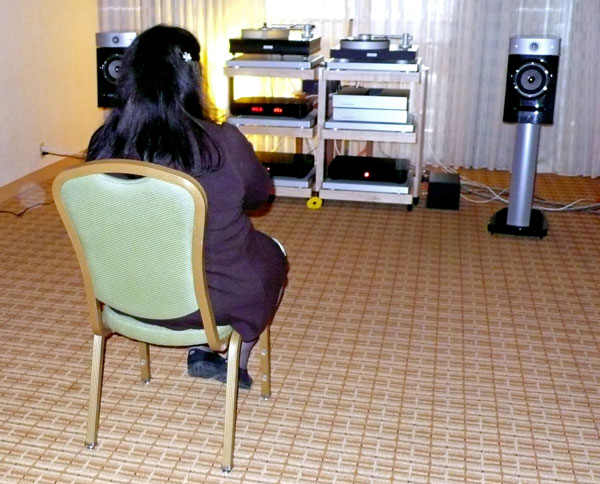 Room 574: Here I met the beautiful and charming and oh-so knowledgeable "Angie." I asked her about the "one-chair" Zen concept and she laughed and said, "That's all I could rustle up so far." I offered to help her steal a few from the next room but she declined and told me to sit down and listen.
I could have listened for hours and I really coveted the Bergman "Magne" turntable ($16,500) with the Ortofon Cadenza cartridge ($1200) and alternatively, the Bergman, "Sindre" turntable ($28,000) and Lyra Etna ($7000)—all of with which were doing a fine job driving the Sutherland Phono Block ($10,000) and the Focal Diablo Utopia loudspeakers ($12,000/pair). Brava!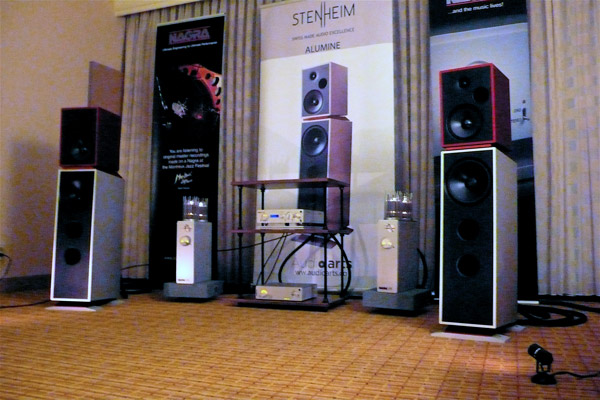 Room 570: I was hoping to say hello to New York City's Audio Arts proprietor, Gideon Schwartz but he was not there. In his stead was the erudite Jean-Pascal Panchard, CEO of Stenheim loudspeakers. I listened to the Stenheim Alumine Monitors ($15,975/pair) and their matching woofer sections ($29,750). These speakers have super elegant, but very understated, 10–15mm thick anodized aluminum cabinets. Pure (no bling) industrial arts beauty. They were driven by some even more elegant clunks of aluminum: The Nagra HD DAC with MPS power supply ($27,250) and the stunning looking and sounding Nagra VPA 845 tube mono amplifiers ($29,350/pair). If I said the system played smooth and fast, with glowing naturally tones—that would be and understatement. Wood cabinets have a sound we are all familiar with—so much so we don't even notice it anymore. Our mind just recons, that's what speakers sound like. Well, I suggest you listen to these Stenheims just to see what music sounds like without all that wood. Bravo M. Panchard!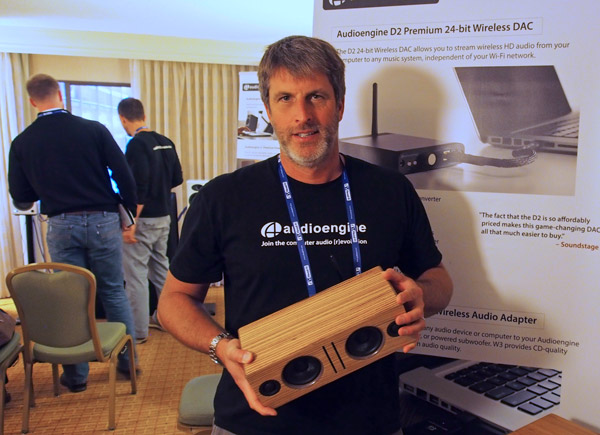 Room 438: I met Audioengine's Brady Bargenquast (above) on Thursday night and I was excited to see how they would show and demonstrate their range of products. Audioengine makes a group of unique, and very forward-looking creations—some of which have caught on like blazing fire (the Audioengine 2+ powered desktop speakers and D1 DAC for example) and others, like the D2 Premium 24-bit wireless DAC ($500) that is just now igniting. The D2 allows you to stream lossless 24/96 audio from your computer to any music system in the house! These days, I am really beginning to like the sound of the words "lossless" and "wireless" (especially when they're combined)—as well as the sound of wireless audio!