RMAF 2014: More From Mr. A.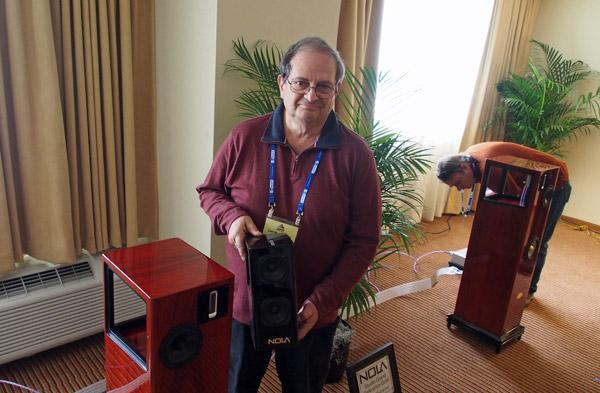 Nola's Carl Marchisotto was demonstrating the Studio Grand Reference Gold floorstanders ($19,800/pair) when I entered his second-floor room. This new speakers is similar in concept to the Metro Grand Reference Gold ($33,000/pair) that I review in our November issue but has just one of the reflex-loaded SEAS magnesium-cone/alnico-motor woofers rather than two. But Carl wanted me to hear the new Nola Brio desktop ($995/pair), which he is holding in the photo and describes as a one-and-a-half-way design. The Brio has two 3.5" cone drivers, one of which is reflex-loaded, the other open-baffle. On Elvis Presley's "Are You Lonesome Tonight?" the Brios in free space produced a surprisingly big sound, though with some midrange emphasis.
Couldn't resist posting a pic of Carl's Audio Research Reference 75, which was fitted with the fairly new KT150 output tubes. Carl had taken the amp's top off, but he reassured me that it still fits with the '150s inside. The Ref 75 was hooked up to the Brios and Studio Grands with Nordost cable.
Colleen Cardas Imports and Blackbird Audio Gallery of Santee, CA, was showing the new Axis VoiceBox S speakers ($2495/pair) from Australia, shown here with designer Brad Serhan. The gloss black-finished VoiceBox is specified as having a 5 ohm impedance and a frequency range of 45H–20kHz and crosses over a Nomex/paper-cone woofer at 2.8kHz to a Fountek ribbon tweeter. Driven by a Unison Research Triode 25 D/A integrated amplifier ($3995) and a Unison Research Unico tubed CD player ($4995), the Axis speakers sounded sweet and extended on a track from female singer Koshiko Goto, which I suspect was also due to the care taken in set-up in the small room.
The other Colleen Cardas Imports room was LP only, with source the new Unison Research Gyro player ($3995) fitted with a Transfiguration Axia moving-coil cartridge ($2500).
Amplification in this room was all class-A PureAudio, including the Vinyl phono preamplifier ($4500), Control preamp ($9500), and Reference monoblocks ($15,500/pair). The sound of the Living Stereo Witches Brew album with a pair of the three-way Opera Grand Callas speakers in their new gloss-walnut finish ($11,995/pair), which each have two rear-firing tweeters, was open and spacious, with extended lows, though the top octave was a bit tipped up, I felt.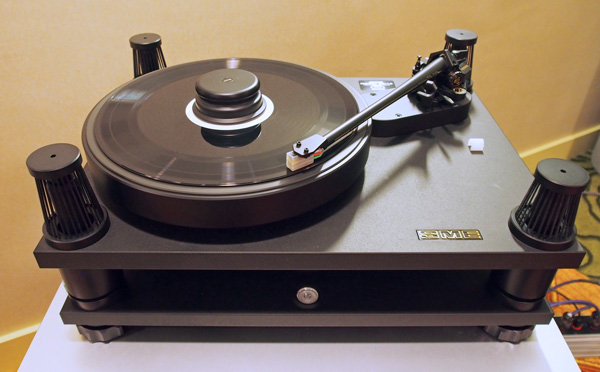 A highlight of RMAF for me was having Acoustic Sounds' Chad Kassem playing me test pressings of albums from Nina Simone and Harry Belafonte on a system that included the Sony SS-AR1 speakers driven by the unique Nelson Pass V-FET monoblocks, a Pass Labs XP-30 preamp, and the SME 30 turntable shown above fitted with a V-12 Series 12" magnesium tonearm and a Koetsu Onyx cartridge. (Acoustic Sounds is now the US distributor for SME.) Wiring was all-Kimber. Even in mono, Nina Simone's Litte Girl Blue produced a tangibly real image of the singer, while the surprise on Belafonte's Live at Carnegie Hall, remastered from the original 3-track tapes, was that were 2 more tracks than on the original release: an orchestral overture and an encore, "Scarlet Ribbons." Apparently after the 2-channel master had been mixed down from the 3-track tapes without these songs, the 3-track tapes were put away and they never again saw the light of day until Chad asked for them!
Tom Norton has already reported on Naim's Statement amplifier on display in the hotel lobby, but my eyes and ears were caught by the English company's new Muso music center ($1500). Though it appears wider, the all-in-one-box Muso is the same size as B&W's best-selling Zeppelin. It has Bluetooth, USB, digital, and analog inputs, and can access Spotify Premium streams via a network port. Playing some classic Van Morrison songs, the Muso sounded very much better than I was expecting. Nice.
Unless my over-burdened memory lost some RAM—it has happened before!—new to me at this show was the Spatial Audio Hologram M1 open-baffle speakers ($4000/pair). Driven by a Red Dragon S500 amplifier ($1995) via Verastarr cables, with source a Lynx Lyra 1 D/A preamp fed data from a MacBook Air, these high-sensitivity (100dB) speakers produced a naturally balanced, full-range sound on a Steven Stills solo recording (I think it was Steven Stills), though an unidentified recording of the prelude to Bach's first cello suite was a touch too rosiny.
From the front, the M1 appeared to have two 15" woofers—I wondered where were the highs coming from? It turns out that the top woofer has a coaxial, horn-loaded compression driver taking over above 800Hz.
Another new name to me at the 2014 RMAF was JTR Speakers of Oconomowoc, WI, who were demming these large towers with a Lynx front-end and J River Media Center, with power conditioning provided by a Torus transformer. Costing $7000/pair, the speaker combines two 15" woofers crossing over at 350Hz to a square midrange horn with a tweeter at its throat handling frequencies above 6.8kHz. Female voice on a Chesky sampler sounded natural and evenly balanced. Sitting in the hot seat in this room, BTW, is renowned amplifier designer Bob Cordell, whom I seemed to be following around the final day of the show. Bob is working a new edition of his 2011 Designing Audio Power Amplifiers textbook for McGraw Hill. In vain did I complain to Bob that I haven't yet finished reading the first edition!