RMAF 2014: Meet The Beatles
For John Atkinson, Michael Fremer (above, eating up a rare platter), and myself, RMAF 2014 ascended to a higher dimension with the opportunity to compare pristine pressings of three tracks on original Beatles stereo LPs with their mono equivalents in the new Beatles mono box set. To say that the stereos, which were provided by music lover Shane Buettner of Brinkmann USA and Vandersteen, paled before mono remasters is an understatement. The stereo tracks sounded like a hack job embarrassment.
The comparison, which was held twice for the public and once for selected press, took place in a large room sponsored by Audio Alternative. It helped greatly that the system, headlined by the new Brinkmann Spyder turntable outfitted with two arm bases (below, $17,000 total), dual 10.5 tonearms ($6300 each), and RoNt II vacuum tube power supply ($4300), fed signals to Audio Research's REF 2 Phono SE preamp ($13,000) and REF 5SE preamp ($13,000), and Vandersteen's M7-HPA monoblocks ($52,000/pair) and Model Seven experimental update loudspeakers ($62,000/pair est. price). All cabling was by AudioQuest, and isolation stands and bases were from Harmonic Resolution Systems.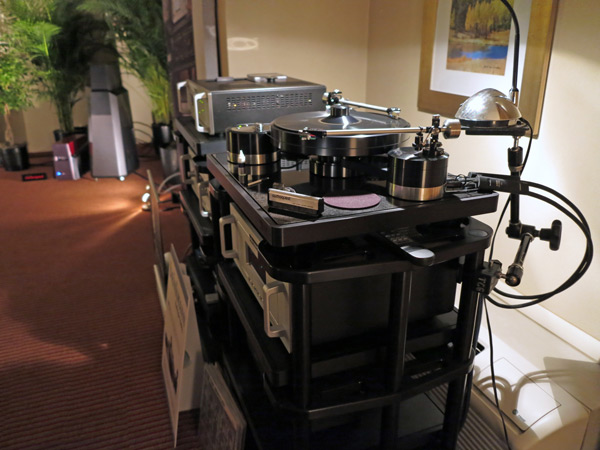 First up was "I Saw Her Standing There" from Please Please Me, sourced from a UK silver and black EMI/Parlophone "two-box." As in the subsequent comparisons, Shane played the stereo version using Lyra's top-of-the-line Atlas stereo cartridge ($9500). For mono, the second tonearm came into play, equipped with a lower level Lyra Kleos mono cartridge ($3500). Shane acknowledged that he would have used the mono equivalent of the higher-level Atlas cartridge had one existed.
I was stunned by the difference between the stereo and mono versions of this Beatles classic. "The mono sounds so much smoother and more musical," I wrote in my notes. In fact, that was the only thing I wrote in my notes. All the mono versions were so much fuller in the midrange, smoother and less etched on top, and drop dead beautiful sounding that all I could do was sit and marvel in mouth agape wonder.
Next was "Yesterday" from Help, first from a stereo UK silver and black EMI/Parlophone "two-box," then from the mono remasters. Again, the additional richness of the mono version made the stereo sound like someone wasn't paying attention.
Finally came "When I'm 64" from Sgt. Pepper's Lonely Hearts Club Band. When Paul McCartney recorded this track, he was supposed to have raised the pitch by a half-step in the mono version to make him sound younger and more naive. The stereo, which is pitched a half step lower despite Paul's wishes, came from a much coveted UK 1st pressing, yellow and black Parlophone, Mothers 1&2, stampers in the low teens. (Michael approved ;-)) Yet despite its provenance, the mono version sounded so much better, and so "you are there," that I had a mini flashback to the summer of 1967, when I was listening to this music for the first time, so stoned out of my tree that I didn't mind (for once) the horrible distortion from our crappy one-piece record player.
After we'd listened to both versions of "When I'm 64," Andre Jennings from The Absolute Sound asked if we could listen to the mono version using the higher-level Atlas stereo cartridge. Since the Audio Research phono preamp had a mono switch, Shane agreed.
Bless Jennings' heart. As you may already know, the Lyra Atlas is capable of conveying far more color than the mono Kleos. With both stereo and mono versions played with the Atlas, it became clear that not only had the stereo remix desecrated much of the beauty of the original mono masters, but it had also robbed them of significant amounts of color and depth.
My thanks to Shane for a marvelous session, and to the Beatles for actually making me believe that the world was filled with tangerine trees and marmalade skies.