RMAF 2014: Final Thoughts from Tom Norton
It was no surprise that PSB/NAD had one of the best-sounding rooms at the show. PSB's new Imagine T3 loudspeakers (about $7000/pair, available by the end of this year) sounded both natural and dynamic. They each have three 7.25" woofers operating in a cabinet less than 2 cubic feet in volume. That would appear to be too small to properly load three woofers—until you hear them. A 5.25" midrange and a selected version of PSB's well-known 1" titanium-dome tweeter round out the driver complement. The crossovers are at 450Hz and 1.8kHz, and the claimed room sensitivity of 91dB.
The speakers were being driven by NAD's newest versions of its Masters Series of electronics. For the two-channel demo here, the active components were the M12 DirectDigital Preamp+DAC ($3500) and M22 Hybrid Digital PowerAmp ($3000). The Masters Series lineup also includes the M17 Surround Sound AV Preamplifier ($5500) and M27 seven-channel power amp ($4000), both of which are reviewed by Kal Rubinson in the January 2015 Stereophile.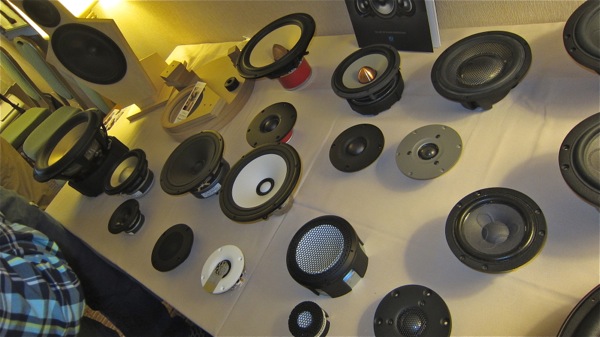 In one of its two rooms Madisound, a company that supplies parts to DIY enthusiasts with the emphasis on loudspeakers, was demoing DIY speakers designed by Siegfried Linkwitz. In another, an array of separate loudspeaker drivers was spread out across several tables. Many drivers available to the DIY market are surprisingly modest in price compared to the cost of the finished commercial speakers they end up in, but those on the table shown here include many of the more expensive and cutting edge designs. All of them are available to the DIYer as well, for a price. Manufacturers might be able to wangle a discount, but they still won't be cheap.
That white-looking cone just to the left of center (it's actually aluminum), with a smaller aluminum driver at its apex, is the latest convergent (coaxial) unit from SEAS, a well-known Norwegian driver maker. SEAS supplies drivers to many loudspeaker makers, sometimes off-the shelf, sometimes custom modified or even totally custom made. This particular unit has only been available for a year or so, but I wouldn't be surprised to see it, or a variation of it, in finished loudspeakers in a year or two. It usually takes at least that long for new drivers to make their way into commercial loudspeakers (Madisound offers a DIY kit using that driver, and showed it as RMAF 2013, but I didn't make it to that show). But you can buy them now—for about $1000/pair!
In the front row just below that driver you'll see a tweeter with a white frame (it actually is white). That's SEAS's new diamond tweeter. You might see that in future finished speakers as well, but such a speaker won't be cheap. If you want one now, expect to pay $3000—for just one. Even if the speaker manufacturer could get them at half that price, the often stated ratio that a finished loudspeaker costs five times its parts cost (in my opinion that's on the conservative side today) would mean that $15,000 of the price of a pair of such finished speakers be in the tweeters alone.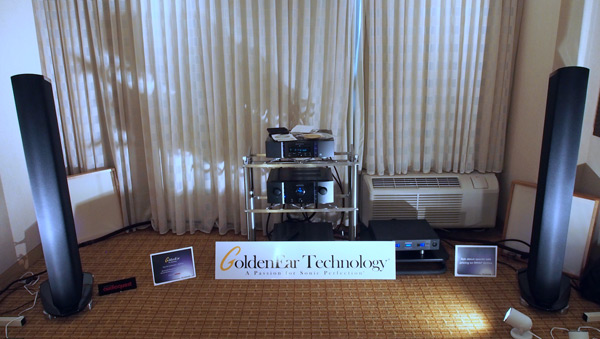 GoldenEar consistently scores high at any show they choose to be in, and this year was no exception. Full disclosure: GoldenEar took several journalists to dinner at the show, and I was one of them. But that had nothing to do with my high rating for its room. It would be impossible for me to say that it was one of the four best exhibits at the show, since I missed a lot of rooms. But of those I saw and heard it was, for me, near the top (the others: PSB/NAD, Wilson Audio Sashas with Wilson's Watch Dog subwoofers and very pricey electronics from dCS and VTL, and the Audeze LCD-X headphones driven by a Cannali headphone amplifier).
What made the GoldenEar exhibit in one of Colorado dealer Listen-Up's many rooms, surprising was that it was being driven by a modest set of electronics (by today's standards): a Marantz SA11S3 CD/SACD player ($4000) and a PM11S3 integrated amplifier ($5000). It helped, of course, that the GoldenEar Triton Ones ($5000/pair) have their own amplifiers driving their own, built-in subwoofers. This relieved an external amplifier of much of the load.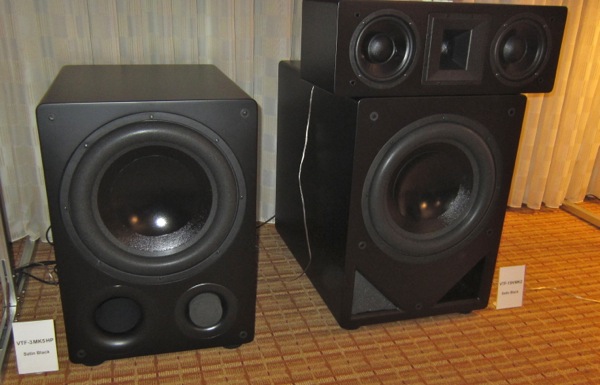 Hsu Research has two new subwoofers (availability date TBD). The VTF-15H Mk.2 replaces (oddly enough) the VTF-15H. The big changes from the VTF-15H are an upgraded driver with double the magnet size, a new 600W (continuous, 200W short term) amplifier, and balanced XLR inputs. According to Dr. Hsu, the sub will also offer increased output over the VTF-15. It will set you back $899 in flat black (other finishes are available at extra cost). The slightly smaller VTF-3 Mk5 (on the left in the photo) includes the same driver and amp in a slightly smaller cabinet, for $799 in flat black. Ditto on the availability of fancier finishes.
I found three systems at the show offering surround sound: they must have missed the memo. There were two modest systems from SVS Audio (the only one of the three equipped for both music and movie surround, the latter with video courtesy of a Samsung flat screen HDTV), a multichannel music system sponsored by Kimber Kable featuring five of Sony's flagship SS-AR1 speakers (Kimber has set up a similar system at every RMAF for several years now) and this setup from exaSound. It featured the latter's e28, 8-channel DAC ($3650), a Bryston 5-channel amp, and five Magnepan 1.7 speakers. The sound was exceptional, especially considering all that radiating area pumping away in a small hotel room. The multichannel music consistently sounded better than the equivalent 2-channel mixes.
Parasound's new Halo 2.1 integrated amplifier ($2500) is rated at 160Wpc into 8 ohms (240Wpc into 4 ohms, both channels driven), and utilizes the same basic John Curl circuit design found in Parasound's Halo power amps. In addition to its analog inputs, it offers USB, coax, and optical digital inputs for sampling rates up to 192kHz, 24-bit. There's also analog bass management included for use with a subwoofer, and variable high- and low-pass crossovers.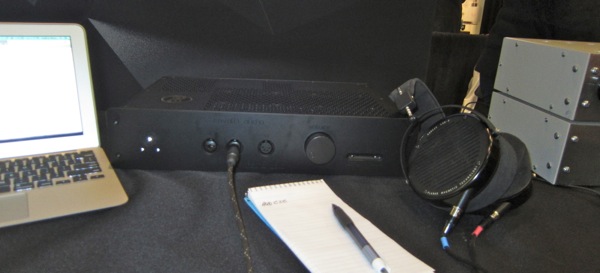 I didn't spend a lot of time in the popular CanJam room, where hundreds of headphones and headphone amps screamed silently for attention. But I was blown away by these Audeze LCD-X "cans" ($1700), driven by a Cavalli Liquid Gold Dac/headphone amp ($3950). The source was computer audio and the USB cable (inquiring minds might want to know) was from JCAT. For me, and keeping in mind again that I had to miss a lot of rooms, not to mention a lot of cans (for the Newbie, cans are headphones), it was one of the four best-sounding setups at the show (the others were Wilson Audio/VTL/DCS, PSB/NAD, and GoldenEar/Marantz).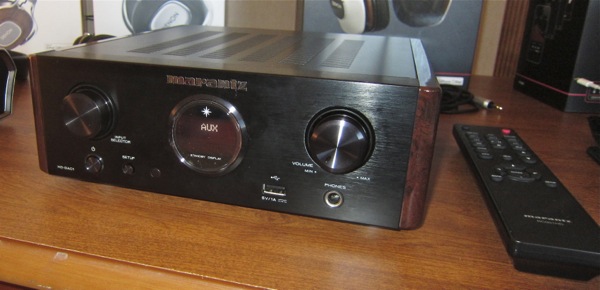 The new Marantz HD-DAC1 headphone amp ($795) offers both analog and digital inputs, the latter feeding an asynchronous DAC that can handle PCM (up to 192kHz, 24 bits) and DSD at 2.8MHz and 5.6MHz. It has both fixed and variable outputs, and is said to be capable of driving headphones with an impedance of up to 600 ohms. According to Marantz, the design uses circuitry carried over from Marantz' Reference series products.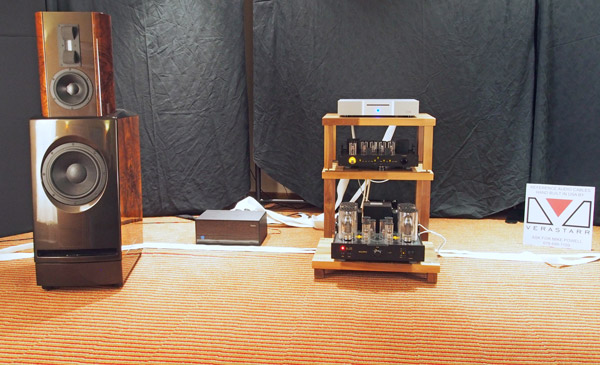 The Joule Black speakers from Vapor Audio produced a lush, immediate, and bold sound with a lot of grip. I would like to have heard them driven by a good solid-state amp; some of that immediacy (a bit more than I prefer) may have come courtesy of the Allnic tube amps driving them (below), which use the relatively new KT150 output tube, with its distinctive shape.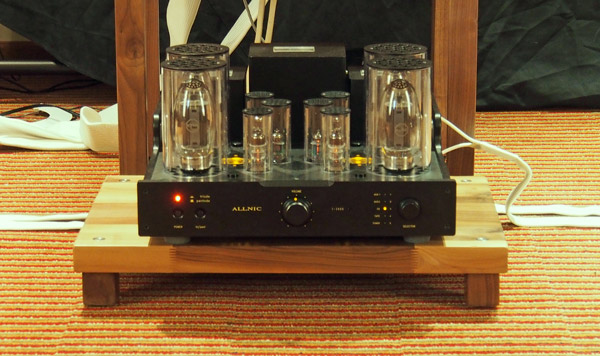 The Joule Blacks' woofer and midrange drivers are sourced from Audio Technology, the ribbon tweeters from RAAL. Based on the competition, there's a lot of content here for the $16,995/pair asking price, not the least of which are the gorgeous Baltic birch cabinets (veneered here in walnut burl).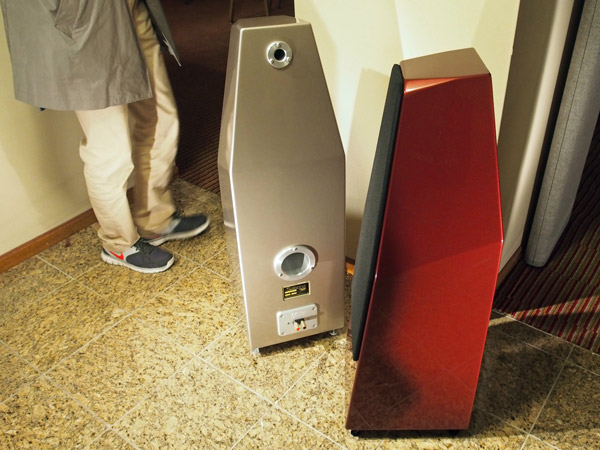 JA covers the Wilson Audio/VTL demo elsewhere and I agree 100% that this room was one of the highlights of the show. Hiding behind a room divider, however, were these intriguing speakers. Actually, they were not finished speakers at all, but the projected cabinet design for a new 3-way Wilson speaker, the Sabrina. They're still under development, including the final driver complement, but are expected to come in at somewhere south of $15,000/pair (though probably not too far south!)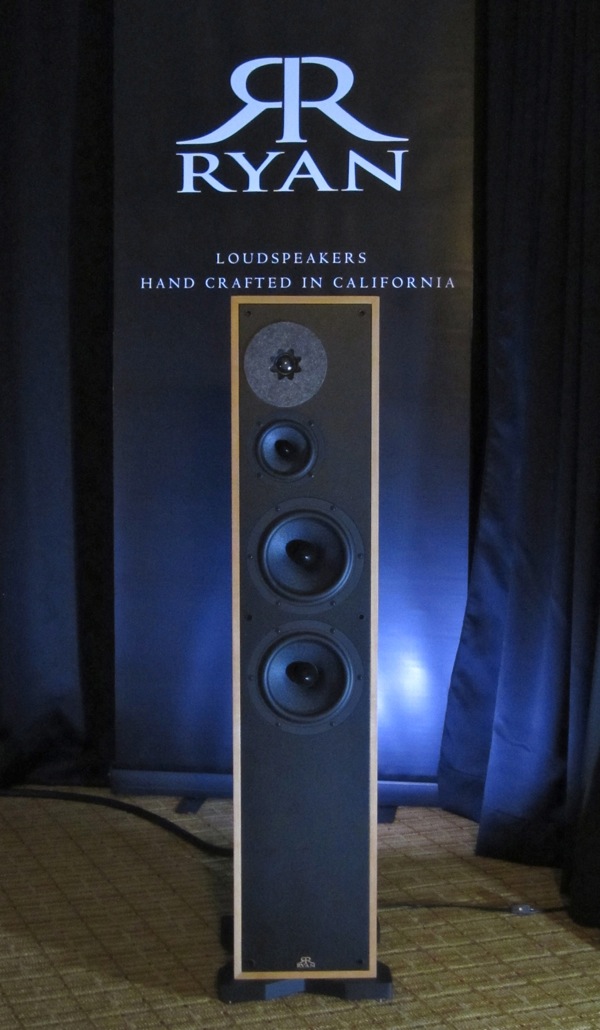 As with most recent audio shows, RMAF 2014 was flush with new companies trying to break into what is a difficult business, particularly with the disappearance of so many audio dealers. Ryan Speakers, unlike most fledgling players in the market, weren't attempting something wildly different, nor something impressive mainly because it costs a king's ransom. The 3-way R630 shown here, the top of a line of three models, will set you back $5000/pair, and is said to be "handcrafted in California." The bass and midrange cones are laminated Nomex, the tweeter a cloth-dome unit with a felt ring surrounding the diaphragm, and the crossovers were at 400Hz and 2.5kHz.
I might have minor quibbles with the voicing; they sounded a little forward, but the room may have had something to do with that. And I didn't have time for extended listening. The main reason I went in it the first place was that the setup and design looked interesting, straightforward, and unpretentious. (And also because I'm half Irish by birth and all Irish by sports loyalty!) I had to skip many rooms for lack of time, so I may have missed a few promising demos. There were dozens of small audio companies like this at the show, jostling for attention. Everyone wants to become the next Magico or B&W. Few (or none) will.