RMAF 2014: Day One, the Adventure Continues
When I entered room 1102, Greg Roberts of Volti Audio was in the midst of describing the Volti Audio 3-way Vittora system, complete with separate Extended Low Frequency cabinet ($25,000/five-piece set) that kicks in below 50Hz. In the familiar pairing with BorderPatrol Audio Electronics' S20 ESC + EXS dual-mono parallel 18Wpc SET amplifiers ($25,750/pair with new EXS power supply units), EXT1 triode line stage ($12,500), and USB DAC ($975); and Triode Wire Labs cabling, the system scored as another midrange winner . . . perhaps too much of a winner for some tastes, given that the exceptionally smooth midrange seemed to dominate the frequency extremes.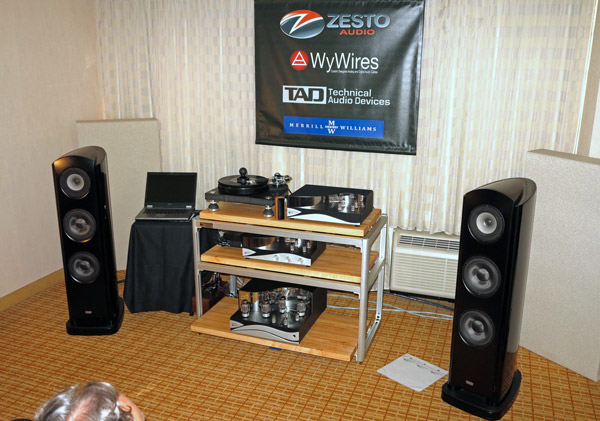 Zesto Audio's pairing of their new Andros 1.2 vacuum tube phono stage ($4700), tube Leto preamp ($7500), and BIA 120 class-A stereo amplifier ($12,500) with an updated Merrill-Williams Audio REAL 101.2 turntable ($7200) w/Tri-Planar U2 tonearm and Dynavector cartridge XX2 Mk.II, TAD Evolution One loudspeakers ($29,800/pair), lots of WyWires cabling, including the new Diamond Series, and other goodies found their electronics sounding invitingly warm but far more neutral than other times I've heard them. Save for a bright edge on a recording by Peter Townsend, and another on Reiner's Scheherazade, this was a winning system.
An absolutely beautiful midrange distinguished Phase Technology's pairing of their PC60 CA bookshelf loudspeakers ($1400/pair) with an Oppo BDP-105 ($1200); McIntosh's MT-10 turntable ($10,500), C2500 tube preamp ($7000), and MC 452 power amp ($8500); and Kimber Kabling. Listening to LPs of Billie Holiday and the Cowboy Junkies, as well as my own Patricia Barber SACD, confirmed why Robert J. Reina enthused over these speakers in the July 2014 Stereophile. There was a bit of an edge on top, which corresponded to John Atkinson's measurements of the tweeter's boost. But oh what a luscious midrange, which was, in no small part, due to the McIntosh gear.
B Once again, Resonessence Labs impressed with their exceptionally full soundstage and satisfying sound. Cellos and basses were especially pleasing in a presentation that paired Resonessence's Invicta Mirus DSD/DXD-capable DAC ($5000) and Invicta ($5000) with 15-year old B&W loudspeakers and Clarity cable. Due to room size and other variables, matters did get a little congested when everything got going in a hi-res recording of Chabrier's Espana—I'd love to hear these electronics with different speakers—but the high quality of the sound, especially at this price point, pointed to this company as a winner.
Descending to the tenth floor, I discovered two pairings of Santy Oropel's Triode Corporation Ltd. electronics. The first, in the familiar coupling with the excellent Acoustic Zen loudspeakers, has been reported on so many times that I decided instead to focus on the Existence loudspeakers, which will hopefully soon make their appearance in the US.
Shown were Existence's Euphoric stand-mounted loudspeakers ($4950/pair) and Erotic floorstanders ($6750/pair). Giving their all with Tri's TRX-P6L power amp ($3200), TRX-1 preamp ($3200), and TRV-CD5SE ($3200), thanks to PS Audio's P10 Power Plant and Acoustic Zen cabling, the system came into its own when I put on my own familiar recordings. On Chesky's pairing of bossa nova great Rosa Passos with bassist Ron Carter, the midrange of the Euphorics seemed especially strong, and bass pitches were nicely focused.
As nice as the Euphorics were, sound improved dramatically with the Erotic floorstanders. A recording by Infected Mushrooms underscored how well defined and in proportion this combination of loudspeakers and electronics can sound. If the presentation was ultimately a little toned down on top, it nonetheless satisfied, not only with its well-defined bass and midrange, but also with ideal placement of the voice within the soundstage. Here's hoping I'll have more opportunities to explore this pairing.
The big news in the familiar-looking Benchmark room was that the AHB2 high-resolution power amp ($2995) has been further refined, with a high S/N ratio even at minimal output and topology that claims to achieve full 24-bit resolution from digital signals; the crossover of the SMS-1 The Benchmark loudspeaker ($2450-2650/pair, depending upon finish) has been changed; and the DAC2 DX ($1995) adds pro connectors and dual output busses to familiar and well-regarded electronics. The sound was especially impressive from such a small loudspeaker. Keb Mo sounded great, with a beautiful midrange and well-defined extremes. One of these days, I hope to hear the amp in another pairing, if only to further judge its strengths.
I think I threw John DeVore for a loop when he put on a 24/96 file of Ella & Louis singing "Stars Fell on Alabama," and I asked if he was playing Maria Callas. Hey, a girl's got to have a little fun once in a while. What didn't throw me for a loop, either on this track or a 24/192 file of Ole Bull's Violin Concerto, was the warmest sound I heard in the first two days of the show.
The big news was the first showing of the final iteration of the DeVore Fidelity Gibbon X three-way loudspeaker ($15,500/pair). The speaker, hand-built in Brooklyn, boasts dual (opposing) 8.25" long-throw woofers mounted on either side of the cabinet, a brand-new midrange driver, a suspended tweeter that allows for significant upwards extension, and a solid bamboo cabinet. Frequency response is an impressive 22Hz–40kHz, and sensitivity 92dB. Other major components in the chain included a combination of VTL, Leben, and Ayre Acoustics electronics, and handsome, lower-priced Box Furniture Co. equipment stands (assembly required by dealer or buyer).
The dance of German Physiks Unlimited Mk.II omnidirectional loudspeakers ($9950/pair), which are now sold company-direct in the US, with Ayre electronics, Purist Audio Design cabling, and BCR Sound Enhancement equipment supports won me over with its spacious, exceptionally natural sound. Sonorities on guitar were gorgeous, and dynamics were quite fine.
Ayre surfaced in many rooms at RMAF 2014, but this pairing with German Physiks and Purist Audio Design cabling was the most successful I heard in my first two days at the show. Doing the honors were Ayre's CX-7eMP CD player ($3500), KX-5 preamplifier ($7950), VX-5 power amplifier ($7950), L-5xe power conditioner ($1500). Note as well the BDR The Source equipment shelf ($1135).