Recording of November 2014: Music for Peter Gunn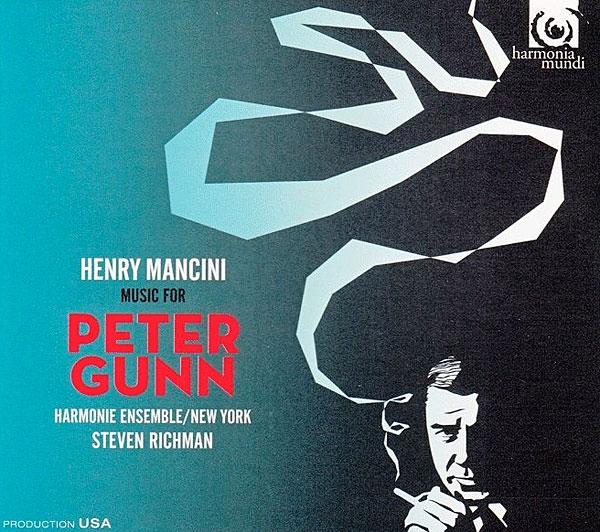 Henry Mancini: Music for Peter Gunn
Steven Richman, Harmonie Ensemble/New York (22-piece orchestra)
Harmonia Mundi HMU907624 (CD). 2014. Steven Richman, prod.; Adam Abeshouse, prod., eng., mastering; Bill Siegmund, asst. prod., ed.; Andy Rider, eng. DDD? TT: 51:04
Performance ****½
Sonics ****
To get the full benefit of this album, you must be old enough to remember 1959. Detective shows were the rage. Your parents let you stay up for Richard Diamond, Private Detective, starring David Janssen, and Peter Gunn, starring Craig Stevens. They were the first TV dramas with their own original jazz soundtracks. Pete Rugolo scored Richard Diamond. The RCA LP of Henry Mancini's music for Peter Gunn was a smash. It was on the Billboard charts for two years, and in 1959 won the first-ever Grammy for Album of the Year.
When you haven't heard the "Peter Gunn Theme" in over half a century and it suddenly blasts out of Steven Richman's new album, it is déjà vu in a wild adrenalin rush. Your childhood knew those frenzied wailing saxophones and that brass roaring over a twangy guitar vamp, all building to a shattering climax. (You were too young to understand that the "Peter Gunn Theme" was, among other things, a musical depiction of strenuous sex. Your parents, in the Eisenhower 1950s, understood it only subliminally.)
The Harmonie Ensemble/New York was founded in 1979. Its personnel, which varies by project, is drawn from New York's community of orchestral, jazz, and commercial players. The Ensemble has performed and recorded a wide range of classical repertoire and symphonic jazz, and musical director Steven Richman often finds rich material for his orchestra in unexpected places. He has said, "Everyone knows the Peter Gunn theme, but far fewer know the other gorgeous music recycled in various forms throughout the show's three seasons. Even our musicians were in the dark about it."
"Gorgeous" is no overstatement. This recording is much more than nostalgia for Boomers. Only the greatest film composers, such as Nino Rota, Ennio Morricone, Duke Ellington, and Mancini, compose pieces to support cinematic narrative and action that can stand alone as music. For Peter Gunn, Mancini wrote edgy tunes like "Blue Steel" and "Spook" to intensify the excitement of chase scenes and to insinuate the presence of villainy. He wrote "Soft Sounds" and "Slow and Easy" for atmosphere, to embody the nocturnal cool of Gunn, that most unflappable and suave of detectives.
In his authoritative liner notes, John Caps, who wrote Henry Mancini: Reinventing Film Music, says, "This was jazz scoring that started out as mere accompaniment, but gradually took over the scene and ultimately took over the whole show." Now, without the show, the music lives on because of Mancini's golden touch, which made melody sound effortless and inevitable, as if it had always been there, and made harmony sound like continuous small revelations.
All 16 tracks are short. Five are under three minutes, and none is over four. Yet each is a complete, vivid, self-contained concept. "Dreamsville," with its glowing, luxuriant French horns, is sheer languid decadence. "Blues for Mother's," with its close voicings for reeds and brass, is an optimal setting for the erotic alto-saxophone smears of Mark Gross. Richman used only Mancini's original arrangements, and the Harmonie Ensemble's execution of Mancini's condensed forms is impeccable. The soloists are established New York players like Ronnie Cuber, Victor Lewis, Lew Soloff, and Lew Tabackin, or lesser-known musicians who serve the music beautifully, like guitarist Bob Mann and vibraphonist Christos Rafalides.
Richman retained the same spaces within the original charts for solos, and used the same instruments. The solos are of course new, but all had to be concise, a chorus or less. Many entries are breaks of only 8 or 16 bars. It is a testament to the creativity and discipline of these players that they all stay in character within a tune's particular ambience, yet deliver personal statements. In "Dreamsville," Gross's alto solo is like an emanation of spirit floating into the night. Soloff takes all the trumpet solos, most often to create thrills, as in "Fallout." In "Blue Steel," he spatters and blusters with a plunger and shrieks without one. Rafalides's vibes and Mann's guitar often commingle to define the lush, sensual textures of the moody pieces.
The last track, a reprise of the "Peter Gunn Theme," is only two minutes, yet has room for four separate jolts: from Cuber's baritone saxophone, Larry Farrell's trombone, Lincoln Mayorga's piano, and Soloff's trumpet, which rockets straight up, screaming. At the electrifying finish, trumpeter Joe Giorgianni doubles Soloff an octave or two above, in the sonic stratosphere.
An essential part of the fun is the sound captured by co-producer and engineer Adam Abeshouse. Working in the DiMenna Center for Classical Music in New York, he turns Steven Richman's 22-piece ensemble into a lethal beast, jaws snapping—or a gentle lover whispering seduction in your ear.—Thomas Conrad