Recording of April 2017: Extraordinary Met Performances from 1966-67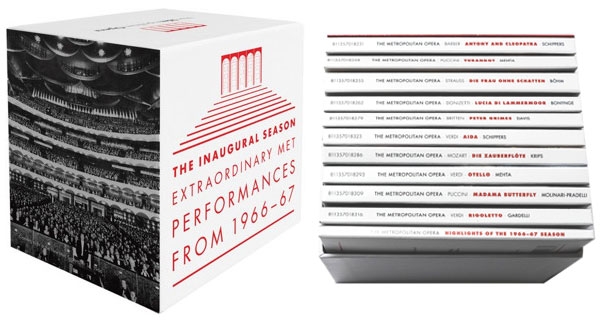 The Metropolitan Opera: The Inaugural Season: Extraordinary Met Performances from 1966–67
Barber:
Antony and Cleopatra
(Price, Díaz, Thomas; Schippers). Britten:
Peter Grimes
(Vickers, Amara, Evans; Davis). Donizetti:
Lucia di Lammermoor
(Sutherland, Tucker, Colzani; Bonynge). Mozart:
Die Zauberflöte
(Raskin, Peters, Shirley, Uppman; Krips). Puccini:
Madama Butterfly
(Scotto, Casei, Shirley, Bottcher; Molinari-Pradelli);
Turandot
(Nilsson, Corelli, Freni, Giaiotti; Mehta). R. Strauss:
Die Frau ohne Schatten
(Rysanek, Ludwig, Dalis, King, Berry; Böhm). Verdi: Aida (Price, Bergonzi, Bumbry, Merrill; Schippers);
Otello
(McCracken, Caballé, Gobbi; Mehta);
Rigoletto
(MacNeil, Peters, Gedda, Giaiotti; Gardelli).
Plus: Highlights of the Met's 1966–67 Season, including backstage interviews and excerpts from performances of
Don Giovanni
,
La Gioconda
,
Lohengrin
,
La bohème
,
La traviata
,
Il trovatore
,
Elektra
, and
Mourning Becomes Electra
.
Warner Classics 0811357018224 (22 mono CDs). 2016. Grace Row, restoration prod.; Jeff Dudzick, Andreas Meyer, I-Hua-Tseng, restoration engs. AAD or A–D? TT:
ca
30:00
Performance ****½
Sonics ***½
Aside from the overnight sensation (after a career of more than a decade) of Beverly Sills at the New York City Opera as Cleopatra in Julius Caesar, the 1966–1967 opera "news" in New York was the Metropolitan Opera, newly opened at Lincoln Center. The 10 broadcasts included here feature some singers who still have no equals. In addition to seven starrily cast favorite operas and the premiere of Marvin David Levy's fine Mourning Becomes Electra, there were Samuel Barber's Antony and Cleopatra, composed to inaugurate the new house; the Met premiere of Richard Strauss's 1919 masterpiece, Die Frau ohne Schatten; and the first production in 20 years of Benjamin Britten's Peter Grimes, with the incomparable Jon Vickers essaying the title role for the first time.
These three required every resource in the Met's armory. Antony was, by and large, seen as a somewhat overblown, Hollywood-style failure, its handsome music and few good set-pieces offset by a lack of drama, and a production by Franco Zeffirelli so gargantuan as to dwarf music, singers, and orchestra. (In a brief interview included on the bonus CD, sharp-tongued Rudolf Bing, then General Manager, introduces Zeffirelli as "a man who doesn't know what he wants and always gets it.") The opera was revised and revived a couple of times after, but it never quite clicks—and Barber never wrote another opera. The performance under Thomas Schippers is all it could be, and bass Justino Díaz and soprano Leontyne Price in the title roles are mighty impressive; love it or leave it, it's good to have the document.
The challenging, stunning Frau, under Karl Böhm, is magnificently played and sung, with Leonie Rysanek, Christa Ludwig, James King, Irene Dalis, and Walter Berry positively thrilling; the visceral excitement on these CDs is as it was in the house. (I was there.) Visceral also describes Vickers's Grimes: the gigantic voice is under complete control, and the character's insane rages are as terrifying as his mental collapse is pitiable. Lucine Amara is a bit ineffectual, but Geraint Evans offers a vivid, musical portrayal, and Colin Davis leads with great authority.
A stylish Zauberflöte under Josef Krips stars the lovely Judith Raskin as Pamina, Theodor Uppman in his classic portrayal of Papageno, Roberta Peters as a pinpoint-accurate Queen of the Night, and the under-appreciated and -recorded tenor George Shirley as an elegant Tamino. Shirley also sings a bracing, musical Pinkerton alongside Renata Scotto's absolute and brilliant Butterfly. Every word and every note uttered is Cio-Cio-San's—the soprano's ego is not present. Like Vickers's Grimes, it's an emotionally shattering performance, one for the ages.
The "ages" are well served in a different manner by Joan Sutherland's Lucia di Lammermoor, a performance of such vocal glory that it invariably (in all of her undertakings of the role) left the audience speechless. The enormous voice, ideally controlled; the perfect trills; the astonishingly fast runs and roulades—all made up for a lack of psychological insight that had become de rigueur A.C. (After Callas). Richard Tucker is a manly, stentorian Edgardo, and the marvelously snarling, resonant, undervalued Anselmo Colzani is vibrant as Enrico. Richard Bonynge's lethargic leadership is pretty much disregarded by the singers, who, at the time, knew far more than he did.
Two more performances present an embarrassment of riches: A Turandot (under Zubin Mehta) starring Birgit Nilsson and Franco Corelli at their absolute vocal peaks is only (shamefully) spoiled by the all-important "Riddle Scene" being transferred a half-tone sharp, otherwise, this is an edge-of-your-seat ride, with Mirella Freni's delectable Lió almost a bonus. And the 1967 Aida has yet to be vocally equaled: Leontyne Price in ravishing voice; Grace Bumbry singing through her teeth in rage and pouring forth huge, brilliant tone; Carlo Bergonzi both heroic and meltingly lyrical as Radames, that particular combo a monopoly of his. The beautiful-voiced but bland Robert Merrill rounds out the cast.
Rigoletto, under Lamberto Gardelli, is fine, with Cornell MacNeil a tragic jester belting out high A-flats as if he were a tenor; Roberta Peters is outright lovely as Gilda (but who needed that interpolated high E-natural squeak at the close of "Caro nome"?); and Nicolai Gedda is a strangely extroverted and unrefined Duke. Verdi's Otello is an odd bird of a performance, with plenty of off-pitch (sharp) singing by a vicious but unsubtle Tito Gobbi, a Desdemona of astounding loveliness (in the last two acts) by Montserrat Caballé, and the outsized, baritonal, but thrilling James McCracken in the title role.
The bonus disc is memorable for three hair-raising duets: from La Gioconda, with Renata Tebaldi and Rosalind Elias; the Klytemnestra/Elektra showdown with Regina Resnik and Nilsson; and Berry and Ludwig in Lohengrin—the only Wagner in the set. Sutherland singing "Or sai chi l'onore" is marvelous, and Teresa Stratas in Mimi's farewell is heartbreaking. A snippet from Levy's Mourning impresses.
The Met Orchestra, in those days before James Levine whipped them into the great ensemble we now know, varies: brilliant under Böhm, a bit ragged with Mehta, a disgrace as led by Bonynge (the brass!!!). The sound, too, varies—some overload in noisy passages in Grimes, Otello, and Frau, and everything's in mono—but otherwise is far more than merely "acceptable."
How can a true opera lover live without this set?—Robert Levine