Musical Fidelity M6DAC D/A processor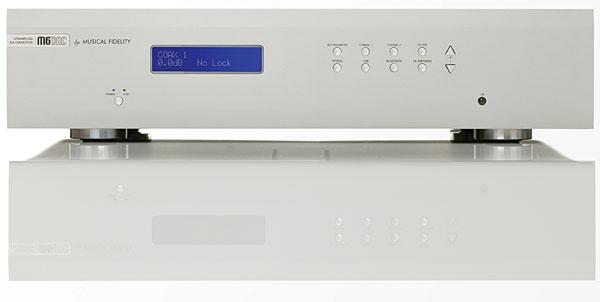 For the past few years, one of
Stereophile
's go-to recommendations for affordable high-performance D/A processors has been the M1DAC from British company Musical Fidelity. The M1DAC was enthusiastically reviewed by Sam Tellig in March 2011, and I wrote about the most recent version in
January 2013
. "Purity of tone was exceptional," decided Mr. T., which I found to be accompanied by superb measured performance, all at a very reasonable price: $749.
So when I learned, at the 2013 Consumer Electronics Show, of Musical Fidelity's new M6DAC, intended to offer "reference quality" performance at a relatively affordable price ($2999), I asked for a review sample.
The M6DAC
Housed in a black-painted steel enclosure, with ribbed aluminum side panels and a black or silver aluminum front panel, the M6DAC matches the styling of Musical Fidelity's other M6-series amplifiers and CD player. A rectangular, blue-illuminated LCD display dominates the left-hand side of the front panel, showing the source playing, the sample rate, and whether that source is set for a fixed output level or adjustable level. A rear-panel switch allows the M6DAC's output level for each input to be set to fixed or, within a range of ±10dB, independently adjusted with Up and Down buttons on the front panel and remote control.
The M6DAC offers a choice of two reconstruction filters, labeled Fast Roll Off and Slow Roll Off, selectable with a front-panel Filter button duplicated on the remote. The display momentarily shows which filter has been selected, as well as whether de-emphasis has been set to Auto or Off. As well as the buttons mentioned above, the array of 10 pushbuttons on the right-hand side of the front panel allows six different sources of data to be selected: balanced AES/EBU on an XLR jack, two S/PDIF electrical inputs on RCA jacks, S/PDIF optical on a TosLink jack, asynchronous USB on the usual USB Type B jack, and Bluetooth.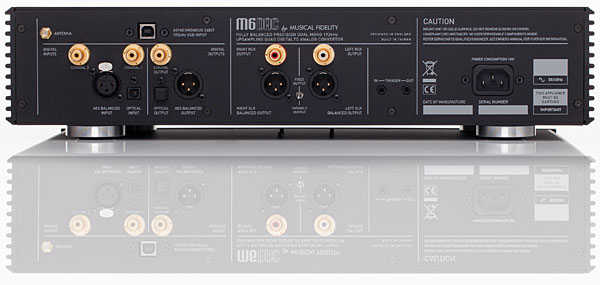 On the rear panel, a badge proclaims that though the M6DAC is made in Taiwan, it was designed in England. On the central section are a pair of RCA jacks for the single-ended analog output, and a pair of XLRs for the balanced analog output. To the right of these are the IEC AC jack and trigger in and out jacks; to the left are the digital inputs, as well as a screw connector for the supplied Bluetooth antenna and three digital outputs: AES/EBU on XLR, S/PDIF optical on TosLink, and S/PDIF electrical on RCA. The Bluetooth connection needs to be set up with a paired device in the usual way, entering a code on the device when instructed. The USB2.0 port functions without a driver program with Linux 2.6.33 or later and Mac OSX 10.6.4 or later. The drivers needed for Windows XP (SP3), Vista, and 7 are included on a CD-ROM. The manual doesn't mention Windows 8, but does include a comprehensive section on getting the optimal performance from Windows machines.
The plastic remote includes buttons for operating both the M6DAC and the M6CD player. Two of its buttons are not duplicated on the front panel: Mute and Display, the latter offering two levels of illumination as well as Off.
Circuitry
When I lifted off the M6DAC's steel top panel, I saw an interior dominated by a large, double-layer, green printed circuit board, with a cutout at the front center to accommodate the AC transformer. This transformer is flanked by blue 4.7µF polypropylene capacitors: 18 on one side, 14 on the other. Almost all the circuitry is concealed by two black metal covers, the one on the left marked "Universal Precision Regulated Digital Power Supply" and offering choke smoothing, the one in the center marked "Fully Balanced Precision Dual Mono 192kHz 24 bit Upsampling Quad DAC." Only the digital-input receiver components are out in the open, with a Bluetooth LSI on the main board and the XMOS USB receiver mounted on a small daughterboard behind the digital input jacks. All digital inputs are galvanically isolated, to minimize noise being injected into the circuit ground.
Removing the shield from the signal-handling stages revealed that the i2S data from the digital inputs are fed to a Burr-Brown SRC4392 chip, an asynchronous sample-rate converter found in many of Musical Fidelity's digital products. Whatever the incoming sample rate, this chip upsamples it to 192kHz and feeds left- and right-channel 24-bit data to a pair of Burr-Brown DSD1796 DAC chips, one per channel. This DAC is a two-channel part; Musical Fidelity uses the two channels in differential mode to provide a balanced mono signal path, with each channel's circuit physically separate from the other's. I/V conversion appears to be performed by a Texas Instruments LME49720 dual–op-amp chip, this a high-precision, high–slew-rate, low-noise part—followed by another LME49720.
All passive components are surface-mount types. The output stage for each channel appears to be based on a third LME49720, the two op-amps within the chip driving the hot and cold phases of the balanced output signal.
Tangled Up in Bluetooth
Ever since his company began distributing FoxL Bluetooth wireless speakers in the UK, Musical Fidelity's Antony Michaelson has been a big fan of streaming audio wirelessly via Bluetooth. I am not a fan, for two reasons: First, the limited bandwidth of a Bluetooth connection requires that the audio data be encoded using a lossy algorithm, which, if you're playing uncompressed or lossless-encoded files, imposes an unnecessary reduction in fidelity, and if you're playing files that are already lossy compressed, runs the risk of multiplying coding artifacts. Second, the first lossy Bluetooth codec I played with, A2DP, sounded poor and measured worse. An early version of the reputably superior aptX codec, which runs at 352kbps, and which I tried using a Creative Labs BT-D5 dongle on an iPod Touch, sounded and measured only slightly better than A2DP when I tried it with the Chordette Gem DAC, which Art Dudley reviewed in January 2011.
I was pleasantly surprised, therefore, when I tried using the M6DAC's Bluetooth connection using my 2012 MacBook Pro as the data source. The M6's display confirmed that the aptX codec was in use, and while music files ripped from CD were flattened in perspective and uninvolving overall, they also sounded smooth and inoffensive, as if the edges had been rounded off a little. By comparison, the plain-Jane apt codec, which I used when streaming music via Bluetooth from my iPad 2 to the M6DAC, sounded annoyingly harsh.
According to Musical Fidelity, while aptX is limited to 16-bit/48kHz data, the M6DAC provides the aptX chip with its own power supply and directly couples it via i2S to the sample-rate converter chip. Certainly I found that the M6DAC's Bluetooth connection worked well for casual listening, and especially for streaming spoken-word Internet stations such as Manhattan's NPR station, WNYC, regardless of cascaded codecs.
Sound Quality
For critical listening, however, I used the M6DAC's USB or AES/EBU connections, both of which worked reliably up to 192kHz. And with either connection and with all kinds of music, I could hear no difference at all between the Slow and Fast Roll Off filter settings. One reviewer said the difference was "subtle"; I think it nonexistent. I discuss the behavior of the two filters in this review's "Measurements" sidebar, where it appears there was no measurable difference between the two filters below 96kHz. It is not surprising, therefore, that they sounded identical. A more cynical reviewer might suggest that the Filter button was included for marketing reasons; I continued my auditioning using only the Fast Roll Off filter.