Home Alone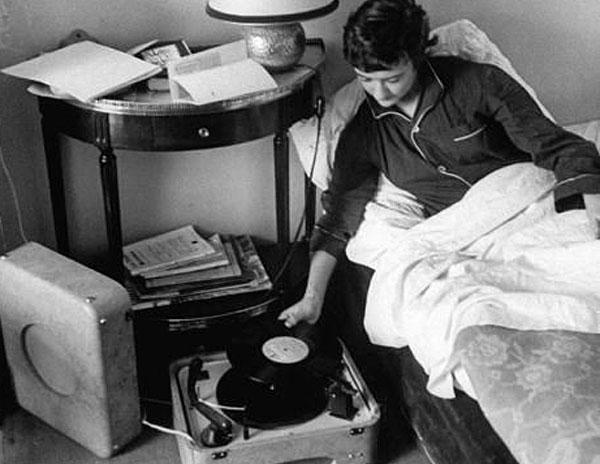 We all have secrets, and it's about time I came clean with one of mine:
I enjoy recorded music more than concerts.
I know, that's a sacrilege—as a lifelong music lover, I'm supposed to relish the live event, with all of the energy and connection between musicians and audience that can happen only when they're all breathing the same air. That may be true for you, but not for me. I've harbored the guilt for years: When I take the plunge and attend a concert, I rarely enjoy the experience enough to justify the effort and expense.
My sense of guilt is magnified when the music is great and I'm still not feeling it, for any number of reasons: I'm too hot or too cold; the sound system is too loud or too quiet; the strangers next to me are coughing, sneezing, burping, snoring, or farting. I've had beer, soda, and mystery liquids rained on me. That's bad, but worst of all is when I'm out of phase with the audience or friends I came to the show with: they either like the music less than I do and I'm worrying about them, or I hate the show and desperately want to leave but don't want to insult my friends. You get the point—I'm a seriously neurotic concertgoer.
In late August I went alone to the Stone, John Zorn's storefront club in the East Village, to hear Terry Adams (piano, celeste), Hal Willner (turntables, samples, voice), Karen Mantler (harmonica), and Art Baron (trombone) perform the music of Thelonious Monk and the poetry of Sun Ra. I didn't know much about the Stone—only that a 65-seat venue would have to be intimate—but the hard plastic seats and cramped vibe instantly put me off. The humidity was oppressive, even though an air-conditioner was running full blast 20' behind me, drowning out some of the quieter tunes and poems. Then there were the distractions: shuffles, people moving about, and, best of all, the door to the bathroom was at the back of the stage. If nature calls, it better call before the show starts—and even then, you'll have to make your way through the maze of music and microphone stands and cables on stage. On the plus side, the Stone's PA sound was terrific and not too loud. I was thankful for that—for once, I didn't have to wear earplugs. The Stone's schedule of concerts looks really interesting. I'll never go back.
I wasn't always this way. I have lots of wonderful concert memories: the Rolling Stones at Madison Square Garden in the 1960s and '70s; B.B. King, Procol Harum, and the Jefferson Airplane at the Fillmore East; Miles Davis at the Village Vanguard; Eric Burdon, David Bromberg, Loudon Wainwright III at the Bottom Line; Tom Waits, the Pixies at the Beacon Theater; Ray Charles, Abbey Lincoln, the Modern Jazz Quartet at the Blue Note; Philip Glass solo and Larry Coryell at the Village Gate; Laurie Anderson at the Brooklyn Academy of Music; and many more. I enjoyed concerts more in the '60s and '70s, less and less as the years went by. I saw Led Zeppelin twice, and the sound sucked both times. When I finally got around to seeing Eric Clapton, he was a total snooze. Sadly, the forgettable shows far outnumber the great ones.
My friends who prefer live music are always saying things like, "I'll take great music performed in a great venue every time. Not only is the music more involving, but the energy of musicians playing with and off each other adds another dimension to the storytelling." Okay, but I get most of that from my favorite studio and live albums. At their best, they capture musicians at their peak: the Who's Live at Leeds, the Allman Brothers Band's At Fillmore East, the Dave Brubeck Quartet's At Carnegie Hall, Woodstock, etc. Nowadays, depending on the band, a lot of live music is heavily processed and Auto-Tuned—it's not truly live anymore. Sometimes, when everything is just right with your home system, you can feel closer to the players than you might have at a concert. I know I do.
When I'm home alone with my hi-fi, I'm in control. Everything is exactly the way I want it to be. I play what I want, when I want it, at precisely the volume level I want, and it almost always sounds better than what I hear at concerts. Recorded music has been honed, perfected, and approved by the artists—it's as good as they'll ever be. In many cases, it's better than their live shows. Ex–Talking Head David Byrne noted in his book, How Music Works, that live performance and studio recording are completely unrelated skills. Most bands and artists are much better at one than the other.
But as I was finishing this piece, I went to see my friend David Chesky's Jazz in the New Harmonic show, at Dizzy's Club Coca-Cola, at Jazz at Lincoln Center. It was an idyllic evening: the band was in fine form, and the sound, friends, food, and ambiance were all in sync. I loved every minute! Dizzy's comfortably seats about 250 people, and the club's sound engineer doesn't run drums, horns, and other loud instruments through the sound system—only the double bass, voices, etc. The finely crafted acoustics of the club put the music in the best possible setting. If you live in or visit New York City and love jazz, by all means make your way to Dizzy's. Hey, that's coming from me—the grumpiest concertgoer on the planet!—Steve Guttenberg