Gramophone Dreams #15: AudioQuest Niagara 1000, HiFiMan HE1000 V2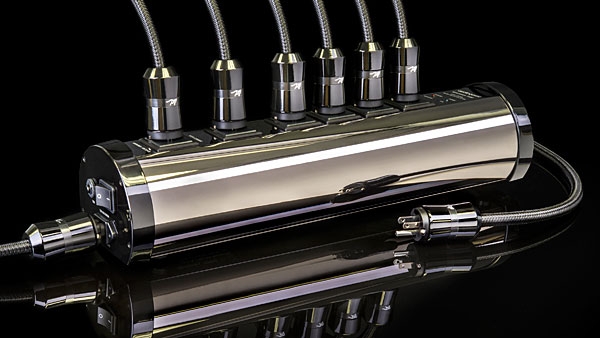 Some of our readers seem to believe that the essence of high-quality audio is disclosed primarily by science, and not by dreamy, bodice-ripping adventures that take place on plush carpets behind closed doors. Perhaps they're right. Unfortunately, I have had no personal experiences that confirm that hypothesis.
It also appears that some hard-core audiophiles think that recordings of music are simply tools for playing their gear. I believe that the gear and the recordings are both tools that reveal how I—and people in China, Africa, Alabama, and Detroit—feel about being stuck here together on planet Earth. For me, the better the recording and the gear, the more easily and directly I can connect with the worlds outside my bunker.
AudioQuest Niagara 1000
With these beliefs in mind, I began my examination of AudioQuest's Niagara 1000 Low-Z Power/Noise-Dissipation System ($995), which uses the same Ground-Noise Dissipation System and Ultra-Linear Noise-Dissipation Technology that the company touts for their $7995 Niagara 7000—but not its isolation transformers or transient power correction system. Though the Niagara was born of science and measurements, I now know, after six months of using it, that it can help me dream of Indian dancers and better understand musicians from Texas and Louisiana.
Okay—show me: The first time I heard the Niagara 1000, Garth Powell, AudioQuest's director of power products, had just plunked it into my system. I'd unplugged all my gear from my Home Depot outlet strip, and Powell had then plugged it all into the 20"-long dark-chromed tube of the Niagara: my First Watt F2 power amplifier into the single outlet labeled High Current, and everything else into the Niagara's five remaining outlets. Sitting on the couch were my boss and my lifestyle consultant.
"So?" asked Powell. "What do you think?"
The difference was not heart stopping. Neither was it subtle. Everyone in the room heard it.
I hate this point in my story because now, in order to describe what I heard, I have to reach for that old-mule audio-reviewer cliche: veils were lifted! I'm sorry, but isn't that what a $1000 power strip is supposed to do? That's exactly what clean power sounds like, and that's exactly what the Niagara 1000 did in my system.
Here's what I didn't yet know: Had the Niagara 1000 killed all the music's boogie grooves?
Before many of you were born, I built tube preamplifiers for customers. I would always include an OEM power purifier at the mains input, but I never told anyone. Back then, people were extremely skeptical about power conditioning. I installed this device because I knew that audio amplifiers modulate reservoirs of stored energy, and that the availability, quantity, and quality of that stored energy will be audible in the texture, viscosity, and flow of their reproduction of recorded music. I knew that clean power made recorded music sound more like recorded music (as it should), and less like a radio not precisely tuned to the desired station. When you listen to an amp driving dynamic speakers, the main thing you're actually hearing (besides recorded music) is the fluctuating corpus of the power supply as the music signal forces it to interact with the impedance of the speakers.
I always believed that the secret to a lively, quiet power supply was low-impedance access to an infinite source of free "conduction" electrons. Before cell phones, WiFi, and abundant RFI and wireless transmitters, all that audio gear needed to access these free electrons was pounds of pure copper stuck deep in the good earth and a thick cable connected to the bus bar in a breaker box (a low-impedance path to all free electrons). Those days are over. Today, most audio components in most audiophile systems in most home environments receive extremely stifled, noise-contaminated AC current of unstable voltage and little to no low-impedance grounding. Which is why I have never needed to be convinced of the necessity of purifying my power.
That hasn't stopped me from fearing that purifying my power will do more harm than good.
Often, when I've plugged a component into a line conditioner, the musical fun factor has immediately been shut down, and the sound relocates: from hard, bright Noiseville to joyless Slowsville. This has happened so often that I've grown gun-shy of conditioners and power-line filters in general.
Then Garth Powell came to Bed-Stuy, and showed my friends and me that a power purifier can do more than purify.
When Powell and everyone else had gone, I removed the Niagara 1000 from my system and tried to open it up. None of my hex wrenches fit the screws. When I wrote Powell to ask him what was inside the thing, his reply read like ad copy. A few highlights: "AC inlets and outlets are entirely proprietary-designed, minimum-impedance, low-noise parts utilizing Beryllium copper base metal . . . thick direct plate hanging silver for maximum radio frequency noise dissipation . . . main circuit card includes non-sacrificial surge suppression . . . impedance-compensated linearized differential noise suppression . . . two stages of our patented Ground-Noise Dissipation technology. RF filtering . . ."
So I asked him how it works.
"The Niagara 1000 is primarily a noise-dissipation system. It linearly reduces nearly 20 octaves of radio and AC line noise from the AC line, as well as that which is airborne induced. It drains it away from the power supply and chassis of the power amplifier and source components. Ultimately, directing as much of the noise as possible towards the electrical panel and Earth ground, with the rest converted to heat through loss."
But all that matters to me is this: Does it or does it not harm the boogie groove? And will it clear my aural view of the musics of Africa and Alabama?
I tend to be suspicious of voltage regulators and voltage regenerators. I've found that variacs, isolation transformers, and AC-in, AC-out power supplies can reduce an amplifier's "throttle-responsiveness," or revving ability. Any choking-down of the delivery of current will always kill a musical buzz.
Powell seems to be saying that the Niagara 1000 is not a voltage regulator or regenerator, but a powerline cleaner-upper. The voltage coming out of the Niagara was 100% the same as the voltage going in. That's a good start, but the best test is always to connect only the amplifier to the cleaner-upper. If the amp is driving current-hungry speakers, such as my own Magnepan 0.7s, so much the better.
For this test I used Bel Canto Design's e.One Ref500S power amplifier (500Wpc) driving my Maggies, and played that combo for two days before plugging the REF500S into the Niagara 1000. Without the AudioQuest, the system played the inventions for percussion duo on Garth Powell and Vladimir Tarasov's Etudes (CD, SoLyd SLR 0414) with demonstration-quality sound. It played with punchy Çlan all that crazy and wildly enjoyable Dylan stuff on the soundtrack album of Masked and Anonymous (2 CDs, Sony G2K 90618). This is an extraordinary good pairing of amp and speakers, and it was doing everything so well that I had zero urge to even try AQ's fancy chrome power strip.
But, eventually, I did. I expected, at best, only a slight improvement: I thought that maybe, with a class-D amp such as the Bel Canto, I would hear no difference at all.
The difference was huge. AudioQuest's Niagara 1000 not only cleaned up the power, it did everything that is the opposite of killing the boogie. It took me two seconds to recognize this, two songs to confirm it, and two hours before I could stop listening and try to describe these effects.
---
Footnote 1: AudioQuest, 2621 White Road, Irvine, CA 92614. Tel: (949) 585-0111. Fax: (949) 585-0333. Web:
www.audioquest.com
.