Gerald Wilson: Little Big Man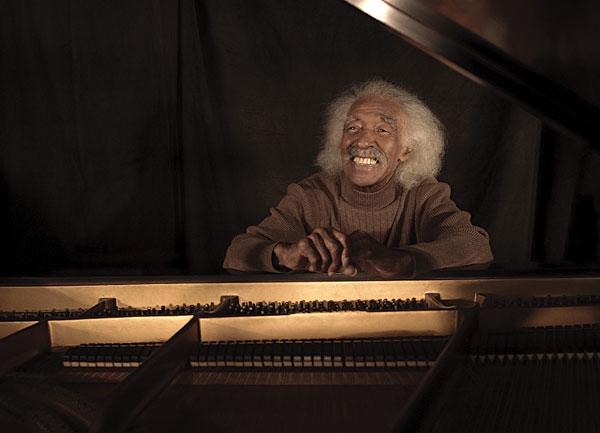 Big bands died out back in the 1950s, right? They went away when the jitterbug faded and folks began dancing to music other than swing? And then real jazz fans departed when the bebop soloists came along and made big-band players look clumsy and quaint?
Despite that widely accepted tale, the big band never quite went away. Since the war years, the big bands' indisputably wide palette of instrumental colors and voicings has become an irresistible lure to composers, players, and arrangers as varied as Sun Ra, Gil Evans, and Fela Kuti. One constant voice in the world of big bands is that of Gerald Wilson, a writer, arranger, and bandleader who's been involved with big bands since the 1940s, and has worked with everyone from Jimmie Lunceford to Ray Charles—and who, in a recent interview from his home in Los Angeles, said that big bands are "my life."
Teamed with the sympathetic ears of producer Al Pryor, Wilson has now made five big-band albums for Detroit-based Mack Avenue Records, one of a handful of independent labels that today carry on the proud jazz tradition of feisty indies unafraid to take chances. This past summer Mack released not one but two big-band records: Wilson's Legacy, and bassist Christian McBride's The Good Feeling. Add to these Randy Brecker's The Jazz Ballad Songbook (Half Note Records), featuring the Danish Radio Big Band, and Nights on Earth (Horizontal), the latest from multi-Grammy-winning big-band composer-arranger Vince Mendoza, and there seems to be a mini-revival of the big band in full, er, swing.
"The fact that we're doing two big-band records—both are a function of our relationship to the artist, as opposed to some kind of unique commitment to large ensembles," Pryor says. "A big band is like an orchestra, it's an instrument, and when you have the desire and ability to write and arrange for it, you want to exercise those muscles, and that's what we're seeing. Guys like Christian McBride, Vince Mendoza, and Gerald Wilson, they're interested in voicings, in how sections sound. You could argue that what you are listening to with a big band is multiple chamber groups coming together and coming apart. There are multiple narratives that can happen.
While a handful of survivors from the glory era of the big bands are still working, few of them have remained players—in the twin senses of mastering an instrument and being a savvy force on the scene—as Gerald Wilson has. Now 93, he's one of the few peers of Duke Ellington still alive who can tell first-person stories about the great jazz maestro.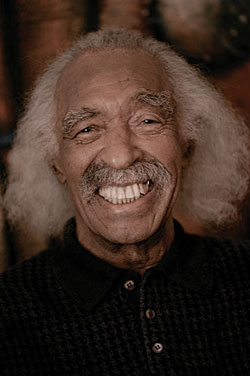 "You heard of the great El Viti? The bullfighter [Santiago Martin Sanchez]. Well, I'd written a tune about El Viti, and Duke said, 'Let's put [trumpeter] Cat Anderson on that.' Duke was here playing Disneyland, you understand. Well, not long after, Duke was playing Barcelona and El Viti was in the house, and Duke said, 'This tune is for the great El Viti.' He later recorded it at the Cannes festival, but he changed the name to 'El Matador.' I figured, if this guy thinks that much of my music that he wants to claim it for his own, well, what better guy?
"I had another tune, 'Imagine My Frustration,' and [Duke] heard it and loved it, and said, 'What if we get Billy Strayhorn to put some lyrics on it, and I'll get Ella Fitzgerald to sing it?' Al Hirt had already recorded it, you see, but Duke changed the name to 'Feeling Kind of Blue.' Many people knew about things like that that Duke got away with, but when those big checks came in, I really needed them."
The title of Wilson's new record, Legacy, refers not only to Wilson's own long experience and varied biography, but also to the fact that his son Anthony and grandson Eric, both jazz guitarists, perform on the album. They also each contribute an original composition—Eric's number is "September Sky" and Anthony's is "Virgo."Anthony Wilson, whose latest album is Campo Belo (2011), has long been an audiophile favorite thanks to his albums Power of Nine (2006), the recording of which was the subject of a feature in the June 2006 issue of Stereophile, and Jack of Hearts (2009), with B3 organ player Larry Goldings and drummers Jeff Hamilton and Jim Keltner. And Wilson's grandson Eric Otis, who is also the grandson of Johnny Otis and the son of Shuggie Otis, played with his Uncle Anthony on his grandfather's State Street Sweet (1996).
Legacy opens with several dynamic tributes to classical composers, including Igor Stravinsky and Giacomo Puccini, as well as one to a specific work, Debussy's Clair de Lune. "I've long been a fan of Debussy, Ravel, Puccini, and many others," Wilson says. "You remember back when the Three Tenors were touring? I loved their singing, particularly [Puccini's] 'Nessun dorma,' and so here was my chance to put it into a jazz setting, which of course requires a lot of improvisation from the soloists. And I had to extend the chords into different harmonies, some for four parts and six parts and eight parts and nine parts. We have twelve notes to work with, and I try to work with as many as I can at one time. There's lots going on there. I don't use the melody, but I'm working the chord structure into this new piece to bring out the melody. You hear his idea, even though I don't take the actual notes. It makes it real exciting with the band and the soloists. It gets into a swinging tempo."