Four Outstanding Choral Recordings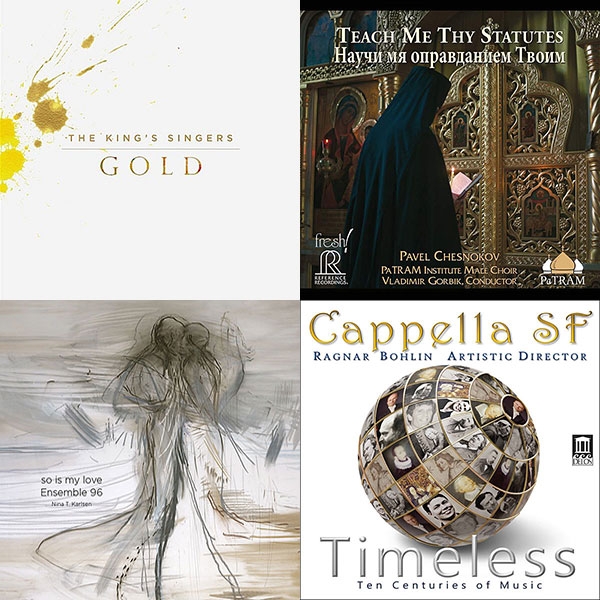 We who love recordings of massed voices have learned the hard way that some succeed in blending vocal clarity with acoustic resonance, while others deliver echo-muddied jumbles. Happily, some very fine choral recordings have come my way in the last six months. Along with John Atkinson's acoustically stunning engineering of recordings by the vocally gifted
Portland State Chamber Choir
and the all-male ensemble
Cantus
, these aural documents do composers proud.
In Teach Me Thy Statutes, 15 compositions by the prolific Pavel Chesnokov (1877–1944) receive devout performances by the PaTRAM Institute Male Choir, a joint Russian-American ensemble conducted by Vladimir Gorbik, recorded in the historic Church of Apostle and Evangelist John the Theologian at Saratov Orthodox Theological Seminary, Russia (SACD/CD, Reference Fresh! FR-727 SACD). Recorded in hi-rez DSD by John Newton, and mixed and mastered by Mark Donahue of SoundMirror, the perspective is narrow, but conveys a greater richness of reverberation and longer decays than on the recordings below. Although the choir's 42 voices include five basso profundos, many will seek out this disc more for spiritual elevation than for depth-plumbing bass. This is a recording for those with a taste for Russian monastic singing, rarely heard outside that country, and who cherish the consistently consonant harmonies of compositions intended to provide seekers with a sense of security.
The six men of The King's Singers produce a very different sound on Gold (3 CDs, 24/96 WAV, Signum Classics SIGCD500). By sound I refer not to the quality of the recording, which is well engineered to convey a realistic blend of clarity and resonance, but to the Singers' two newest countertenors, whose very light, airy, occasionally droll sound is light-years from that of one of today's big-voiced virtuoso countertenors, the astounding Franco Fagioli.
Recorded by Mike Hatch over a year ago in St. Michael's Church, Highgate, London, this delightful collection of 60 tracks showcases old favorites that have become performing staples of the venerable ensemble's 50 years of existence, recent classical and pop additions to their repertoire, and new works commissioned for Gold. They're divided into three sections: Close Harmony, which includes the Beatles' "And I Love Her," "Danny Boy," "Shenandoah," and U2's "MLK"; Spiritual, which encompasses everything from golden oldies by Byrd, Palestrina, and Poulenc to Vaughan Williams, Stanford, and Whitacre; and Secular, which ranges from des Prez and Byrd to Schubert, Brahms, Fauré, Rutter, and Takemitsu. While nothing is as far off the beaten path or as enlightening as either of the two albums discussed below)—after all, we're talking about an ensemble that gets its name from British royalty—the King's Singers' Gold is a joy.
The superb So Is My Love, from conductor Nina T. Karlsen's Ensemble 96 (24/352.8, MQA, SACD/CD, BD, 2L 2L-140-SABD), scores big time, for both engineer Morten Lindberg's unique recording perspective and attention to quality, and for its rarely heard repertoire. To quote the booklet, the recording addresses "love and the beloved, [including] the sense of love awakened in us by religious faith and by nature." Of the five composers of these 10 works—Torbjørn Dyrud (b. 1974), Martin Ødegaard (b. 1983), Jean Yves Daniel-Lesur (1908–2002), Frank Havrøy (b. 1969), and Karlheinz Stockhausen (1928–2007)—likely only the last will be familiar to most readers. The texts set will be more familiar: The Song of Solomon, and poems by Verlaine, Rimbaud, and Blake. Lindberg is one of the most frequently nominated recording engineers in the history of the Grammy Awards, and for good reason. Don't miss this one.
If forced to single out one from the lot, I'd grab Timeless: Ten Centuries of Music (24/192 WAV, Delos DE 3553), by Cappella SF, a 24-voice choir conducted by its founder, Grammy-winner Ragnar Bohlin, who won the 2010 Grammy for Best Choral Performance and also conducts the San Francisco Symphony Chorus. Timeless begins with Columba aspexit, by the 12th-century Benedictine abbess Hildegard von Bingen, and concludes with a Shaker hymn. Along the way are works by everyone from Machaut and Gesualdo to Britten, Pärt, and Whitacre. Ola Gjeilo's six-minute Veni sancte spiritus, composed for Cappella SF, receives its premiere recording in a performance that showcases the pure, angelic highs of the choir's sopranos, the perfect blend between the sopranos and altos, and tenors and basses who can stand with the best. There's a pious, heartfelt sincerity to these perfectly enunciated, gorgeously sung performances of music whose depth and variety engage both mind and spirit.
Cappella SF's impeccable musicianship is presented in the best possible sound. Captured in San Francisco's St. Ignatius Church by David v.R. Bowles, of Swineshead Productions, the blend of direct sound and natural resonance strikes me as ideal. Bowles has been a strong promoter of high-resolution within the Audio Engineering Society, and here worked under executive producer Carol Rosenberger to produce, engineer, edit, and master a program that is of demonstration class. John Atkinson may capture wider soundstages and deliver an even greater sense of acoustic space, but Bowles and Rosenberger deserve kudos for the naturalism of the results.—Jason Victor Serinus