Bonus Recording of October 2017: The Doors of Heaven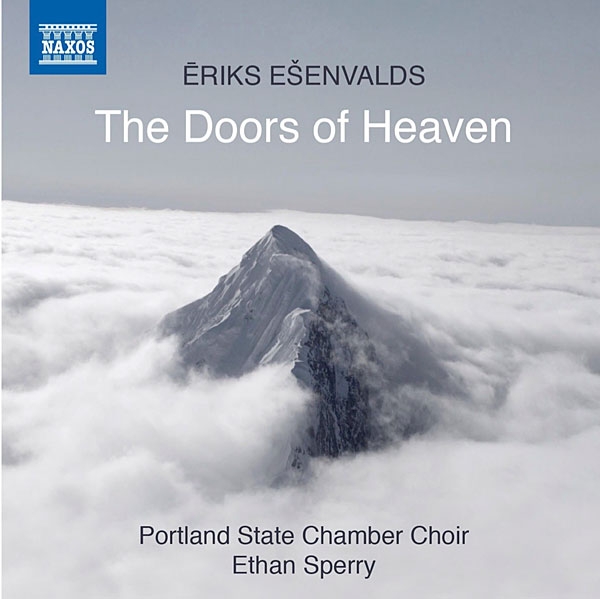 Eriks Ešenvalds: The Doors of Heaven
The First Tears
,
Rivers of Light
,
A Drop in the Ocean
,
Passion and Resurrection
Dr. Ethan Sperry, Portland State Chamber Choir; various instrumentalists
Naxos 8.579008 (CD). 2017. Erick Lichte, prod.; John Atkinson, Doug Tourtelot, engs. DDD. TT: 58:52
Performance ****
Sonics *****
Latvian composer Eriks Ešenvalds has been making quite a name for himself in choral music. He teeters gingerly between consonance and dissonance, and varies intimate whisperings, the strength of forces—sometimes a solo soprano over the chorus; sometimes a solo vocal quartet; sometimes exquisite, silky smooth legato singing by the entire chorus—with wise, spare use of instruments.
Rivers of Light (2014), a meditation on the Northern Lights, overlaps various Sami folksongs sung by soloists to create a stunning flow; a lush chorus completes the picture. The First Tears (2015) is based on the Inuit folk tale of the Raven and the Whale, a sort of retelling of the story of original sin; its rising gestures, frequent interjection of Native American flutes, and peaceful coda create a mini-drama. A Drop in the Ocean (2006) celebrates the life of Mother Teresa: We hear her prayers and her fears, the latter disrupting the music as screams. There's something stagily dishonest about the spoken moments, but the pianissimo ending is lovely.
Passion and Resurrection (2006) begins with a quote from and periodically returns to a motet by Crist¢bal de Morales, soon joined by dissonant strings and a full chorus that portrays both Christ and the crowd; the repeated cries of "Crucify!" are startling. A stunning soprano solo carries it aloft, and the piece ends in quiet glory.
Along with Doug Tourtelot and producer Erick Lichte, Stereophile's own John Atkinson is responsible for the flawless engineering; the organic balance of shouts and whispers is quite a feat.—Robert Levine