The Entry Level #37 Page 2
Gavin Fish hopes so. "For every backer who asks, 'How will Geek Out sound with my
Audeze LCD-3s
?,' there are five who ask, 'Will this make my Beats sound better?'"
Can other high-end audio manufacturers use Kickstarter to successfully promote their products and raise awareness of the industry?
"Yes," said Fish. "It has to be used as it was intended, though. If a bunch of other companies see the success of our campaign and think they can get a quick couple hundred grand by starting a campaign of their own, I think they'll fail. But if those same companies put the same thought, planning, and effort into it, they may have a similar experience to ours—and that would excite me."
As this issue went to press, Light Harmonic announced that the success of their Geek Out DAC–headphone amp had spurred the creation of a new division dedicated to mass-market products: LH Labs. The next product will be the Geek Pulse, a "pure class-A" desktop integrated amplifier–DAC capable of handling 32-bit/384kHz PCM files, as well as decoding native DSD64 and DSD128 files. It will cost $499. As with the Geek Out, Light Harmonic is turning to crowdfunding for support—this time through Indiegogo.com. The campaign went live on Tuesday, October 29, and, by the time you've read these words, will have just concluded. In a press release, Gavin Fish said, "Our last campaign showed us that as smart as we think we are, our backers are smarter. We can't wait to see what they teach us during the launch of Geek Pulse."
I suspect the company would also like to know just how much the general public is willing to pay for the promise of good sound.
Josh Ray, SonicFlare & Urban Fidelity
I met Josh Ray at the 2006 Home Entertainment Show, held at the Sheraton Gateway Hotel, in Los Angeles. Like me, Ray wore a Press badge around his neck and represented what some called "the next generation of high-end audio." Our designation as future leaders of this aging industry was, for the most part, a matter of circumstance: We weren't exactly young; we were just younger than everyone else. But while I was a reluctant agent—quiet, uncertain, and just beginning to accumulate firsthand experience of amplifiers, loudspeakers, and record players—Ray seemed confident, comfortable, and ready to turn high-end audio on its head. His website, SonicFlare.com, offered a hip, stylish, and intelligent take on high-performance playback equipment, and, unlike Stereophile, aimed its content at distinctly younger listeners—"iPodders," Ray affectionately called them.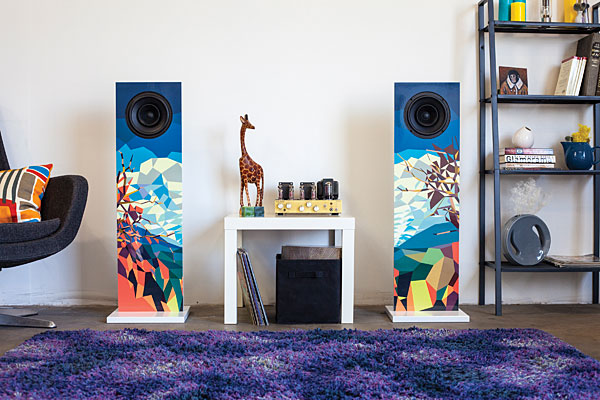 In an essay posted to SonicFlare.com in March 2006, Ray detailed some of the challenges faced by the high-end audio industry, focusing specifically on its inability and unwillingness to acknowledge a changing marketplace. "It's clear there's a dividing line in this industry between those who want to create new 'old-school' audiophiles and those who, like myself, want the industry to adapt to the new consumer." Josh Ray and Light Harmonic's Gavin Fish might have lots to talk about. In discussing his failed attempts to introduce a wider market to outstanding audio gear—the kind that normal people actually want to own and can conceivably afford—Ray rather glumly wrote: "It became painfully obvious that no amount of outreach could make a difference because, as we know, this industry does not speak 'consumer,' it speaks 'audiophile.'"
It was that kind of provocative, openhearted commentary that made SonicFlare worth visiting. Josh Ray wrote clearly, passionately, and delivered a unique message. He was also handsome, funny, and often surrounded by women. He began to get on my nerves.
I followed SonicFlare closely, enjoyed its radical approach to promoting hi-fi, and, naturally, raised my arms in victory when, in July 2012, Ray left it behind to start his own loudspeaker company, Urban Fidelity.
Of the audio companies that have used the Kickstarter crowdfunding platform, Urban Fidelity was the first to catch my eye. Ray launched his campaign on July 9, 2012, and needed almost the entire 30-day period to reach his funding goal of $26,000. By the end, he had collected $26,889 from 105 backers. I asked him why he'd used Kickstarter.
"At first, Kickstarter appeared to be entirely geared to musicians and artists, but, when a number of physical products ran successful campaigns, we really started to consider Kickstarter as a viable option. And, given that our speakers are geared towards non-audiophiles, it seemed to make sense."
Unlike Light Harmonic, an established company that could have used its own resources to fund production of its Geek Out USB DAC, Urban Fidelity owes its very existence to crowdfunding. "Without Kickstarter, we wouldn't be in business," Ray said. "Where most audio and electronics companies can outsource their manufacturing or get started in a garage, Urban Fidelity required a large investment in specialized manufacturing equipment. Seeking investors for Urban Fidelity would have been a difficult proposition, given the niche we occupy."
Urban Fidelity's target customer, like that of Light Harmonic's Geek Out, is the music lover who primarily listens through headphones and/or through a computer. Josh Ray hopes that certain audiophiles—those shopping for friends or building a simple second system—will also be attracted to his company. Whereas Geek Out gained most of its financial support from Kickstarter's own community, the majority of Urban Fidelity backers made their way to Kickstarter after having seen the speakers on audio-, gadget-, or design-related websites.
In a July 2012 post to SonicFlare, Ray explained his decision to start a loudspeaker company. "Skullcandy and Beats have incited a revolution in the headphone market. Full-size headphones are booming like never before, much to the delight of Sennheiser, Grado, and many new headphone companies. Additionally, DJ culture is exploding, getting front-of-store placement in Best Buy, while iPhone docks and computer speakers are only growing in popularity. Every single audio-related category is seeing legendary growth."
Ray saw a future in which the loudspeaker market could enjoy similar growth. But more than just a speaker company, UF would also aim to introduce high-end audio to a new generation of listeners. "With Urban Fidelity, I hope to whet people's appetites for hi-fi and then send them up the food chain to find (and buy) larger, better, more expensive audio systems. We'll recommend to our customers amplifiers, turntables, and, yes, even other speakers. Just like Skullcandy has boosted Grado's business, I hope, with any success, Urban Fidelity can get consumers interested in the rest of hi-fi. With any luck, they'll buy magazines, visit dealerships, and check out the audio shows."
The first Urban Fidelity loudspeaker is a single-driver, crossover- and cabinet-free floorstander ($399/pair) whose front panel features designs from independent artists. With its base in place, the speaker measures 41" high by 13" wide by 13" deep. Said to be "ecologically sound," the speaker's body is made from North American–sourced, formaldehyde-free wood, while the artwork is reproduced with water-based inks in "a high-quality, long-lasting print process." The 8" drive-unit is made for UF by a US-based "non-name brand." Superficially resembling those found in Zu Audio's more affordable speakers, the Urban Fidelity's driver combines a low-frequency cone and high-frequency whizzer in a frame of cast aluminum. The speaker's published specifications include a frequency range of "mid-50Hz–20kHz," a sensitivity of 87dB, and a nominal impedance of 8 ohms.
The Urban Fidelity is designed and manufactured in Los Angeles. Because UF avoids the costs of cabinetry, crossovers, and assembly (the customer simply bolts the base onto the speaker's body), the company can keep its prices low. According to Josh Ray, UF's greatest expense is its artists: 15% of every speaker sale goes directly to the artist.
At last count, 18 artists had contributed 54 designs to the Urban Fidelity loudspeaker. For an additional $49/pair, customers can have their own designs or photos printed onto a pair of Urban Fidelitys. While the speaker seems to lack its own model name, individual styles or units are named for the artwork printed on them. I asked Ray to send me a pair of UFs featuring Liam Brazer's Country design; Ms. Little and I agreed that its combination of vibrant blues and warm earth tones would perfectly complement our living-room dÇcor. On removing the speakers from their carton, I found them to be even more beautiful than I'd anticipated, though guests were divided: Natalie, whose taste remains impeccable, thought the speakers gorgeous; Ginger Pete said that they resembled snowboards; others disliked the look of the open-air drive-units. Ms. Little loved them—and, to my great relief, our cats, Avon and Stringer, did not feel compelled to use the UFs as scratching posts.
Bolting the speaker bases to the bodies took all of two minutes. However, after doing so, I noticed that one of the drive-units had been damaged, possibly during shipping—its magnet had become detached from the drive-unit's aluminum frame. Urban Fidelity speakers ship in intelligent, efficient packaging, but would benefit from additional support around the drivers. I informed Josh Ray of the damage and a replacement driver arrived two days later. Installation was quick and painless: I simply unscrewed the original and bolted in the new.
I used the Urban Fidelitys with my NAD C316 BEE integrated amplifier and matching C516 BEE CD player. Speaker cables were AudioQuest's Rocket 33, interconnects were AQ's Big Sur. Before installing the UFs, I'd been listening to KEF's LS50 ($1499/pair)—our Budget Component and Overall Component of 2013, and an altogether more accomplished performer.
While the UFs created an impressively large, stable soundstage with well-focused images, they were lean in the lower midrange and bass, and added to voices a "cupped-hands" coloration that detracted from my enjoyment of music. Jenny Hval's voice in the title track of her excellent Innocence Is Kinky, my very favorite album of 2013 (CD, Rune Grammofon RCD3142), sounded decidedly distant and nasal. So, too, did Sandro Perri in "Love & Light," from his Impossible Spaces (CD, Constellation CST085-2). On the other hand, pianist Robert Haigh's lovely Darkling Streams (CD, Primary Numbers PRIMA003) was especially enjoyable through the Urban Fidelitys, his piano always sounding natural, clean, and free from temporal distortions. Electronic music, too, generally sounded excellent through the UFs: fast, clean, excitingly present, and never the least bit fatiguing.
Strictly in terms of sound, the Urban Fidelity faces stiff competition from affordable audiophile speakers. You'll get more drama from PSB's Alpha B1 ($299/pair), better imaging precision from Pioneer's SP-BS22-LR ($149/pair), and greater delicacy and detail from Wharfedale's Diamond 10.1 ($349/pair). But none of those speakers is as physically striking as the Urban Fidelity, none is made in the US, and none supports independent artists.
The Urban Fidelity loudspeaker was not designed with the traditional audiophile in mind; those who cherish sound quality above all else should look elsewhere. However, in my opinion, determining the value of a loudspeaker—of any audio component—should include factors beyond mere sound: appearance, convenience, dimensions, weight, ease of setup and use, and, perhaps most important, appeal to significant others and pets. My strong feeling is that the Urban Fidelity speaker represents very high value. It may look more beautiful than it sounds, but it would be difficult to spend so little on such an attractive piece of art. That the UF also makes music, and was designed by a person with such a strong and admirable vision, are bonuses. If Urban Fidelity does introduce a new generation to true high-fidelity sound, then we should all celebrate. It's going to take more than good sound to kick-start high-end audio.