The Entry Level #34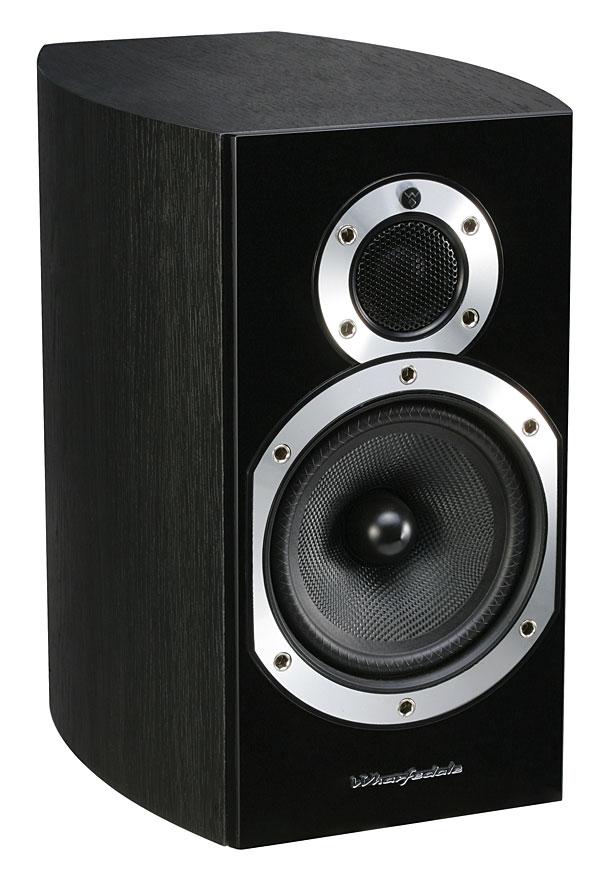 Last month, I'd intended to compare the overachieving
Pioneer SP-BS22-LR
stand-mounted loudspeaker ($129.99/pair) with the
Wharfedale Diamond 10.1
($349/pair). In fact, I was deep into the process—surrounded by pages and pages of scribbled notes, thumbs swollen and sticky with Blu-Tack—when it occurred to me that something was wrong with the Wharfedales.
When I noticed the problem, I wasn't really paying attention to the music. I wasn't even sitting in the sweet spot—a fact that I find slightly annoying and, even more, disturbing. Maybe all critical listening should be done in the bathroom. In this case, I was sitting with my back turned to the system, at a desk pushed hard against the living room's right-hand wall, about 3' from the right-channel speaker. Editor's Choice (CD, Stereophile STPH016-2) was spinning in the NAD C 516BEE CD player (see below). I'd been using the test CD to confirm proper channel identification and phasing (geeky, I know, but necessary and comforting—or necessary because it's comforting), and I'd simply allowed the disc to continue playing while I tended to other important matters, like the score of the Mets game. (Losing—again. Sigh.) It was right around the four-minute mark of Cantus's performance of Debussy's Invocation, just after the short piano bridge that heralds the choir's re-entry, that I heard distortion coming from the right speaker. The massed voices are supposed to sound glorious and triumphant; instead, they sounded ragged, strained, and dirty.
And with that, everything I thought I knew about life, love, and the pursuit of audio excellence evaporated—poof (footnote 1). My world had more or less come to an end. If you've been involved with hi-fi long enough—like, more than a week—you know the feeling. I shut down the system, waited a while, said a prayer, powered up the system, and played the track again. Same problem. I shut down the system, waited a while, muttered a series of Fred Flintstone–like profanities, swapped the speakers, powered up the system, and played the racking fracking track again. Now the distortion came from the left channel—the problem had followed the speaker. I replaced the Wharfedales with the Pioneers. Everything sounded as it should.
I'm not certain how or when the Wharfedale was damaged, but I suspect it had occurred a few days earlier, when a heavy summer thunderstorm left us temporarily without electricity. I came home from work to find the system entirely shut down and all of the apartment's digital clocks blinking 00:00. I hate that.
For obvious reasons, I was upset about having damaged the speaker—after all, the thing wasn't mine—but I was also upset for a more selfish reason: I wanted it to be mine. In the time the Wharfedales had been in our home, Ms. Little and I had fallen in love with them—she for the first time, me all over again.
What's that you say? I'm full of it? Okay, okay. I fell in love with the Wharfedales all over again; Ms. Little merely approved. Same thing, though, right? Whatever.
Anyway, for a day or two, I tried pretending that I'd never heard the damn distortion. But I couldn't keep up the charade. Even if Ms. Little never knew the truth, I would always know—sadly, once you hear something, you can never unhear it—and living with myself is already difficult enough as it is; no need to add embarrassing secrets about the hi-fi.
I broke the news to Ms. Little. Surprisingly, she wasn't too torn up. Wharfedale quickly arranged to have another pair shipped to me, in the only finish readily available: black.
Black? Black like my old PSBs? Black like the Dayton Audio B652? Black like the Music Hall Marimba? Black like the Pioneer SP-BS-whatever? Black like almost every other loudspeaker I've reviewed? When it comes to loudspeakers, black is the new blah. But, as I soon discovered, when it comes to the Wharfedale Diamond 10.1, black is also beautiful. The speaker looks good—stylish and distinctive, but not overdone—in any of its finishes: rosewood, cherry, or . . . black.
The sound? Just as I remembered: Delicate without being weak, clean without being sterile, detailed without being clinical, sweet without being cloying, refined without being stuck-up boring, and always exceptionally involving, with no particular aspect of the music calling undue attention to itself. Compared to the Pioneer SP-BS22-LR, the Wharfedale had a warmer overall sound with more delicate highs and a richer midrange, but lacked the Pioneers' awesome image focus and clean attack transients. Both speakers excelled with Miles Davis's In a Silent Way (SACD/CD, Columbia/Legacy/Mobile Fidelity Sound Lab UDSACD2088): The Pioneers sounded more exciting, with a wider soundstage and more tightly focused images, but the Wharfedales had an almost magical way of making Miles's trumpet sweetly and gracefully materialize in the space between the speakers. Similarly, with "Slipped Dissolved and Loose," from Lambchop's Oh (Ohio) (CD, Merge MRG335), the Wharfedales surpassed the Pioneers at revealing the emotion—the grit, weariness, and desire—in Kurt Wagner's voice. I liked that—a lot.
Does it make sense to love a loudspeaker? I suppose it doesn't. So what? I love the Wharfedale Diamond 10.1 as I love certain pieces of art and furniture. I love the Wharfedale Diamond 10.1 as a pipefitter loves a Ridgid wrench or a ballplayer loves a Louisville Slugger. The Wharfedale Diamond 10.1 remains my favorite affordable stand-mounted loudspeaker. For $350/pair, I'm not sure you can do better.
NAD C 516BEE CD player
I can't say that I'm in love with any CD players. I reviewed NAD's C 515BEE ($299) in February 2012, and, for more or less practical reasons, I bought it: I liked its price; its compact size; its simple, tidy overall appearance; and its smooth, coherent sound. At the time, it struck me as the perfect reviewer's tool—a reference against which all other affordable CD players might be judged. In the time I've owned it, it's proven entirely reliable, and my appreciation for its easy, evenhanded way with music has only grown.
So this past February, when NAD replaced the C 515BEE with the identically priced C 516BEE, I was kind of annoyed. I'd hoped that my investment would last a bit longer. What gives?

NAD's director of technology and product planning, Greg Stidsen, explained that the C 515BEE's transport mechanism is being phased out of production—"a more or less constant problem with CD players these days." In addition to a new transport, the C 516BEE uses a new, "more powerful" digital signal processor for disc handling and decoding MP3, AAC, and WMA files. According to Stidsen, this "necessitated a revised microprocessor for control functions, along with new firmware."
I found the disc drawer of the new model to open and close slightly more smoothly, quietly, and slowly than the old. Similarly, the new model takes a couple of seconds longer to read discs before making music—no big deal.
The new model has a revised power supply for lower power consumption in Standby mode, and an automatic-standby feature that puts the CD player to sleep when not in use. I tend to keep my components always powered up (see blown speaker, above), so I worried that this auto-standby thing would tick me off—but I've come to really appreciate it. I like not wasting power. Auto-standby has never been annoying or inconvenient, and, to wake the player, all I have to do is touch a button on its front panel or on the included remote control.
Though the new model retains the old model's size (about 17" W by 2.75" H by 9.5" D), the front panel has been subtly updated to more closely resemble NAD's Master Series components. The disc drawer is thinner, the display larger, the buttons ever so slightly rounder. Whereas the old player came packed with a neatly printed user manual, the new model puts its manual on a CD-R housed in a glossy sleeve—a cool modern touch, though some may prefer a printed manual.
Finally, and perhaps most important, the C 515BEE's audio circuitry has been carried over into the new model. Stidsen says those audio circuits were "highly optimized" to begin with. Why fix what isn't broken, or replace what isn't going out of production?
---
Footnote 1: See Henry Rollins's "
As We See It
" in this issue.