The Entry Level #39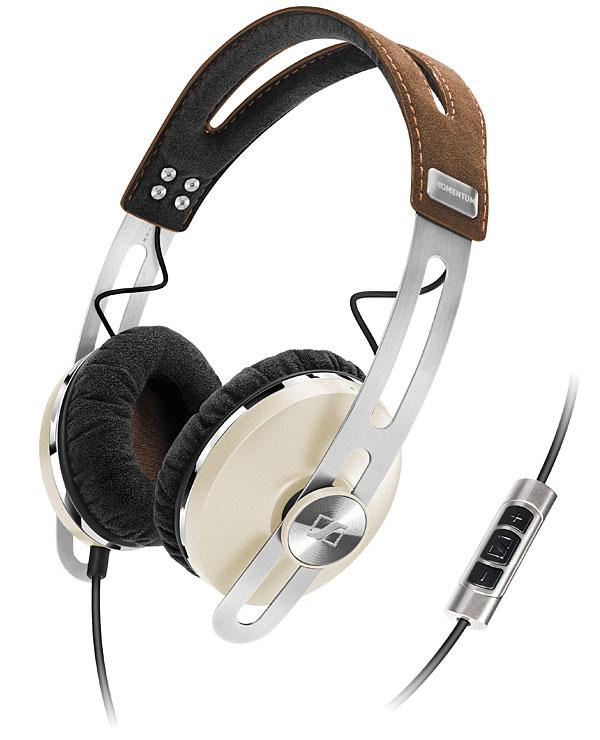 In his article on the
future of audio engineering
in this issue, John La Grou tells us—succinctly and correctly, I think—that we are rapidly moving from a culture of handheld devices to one of headworn devices. He postulates that by perhaps as early as 2025, rather than being actively sought out, most audio/video media will be delivered, like milk or the newspaper—but delivered not to our front doors, but more or less straight to our
brains
. Fascinating? Sure. Frightening? Kinda, yeah. I'm just getting used to Instagram (@stephenmejias), and now I have to prepare for InstaEverything—in my brain, no less. This doesn't necessarily mean that I've been wasting money on all my new LPs—turntables will still be around in 2025, I hope—but it's a simple fact of modern life that more people are spending more time in front of computers, gripping and swiping at smart devices, wearing fancy headphones.
Sennheiser Momentum on-ear headphones
Last December, I wrote about Sennheiser's excellent Momentum over-the-ear headphones ($349.99), which are designed to look as good as they sound. While I loved their elegant appearance and warm, detailed sound, I found the fit too tight and awkward for extended listening. After about 35 minutes, I'd have to remove the headphones due to sharp pain around my ears.
Sennheiser now makes an on-ear version of the Momentum ($229.95), which, aside from being less luxuriously appointed, $120.04 cheaper, and having smaller earpieces, is nearly identical to the more expensive model. The oval earpieces slide up and down on the same stainless-steel headband, but, rather than boasting hair-sheep leather, the on-ears' earpads are covered in a synthetic material called Alcantara, which looks and feels practically identical to suede. Similarly, where the ridge of the larger version's headband is cushioned and covered in more leather, the on-ear version's cushioned headband is covered in more Alcantara. The over-the-ear version has earpads 2.5" wide by 3.5" long, while the on-ears' pads are only 2.25" wide by 2.875" long. Interestingly, I found the on-ears a bit more comfortable than the larger over-the-ears. Still, to avoid any pain around my ears, I needed to periodically adjust the headphones' placement on my head, and remove them entirely after about 45 minutes of listening.
Though the two models appear to use the same 1.4m cable, the on-ears' cable has a less robust microphone/volume control and a simple, fixed-angle plug. Like its predecessor, the on-ear Momentums come packed with a second cable, a stereo-to-minijack adapter, and a handsome carrying case. Unlike the original, which is currently available in only black or brown, the on-ears lighten things up with several fun options: green, blue, pink, ivory, brown, gloss black, and bright red. My samples, with ivory earpieces and a brown headband, exhibited flawless build quality.
I was immediately impressed by the on-ears' clean, clear, extended highs and spacious, open overall sound. The expert production and awesome panning effects in "Your Body Feels," from Four Tet's Beautiful Rewind (320kbps MP3, Text TEXT025), create the illusion of a propeller-like object that's spinning and whirring, moving from left to right across the stage, while alternately approaching and retreating. The on-ear Momentums opened a wide space and did a surprisingly good job of communicating those senses of movement; the sound was physical, intense, and dramatic—not as crazily dramatic as through the PSB M4U 2 headphones ($399.99), say, but dramatic nonetheless, and more so than I could have hoped from such a compact, affordable design. And in "Palace," from Wild Beasts' beautiful new Present Tense (320kbps MP3, Domino WIG279), the Sennheisers gave drummer Chris Talbot's closed hi-hat just the right amount of sparkle and bite.
Despite these achievements, the on-ear Momentums were, in almost all ways, easily outclassed by their larger siblings. The more expensive, over-the-ear design produced a bigger, more spacious overall sound, with sweeter highs, cleaner attack transients, a richer and more present midrange, and tighter bass. These differences were most readily apparent with files of higher resolution, such as "Sleeping Is the Only Love," from the Silver Jews' Tanglewood Numbers (1037kbps ALAC file ripped from CD, Drag City DC297); and "Levitation," from Pinch & Shackleton's eponymous album (1411kbps WAV file ripped from LP, Honest Jon's HJRLP59). With files of much lower complexity—a 64kbps mono AAC file of my band Lip Action's radical new single, "Bagels and Roses," for instance—differences were much harder to hear. Both models tamed this recording's inherent brashness, making the track easy to listen to and enjoy.
I also compared the on-ear Momentums with another on-ear design, Stereophile's 2013 Accessory of the Year, the B&W P3 ($199). They sounded remarkably different. I'm tempted to say that if one of these headphones is right, the other must be wrong, but I enjoyed listening to music through both of them—really. The Sennheisers' well-extended, natural-sounding highs and more spacious overall sound gave greater drama and physicality to Four Tet's "Your Body Feels," but the B&Ws' more forward midrange made the track's sampled tenor saxophone sound as if it were being played by a living, breathing human. With Wild Beasts' "Palace," the Sennheisers reproduced the snare drum with more rattle and snap, and gave the hi-hat just the right amount of sparkle and bite, but the B&Ws made the analog synth sound absolutely marvelous—large, warm, and colorful. The two headphones sounded nearly identical in the bass. And the B&Ws were much gentler to my head—I could almost forget that I was wearing them.
Ah! Why can't I have the on-ear Sennheisers' high-frequency clarity and the B&Ws' midrange presence? Well, I can—with the over-the-ear Momentums or PSB's M4U 2s, for example. Still, I could live happily ever after with either the smaller, more comfortable on-ear Momentums or the B&W P3s. The Momentums combined clean, accurate highs with a slightly recessed midrange and a slightly overripe bass; the B&Ws took that same bass quality and partnered it with overly polite highs and a weightier, more forward midrange. Neither is perfect. Both are excellent.
AudioQuest DragonFly v1.2
I did all of the above headphone comparisons sitting at my desk, staring at my laptop, and using the latest version of AudioQuest's popular DragonFly USB DAC–headphone amplifier. Aside from some small, tidy certification markings on its backside, the DragonFly v1.2 is identical in size, shape, and functionality to the original model—and, at $149, costs $100 less. Like the original, the v1.2 handles file resolutions up to 24-bit/96kHz, making the device virtually plug-and-play for both PC and Mac users; no additional drivers are required, but you might have to change a few settings in your computer's control panel—the DragonFly's "flight manual" will guide you through the process.
The new DragonFly still has a USB jack at one end, a 3.5mm jack at the other, and a top-panel dragonfly emblem that changes color in accordance with the sample rate of the file being played: green for 44.1kHz, blue for 48kHz, amber for 88.2kHz, and magenta for 96kHz. It still uses Gordon Rankin's Streamlength asynchronous USB protocol and it's still made in the USA. The differences—all improvements, as far as I'm concerned—are found inside, and include a revised power supply and a simplified, more direct signal path between the DAC and headphone module.
The sonic differences between the original and v1.2 DragonFlys were almost as obvious as those between the Sennheiser Momentum and B&W P3 on-ear headphones. Where the original DragonFly excelled in clarity and detail, v1.2 added a richer, more colorful midrange, improved spatial abilities, and a greater sense of ease. Through the DragonFly v1.2, "Sleeping Is the Only Love" sounded thrilling and beautiful, with an awesome amount of space around the drum kit, a solidly focused center image, and overall clarity and tonal accuracy that made following guitar riffs and subtleties of drumwork a total pleasure. Best of all, though, was the v1.2's way with David Berman's simple, familiar voice: Singing "I'd crawl over 50 yards of burning coals just to make it with you," he sounded drunk and restless with desperation and love—just as he should. I believed every word of it.