The Entry Level #37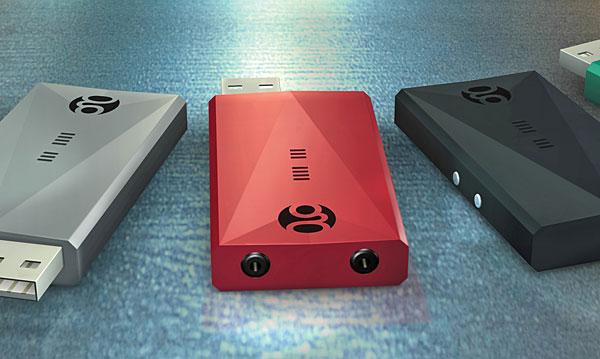 As I discuss in this issue's "
As We See It
," a handful of audio companies have recently turned to the crowdfunding website Kickstarter to launch and promote new products. The most notable of these is Light Harmonic. The Sacramento, California–based electronics maker first caused a stir at the 2011 Axpona show with the release of its impressive
Da Vinci DAC
($20,000), one of the few home audio converters capable of handling the 384kHz sampling rate.
Light Harmonic again made waves at the 2013 Consumer Electronics Show, when it introduced the even more ambitious Da Vinci Dual DAC ($31,000), capable of handling both 32-bit/384kHz PCM and DSD128 files. To any spectator, it appeared that this young company was quickly carving out a niche for itself alongside high-end audio's most exclusive brands. So it came as a surprise when, last August, Light Harmonic turned to Kickstarter to fund the final production and packaging of a cute little gadget called the Geek Out, a portable USB DAC–headphone amp ($299).
Equally surprising was the project's success. The Geek Out reached its funding goal of $28,000 in less than 11 hours, and by the end of its 30-day campaign, Light Harmonic had raised $303,061 from 2146 backers—a little more than $141 per backer, none of whom had ever heard the product. On the face of it, this is encouraging news for an audio industry in dire need of a boost—it's hard to ignore such stirring statistics—but when considered more deeply, Light Harmonic's Kickstarter campaign raises almost as many questions as it did dollars.
Why did a company known for its cost-no-object DACs want to release an affordable product? Gavin Fish, Light Harmonic's VP of sales and marketing, explained: "One of my frustrations for the past several years has been that, at each audio show I attend, I see the same people—only older and older each time. It's becoming a clichÇ, but we need new blood. My shared vision with Larry Ho [Light Harmonic's founder and president] is to bring more people into the fold by introducing high-resolution music to more mainstream music lovers.
"For me, it's important that people not recognize us for 'cost-no-object' [products]. Instead, I want them to recognize our products as among the very best in their market segment. That's what I think we've achieved with Da Vinci. I want Geek Out to be no different: the best DAC/headphone amp in its class."
Kickstarter may be an excellent opportunity for any startup anxious to release its first product; as a venue for a best product, however, Kickstarter seems somewhat less appropriate. Shouldn't a company capable of successfully manufacturing and distributing a $30,000 DAC be able to launch and promote one that costs 100 times less?
"Kickstarter is a great place for startups," Fish agreed. "It's also a great place for companies like ours. With crowdfunding, we're able to test the market for a new idea in a much more precise way than we could in the past."
Light Harmonic isn't the first well-established brand to take advantage of Kickstarter. In March 2013, Double Fine Productions, a respected gaming developer, raised $3.3 million on the site—not only to finance its next game, but to "develop it in the public eye." Last August, the 18-year-old Lomography camera company used Kickstarter to fund the production of its Petzval lens, gaining $1,396,149 from 3379 backers. Celebrity filmmakers, musicians, actors, and producers are also turning to Kickstarter. Perhaps, for Light Harmonic and others, financial backing is beside the point.
"If people take to your product," Fish continued, "they'll tell you how much they like it by giving you their hard-earned money. That's powerful feedback, and it gives us the confidence to get the manufacturing process moving. Prior to the Kickstarter campaign, Larry and I decided that we'd put in an order for 500 of Geek Out's enclosures. Now that we've sold well over a thousand of them, we're confident enough to increase the initial order to 10,000."
So, Light Harmonic could have successfully launched the Geek Out without Kickstarter?
"Yes," said Fish, "but the launch would have been very difficult and costly. Now, instead of traveling all over the world, knocking on doors looking for dealers to take on a new product they've never heard of, we have major retailers calling us to negotiate large purchases."
Others, apparently, have been less kind. In a blog post titled "Moribund Industry, Geek Out is Your Savior," Gavin Fish discussed some of the backlash his company had received for its use of the Kickstarter platform. "I got a call from a guy on a rant who asked, 'What's the matter with you guys? Are you so hard up for money that you have to go on the Internet and beg?'"
Fish told me that similar reactions had been posted "all over the industry forums," but that "the typical non-audiophile backer of our campaign is just happy to be getting a cool device that they hope will make their music, movies, and games sound better."
It's interesting, and perhaps indicative of today's consumer-electronics market, that these non-audiophile backers must merely hope the product fulfills its promise. Typically, in the high-end audio world, consumers are taught to trust their own ears and, if at all possible, to listen before they buy. But as traditional high-end audio dealers have become frustratingly scarce, the opportunities to actually hear a promising new component are few and inevitably compromised. In this regard, Kickstarter fails high-end audio. Backers of the Geek Out committed to buying a product they hadn't yet heard, a product that is still in development. I asked Gavin Fish how he felt about that.
"The consumers we are targeting for Geek Out are asked to buy before they try all the time. Think of how many Amazon customers there are! We just have to be willing, as a company, to expect that some customers won't like Geek Out, and we have to be okay with that."
So who were the Geek Out's 2146 backers? Considering the language Light Harmonic employed in its campaign, it might seem that the Geek Out was designed specifically for the non-audiophile. The company referred to the product as a "new USB awesomifier for headphones," complete with "3D awesomifier" technology (ie, proprietary digital-signal processing), "shareulator" technology (two outputs), and a 6" USB extension cable called the Slacker. Such language—possibly compelling to some, surely condescending to others—reaches for an audience beyond high-end audio's walled enclosure.
Still, I suspected the Geek Out's backer list to read a lot like the list of Stereophile subscribers. Who but an audiophile would care enough about this product, from this company, to drop $140 on it, sound unheard? During the 2013 Rocky Mountain Audio Fest, my suspicions were bolstered by conversations I had with attendees who'd backed the Geek Out because they were "interested in the brand." Few audiophiles can afford to take a risk on a $20,000 product, but I'd bet many would be willing to spend $140 to get close.
Kickstarter allows you to see a complete list of any project's backers, so I took a look at the Geek Out's. To my surprise, I recognized only a couple dozen names. Of those, two or three I know will buy anything, just to be among the first to say so; another two or three are collectors of gadgets who will place their Geek Outs on a shelf or in a drawer, beside a dozen other things left unused and almost forgotten; a few others bought a Geek Out to take it apart and examine its insides. But most of the backers were unknown to me, and the great majority of those backers had also supported other Kickstarter projects. Several had supported dozens of Kickstarter projects, some had supported hundreds, and one—Eric Damon Walters, a clinical laboratory technologist at the Mayo Clinic, according to his LinkedIn profile—had supported 2381 Kickstarter projects.
It seems there is indeed a community of enthusiastic Kickstarter followers, and, for the most part, it's not made up of audiophiles. Of those few Geek Out supporters I recognized, most were first-time Kickstarter backers.
Through crowdfunding, Light Harmonic has managed to reach an audience outside of the typical audiophile community, but have they done it according to Kickstarter's rules? One of the site's few guidelines states that companies cannot present their projects as preorders for finished products. Yet, in the Geek Out's Kickstarter campaign, certain categories of backer were to receive a final-production version of the product. For instance, with a pledge of $99 or more, the first 100 backers will receive a Geek Out for $99; with a pledge of $119 or more, the second group of 100 backers will receive a Geek Out for $119; with a pledge of $139 or more, the next group of 200 backers will receive a Geek Out for $139; and so on. How is this graduated-pricing model different from a presale?
"I think the difference is that backers on Kickstarter almost become investors," Fish said. "Not investors in a company, but investors in an idea. That might be splitting hairs a bit, but the whole crowdfunding movement is successful partly because backers become emotionally invested in the success of others.
"The reason we decided to use a graduated-pricing model was to find out the price the market was willing to pay for Geek Out. We had previously set the MSRP at $299. We were hoping like crazy that the market would think that was a fair price. Thanks to the feedback of our backers, and the patterns in which they funded the campaign, we're now convinced our pricing model is correct. We're relieved, too."
But other portable USB DAC–headphone amps have already successfully penetrated the market—AudioQuest's DragonFly ($249) and Meridian's Explorer ($299) are obvious examples—and several more were introduced at RMAF. None had needed the aid of crowdfunding. Could it be that Light Harmonic's Kickstarter campaign was less interested in establishing a fair market price for the Geek Out than in determining whether the market could sustain another USB DAC–headphone amp?
If nothing else, this much is clear: As a product category, there's enormous mainstream potential for the USB DAC–headphone amp.
"Geek Out is targeted to mainstream music lovers who spend up to $500 on a set of headphones," Fish told me. There are a lot of them out there. Most are buying Beats, and, as we know, Beats excel in any area of headphone performance that doesn't involve sound. They fairly beg to be matched with a good USB DAC–headphone amp. Further, most people who spend over $100 on a set of headphones are buying more than just one. Will the USB DAC–headphone amp become as fashionable as today's headphone?