The Entry Level #31 Page 2
I heard similar results through the Can Opener when using the Skullcandy Aviator and Grado SR60i headphones: greater overall control, improved detail retrieval, and a more accomplished sense of space and image delineation. Interestingly, the Can Opener seemed to tame the Aviator's sometimes too-hard highs, softening and smoothing them out, while, with the Grados, the Can Opener brought voices forward and enhanced stereo effects. But while the Can Opener's influence over the B&W, Skullcandy, and Grado 'phones was entirely positive, its effect on the Beats Solo HD was something else: The Beats' already overblown bass became even more disturbingly present and physical. It was almost as though I was being pummeled by air pressure—not unlike an ophthalmologist's air-puff test, but in my ears instead of my eyes. Sorta fun, but certainly not hi-fi.
The Vinyl Flat Can Opener has a way of preserving, but enhancing, the sound of its partnering headphone. In the case of the Beats Solo HD, more was actually less; but, with all the other 'phones I tried, the Can Opener excelled. But why not opt for a more traditional, active headphone amplifier? I asked John Martindale, who replied in his typically forthright manner.
"Ah, the $79 question!"
I could imagine his smile, even over email.
"Results with the Can Opener are directly proportional to the quality of the connected source amplifier," he continued. "So, if you already have a great amplifier that you are happy (and familiar) with, then go with the Can Opener. Or you could do both, of course!"
Of course. If only everything in life were as accommodating as hi-fi.
PSB PS1 powered desktop loudspeakers
Last May, when I visited Lenbrook Industries and the National Research Council, in Ottawa, Canada, I saw and heard a prototype of a then-unnamed PSB powered desktop loudspeaker. Six months later, PSB's Alpha PS1 ($299/pair) was officially introduced. In December, my friend and colleague, Michael Lavorgna, reviewed the speaker for AudioStream.com, praising its "exceptionally clean, clear, and crisp" overall sound. He concluded, "The PS1s are positively delightful desktop speakers and, when coupled with their price, come very highly recommended." Michael added the PSB Alpha PS1s to his "Greatest Bits" list, the AudioStream.com equivalent to Stereophile's "Recommended Components."
The PSB Alpha PS1 has the same sleek, modern styling of PSB's Imagine Series loudspeakers. Its gloss-black cabinet curves gracefully through the sides and tapers gently from top to bottom for an organic, unobtrusive appearance that should complement just about any environment. To create this elegant look and feel, PSB worked with industrial designer David Farrage, whose client list also includes Lamborghini, Movado, and Sony.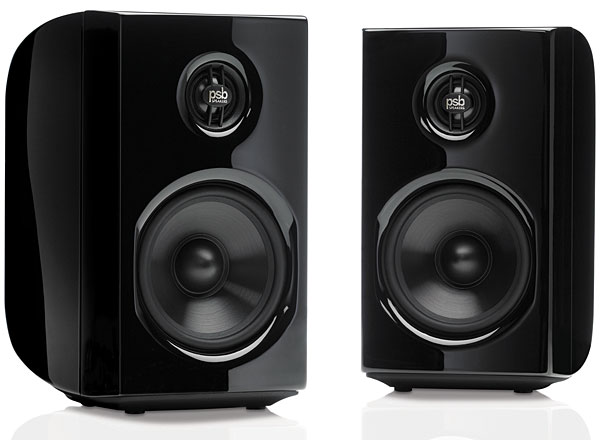 The PS1's compact dimensions (7 7/8" high by 4½" wide by 6 7/8" deep) make it ideal for smallish desktops like the one I craftily and conveniently claimed from Ms. Little, which measures approximately 42" wide by 30" deep. The speaker uses a ¾" aluminum-dome tweeter and a 3½" metallized propylene-cone woofer with an oversized magnet and rubber surround; a slotted rear port is tuned for enhanced bass response. The 20Wpc power amplifier is housed in the left-channel speaker. Around back, you'll find an easily accessible volume control, power switch, and a number of useful ins and outs: a single pair of RCA inputs, a 3.5mm Aux input, a subwoofer output, a 5V USB "PowerPort" for charging mobile devices or powering a WiFi dongle, and a 24V DC input. A universal 24V power supply, with both EU and US power connections, is included. The left- and right-channel speakers communicate via a 2m-long "PowerLink" speaker cable. Finally, the PS1s also include a simple, inexpensive interconnect, terminated at both ends with mini-jack plugs. Connect the speakers to one another, plug them into the wall, connect your laptop or mobile device, and you're ready to play.
But why, after 40 years of loudspeaker design, has PSB decided to introduce a powered desktop speaker? PSB's founder and lead designer, Paul Barton, explained: "Much of the music that people listen to now is stored on their computers or media devices. PSB wanted to introduce ourselves to this audience and to this new way of listening to music."
The biggest challenge Barton faced in developing the PS1 was to get the amp and passive crossovers into such a small enclosure while still producing good bass extension. But, as is so often the case in hi-fi (and in life), the challenge was also the reward. Powered loudspeakers have one crucial advantage over passive designs: the ability to properly match and optimize the amplifier to the partnering speaker, which, according to Barton, is especially important when dealing with digital amplification. "The high-frequency response of a digital amplifier can be altered by the interaction of the filter and the load impedance of the speaker. Care must be taken to control this [interaction] by adjusting the filters to give the flattest frequency response."
Um, whatever: My ears tell me that Barton knows what he's talking about.
They also tell me that Michael Lavorgna got it right: The PSB PS1s produced a surprisingly large and full-bodied sound, with clean highs and an open, uncolored midrange. However, somewhat unlike my reference PSB Alpha B1 standmounted speakers, which can be as forgiving to poorly recorded work as they are revealing of superbly recording material, the PS1s were more sensitive to the quality of their source: fed 256kbps MP3s, such as "Suit & Tie" from Justin Timberlake's excellent new album, The 20/20 Experience (iTunes LP, RCA Records 547850), the PS1s sounded somewhat congested, distant, and veiled; but, when used to play back CD-quality FLAC files, sourced from such wonderful productions as June's "Recording of the Month," Aidan Baker's Already Drowning (Gizeh GZH 043), the PS1s stunned me with their wide soundstage, pinpoint imaging, and natural tone color.
I initially placed the PS1s so that they were spread as far apart on my desktop as possible, resting flat on their bottom surfaces, and toed in so that their drive-units pointed directly at my listening position. But I soon realized that if I angled the speakers upward, getting their tweeters to point toward my ears, the soundstage widened, images gained greater focus, and the overall sound became more emphatic and present. To accomplish this, I used as a temporary solution Ayre's Myrtle Blocks ($15/set of 3), which worked just fine, but allowed the speakers to wobble from side to side if accidentally bumped or purposefully poked by a curious cat. Fortunately, PSB provides the optional PTB-1 base ($30/pair), which is installed quickly and easily with four standard screws. The PTB-1 bases did a better job of angling the speakers toward my ears, while providing the speakers a sturdy and attractive foundation. With the bases in place, I noted improved clarity, impact, and presence, plus more solid and powerful low frequencies—well worth the modest additional cost.
Enter the AudioQuest Evergreen
Damn, just when I thought I was satisfied with the sound, I heard similarly significant improvements upon swapping the PS1's included interconnect with a sample of AudioQuest's Evergreen ($32/1.5m). The cable uses solid, long-grain copper (LGC) conductors, gas-injected, foamed-polyethylene insulation, and gold-plated connectors—all of which are more or less meant to pass an audio signal with clean, distortion-free sound. Like all AudioQuest cables, this one is very pretty and clearly well built.
Looks and features aside, the AudioQuest Evergreen completely demolished the stock PS1 cable in every meaningful way, producing a larger and more present overall sound with deeper silences, faster attacks, longer decays, cleaner highs, more realistic bass, and richer tone color. Suddenly, I had real high-fidelity sound coming from my laptop. The combination of PSB PS1 desktop speakers and AudioQuest Evergreen cable was a revelation: something to quickly and confidently recommend to family and friends interested in getting great sound from their laptops and portable players—"real sound for real people," as the PSB slogan goes.
Case in point: When Ms. Little returned home from Argentina, one of the first things she did was to connect the PSB PS1 speakers to her MacBook and press Play. I was astonished! The music was Kylie Minogue or LMFAO or something, and it sounded surprisingly good. Ha! Wait until I show Ms. Little what the AudioQuest DragonFly can do.
Meanwhile, back upstairs, Natalie has been having trouble with the cable that connects her Audioengine A5 powered speakers to her iPhone. I suspect the AudioQuest Evergreen will take care of that.