Emotiva Audio Pro Airmotiv 4s powered loudspeaker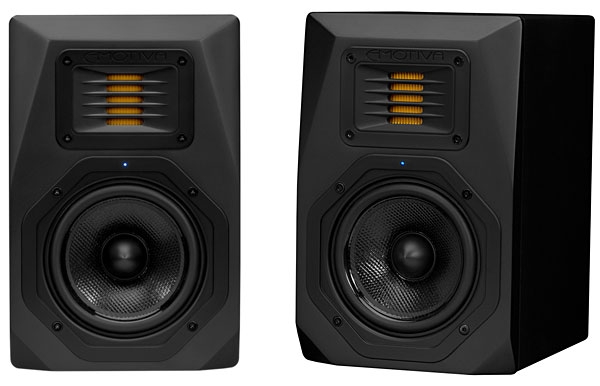 "I'm intrigued how Emotiva can offer an active speaker for so little."
This was John Atkinson's response to my request to review Emotiva's Pro Airmotiv 4s ($299/pair). My colleague Steve Guttenberg had been discussing this speaker with me at a recent industry event, and I'd realized that it had been some time since I'd reviewed an entry-level loudspeaker. I'd reviewed Emotiva's X-Ref XRT-5.2 floorstanding speaker in the August 2012 issue and had been impressed with its combination of sound quality and price. I requested samples for review.
Design
Emotiva designs and makes a wide range of audio components, and maintains a high ratio of value to price by designing in the US, manufacturing in China, and selling manufacturer direct, bypassing the dealer markup. As their products come with a 30-day back guarantee, the buyer runs little risk by trying them at home.
The Pro Airmotiv 4 is quite small at 9.5" high by 6.25" wide by 7.5" deep and only 10.8 lbs, but seems to offer a good bit of value for $299/pair. Each speaker has a 1" by 1.25" (26 by 32mm), folded-ribbon tweeter, and a 4.5" (135mm) mid/woofer with a Curv polypropylene-composite cone. The 4s is biamped: Each drive-unit is powered by its own 25W class-AB amplifier with toroidal transformers, large electrolytic power capacitors, and stacked metalized-film capacitors. The cabinet, of 18mm-thick MDF, includes a 3mm layer of acoustic damping. The Pro Airmotiv 4s also has a faceted, low-diffraction baffle and, vented to the rear, a tuned port with a linear taper.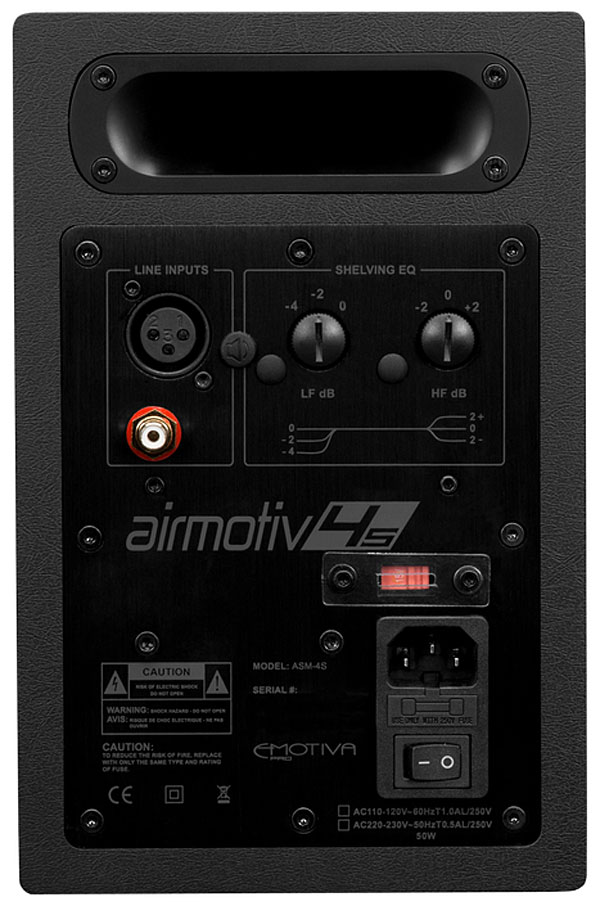 Each 4s has balanced and single-ended inputs and a number of adjustments: a level-trim control to optimize the amplifier gain for the input source, and separate high- and low-frequency equalization adjustments for each driver.
Although the Airmotiv 4s is marketed through Emotiva's Pro division, and is intended for use in recording studios as a nearfield monitor, I listened to the speakers at home using my usual procedure. In both my large and small listening rooms, I placed them on 24"-high Celestion Si stands, 4' from the front wall. For all of my listening, I left the frequency trim switches in the neutral positions.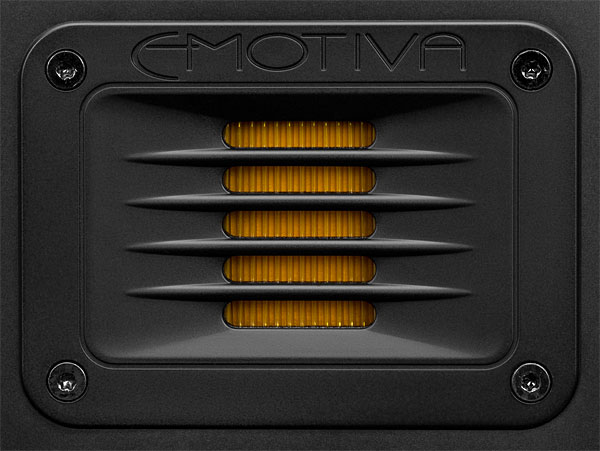 Sound
The Emotiva Airmotiv 4s's dead-pure midrange made it an excellent showcase for well-recorded voices. On "Highway 51," from Bob Dylan (LP, Columbia CL 8579), every subtle inflection of Dylan's phrasing was captured via the speaker's dynamic envelope. The Airmotiv showcased Cassandra Wilson's voice on her New Moon Daughter (LP, Blue Note 8 37183 1) as rich and supple as it floated holographically on a bed of air.
I'm always a bit nervous when listening to a dynamic midrange driver paired with a ribbon tweeter—I worry, especially with so inexpensive a speaker, that the midrange and high-frequency textures won't convincingly integrate. I had nothing to worry about with the Emotiva 4s—all high frequencies were reproduced with clarity, extension, and no trace of coloration, and perfectly integrated with the midrange timbres over a broad range of music. In Vivaldi's L'estro armonico, with Neville Marriner conducting the Academy of St-Martin-in-the-Fields (LP, Argo ZRG 733-4), the massed strings were silky but had the requisite bite, with plenty of top-octave harmonic extension and air. A good acid test for midrange/high-frequency integration is Max Bruch's Violin Concerto 2, with Itzhak Perlman and the New Philharmonia Orchestra, conducted by Jesús Lopez-Cobos (LP, EMI France C 069-02284). Perlman's violin was reproduced with the requisite extended airy bite but without a trace of harshness, perfectly integrated with the midrange textures of the orchestra.
I was amazed at the quality of the Emotiva's bass reproduction and depth of its extension for so small a speaker. In "Clean Plate," from The Golden Palominos (UK LP, OAO 1001), there's some very active interplay between the bass guitars of Bill Laswell and Jamaladeen Tacuma. The Airmotiv 4ses reproduced both with pounding clarity; it was very easy to differentiate each master's individual bass lines.
The Emotiva's extraordinary resolution of detail made it a good match for well-recorded classical music. In George Crumb's Madrigals, with Elizabeth Suderburg codirecting the Contemporary Group of the University of Washington (LP, Turnabout TV-S34523), the sound of the recording venue was clearly delineated, and each instrument seemed to pop out of thin air in its appropriate place on the soundstage. The Mikaeli Chamber Choir's Kör, conducted by Anders Eby, includes sacred choral works by Hovland, Verdi, von Koch, and Hambraeus, accompanied by pipe organ (LP, Proprius PROP 7770). Through the Emotivas I was able to pick out the voice of each singer, and could almost map out the dimensions of the very reverberant recording venue, a church. And for such a small speaker, I was very surprised at how well the organ-pedal notes boomed and bloomed.
Other classical recordings showcased the Emotiva's superb ability to articulate transients. Listening to Pinchas Zukerman, Jacqueline Du Pré, and Daniel Barenboim's LP of Beethoven Piano Trios (EMI SLS 789-5), I was captivated by the Airmotiv 4s's ability to unravel Barenboim's piano technique in the difficult fast passages. And in Walter Leigh's Concertino for Harpischord and String Orchestra, with soloist Trevor Pinnock, and Nicholas Braithwaite conducting the London Philharmonic (LP, Lyrita SRCS 126), it was very easy to distinguish the rapid, crystal-clean harpsichord passages from the massed violins.
The Emotivas also communicated an excellent sense of high-level dynamic slam. In "Humpty Dumpty," from Chick Corea's The Mad Hatter (LP, Polydor PD-1-6130), the interaction of bassist Eddie Gomez and drummer Steve Gadd in the more frenetic passages of Corea's piano solo was reproduced with clean, punchy bass and uncompressed high-level dynamics.
I also enjoyed cranking up the Emotivas to high volumes for rock. In "Spider in My Web," from Ten Years After's Undead (LP, Deram DES 18016), Alvin Lee's guitar was rich and ringing in its upper register—and I couldn't keep my body still during the Emotivas' coherent reproduction of the churning, pounding rhythms in Talking Heads' Fear of Music (LP, Sire SRK 7076).
Comparisons
I compared the Emotiva Airmotiv 4s ($299/pair) with the Audioengine 2 active speakers (original version, $199/pair), as well as with Pioneer's SP-BS22-LR passive model ($160/pair) driven by my usual amplification (see sidebar).
The Audioengine 2 had a natural-sounding midrange, with highs a bit more polite than the Emotiva's but with less midrange detail. The Audioengine's midbass was clean and rich, but didn't go as deep as the Airmotiv's, and its high-level dynamics weren't as wide. Transients through the Audioengine were good, but not as articulate as the Emotiva's.
The Pioneer SP-BS22-LR had the deepest bass of the three, but the Airmotiv 4s's low end was cleaner. Highs through the Pioneer were natural, but the Emotiva's highs were clearer. The Pioneer's resolution of inner detail was superior to the Audioengine's, but not as good as the Emotiva's. In addition, the Airmotiv 4s's high- and low-level dynamics were superior to the Pioneer's.
Conclusion
Emotiva Audio's Pro Airmotiv 4s is a superb performer for the price, with strengths unheard of for $299/pair, and with negligible shortcomings. In fact, I was sufficiently impressed that I'm buying the review samples for use in the engineering and mixing of an upcoming home studio recording of my jazz quartet, Attention Screen. Like JA, I'm amazed at how Emotiva can offer so much active speaker for so little.