Chario Aviator Amelia loudspeaker Page 2
I listened to the Amelias with three amplifiers. For a while, I had in the system the class-AB Soulution 330 integrated, which is rated at 240W into 4 ohms. Then I swapped in the MBL Noble Line N51, which operates in "atypical class-D," with a specified output of 380Wpc into 4 ohms. Finally—just before I sent the Amelias to John Atkinson for measurement—I tried the little
PS Audio Sprout100
integrated: another class-D design. Its rated 100Wpc met the speakers' specified minimum power. It worked better than I expected.
Of the three amplifiers, the N51 provided the most fullness and substance. Some music seemed to take on a warmish, burnished cast. The effect was occasional, subtle, and when it happened, musical. The 330's strengths include slightly more resolution and a more vivid spatial presentation, perhaps more "roundedness" in dimensionality.
I mentioned the Charios' "live" character and how it inspired me to listen to more live performances. Portishead's Roseland NYC Live reissue (LP, Go Beat/Universal Music, MOVLP 480) presents that group's performance at that venue on July 24, 1997, although according to the liner notes, a couple of tracks were pulled from other Roseland shows. The recording captures much of the contrast between the delicate orchestral parts and the heavily electronic atmosphere. These live tracks feel rawer and more spontaneous than the original studio versions, which were pretty raw themselves.
On "Mysterons," theremin-like sounds (footnote 2) (combined with quacking-duck turntable scratching) evoked an eeriness worthy of an old sci-fi flick. Snare rolls were deliciously taut. The drum kit was precisely placed, ever-so-slightly right of center, behind Beth Gibbons, who's centered. The soundstage could have been deeper, but through this system, this recording achieved what any good live recording should: a sense of immediacy that made me wish I was there. Weighty pulses droned on top of electronic grooves and the lacy delicacy of layered strings. Sax and strings, funky samples, and turntable scratching made for a wonderfully strange symphony. The Amelia/N51 system permitted the many voices, human and instrumental, to co-exist separately, distinctly, well-mixed, and convincingly in the context of the venue, much as they must have sounded that night in that live performance (from a good seat). Textures and timbres were convincing and true-toned.
On "Over," the stripped-down intro of repeated guitar notes alongside Gibbons's legato vocals created cobwebs of sound that came through with a good sense of scale and ease. Bass brought suitable drama: full, pretty deep, appropriately weighty, with remarkable impact for a speaker this size.
On Thao (Nguyen) and the Get Down Stay Down's Know Better Learn Faster (LP, Kill Rock Stars KRS-500), the title track's energy shifts, fast to slow, loud to soft. I'd recently learned that Thao and the group had parted ways, which led me to revisit this 2009 breakout album. The title track has an offbeat, East-meets-West vibe: odd time signatures and rhythmic syncopations punctuated by guest Andrew Bird's violin and whistling. Strange sounds swirled. A climax suddenly emerges and the track takes off in a frisson of barely contained excitement. The instruments on this recording can sound cacophonic. Here, the layers were rich and well sorted.
Another fun, high-energy listen: the MoFi reissue of the B-52s's self-titled album (LP, MFSL MoFi 1-004). The hyperactive near-chaos toward the end of "Rock Lobster" stayed clean, not muddied. Attacks were fast. A touch of tizz crept in on cymbals. No matter.
Maez mentioned that he'd recently picked up the aforementioned Power Station's self-titled LP for a buck (Capitol/EMI SR-12380). Reflecting on my first concert experience, I was inspired to dig out my old copy, clean it, and play it. Musically, the album hasn't stood up well for me over the intervening years, but sonically, it offers some bang for Rich Maez's buck. Tony Thompson's explosive drumming on "Some Like It Hot" slammed through the speakers, his hard hits hitting hard on his Yamaha kit.
Continuing this '80s thread, I cranked up a 12" single of Yes's "Owner of Lonely Heart" (Atlantic/Atco 0-96976). This might have been the only time I encountered anything like brightness with the Charios, and still it wasn't much. The high end seemed slightly exaggerated with this track.
Time for more treble. Something more mellow.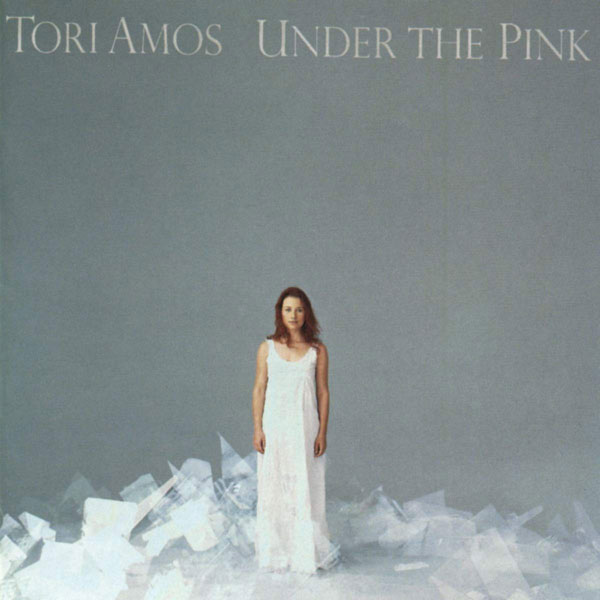 I pulled Tori Amos's 20th anniversary edition of Under the Pink off the shelf, half-speed–remastered at Abbey Road Studios (Atlantic, R1-82567). When Amos lays into the right-hand keys of the Bösendorfer, the impact was palpable, and the piano sounded three-dimensional. Attacks hit hard, sustains were long, and decays were slow.
On tracks like "Icicle," when I turned the volume up to 40 or 45 on the N51's control—that's loud on this system, in this room—I detected less sparkle and smoothness than I was used to hearing. Hints of dryness crept in—well shy of harshness. Again, this was only at higher SPLs, and it was subtle. Amos's vocals and piano in certain higher registers sounded slightly less smooth—less smooth than on, eg, my reference MBL 120s at similar volumes with the same supporting hardware. Most of the album, though—and all of it with the volume turned down a little—sounded "on" in tone and texture.
The Amelias clearly rendered familiar distinctions between my two LP versions of Patti Smith's Horses: an older German test pressing (Arista/EMI Electrola, LC 3484, 1C 062-97 237) and a more recent US reissue (Arista 88691960281). On the German version, Smith's scrappy vocals on the rawer, edgier "Gloria" and "Redondo Beach" are strangely forward in the mix, verging on overemphasis. Also, sometimes Smith sounds physically lower than she should have sounded, as if she were sitting in a low beach chair.
The vocals are still a little bit over-prominent on the US version, but with more expansiveness and better balance with the band. The height of Smith's voice seemed more appropriate: She sounded either normally seated or standing—not so close to the floor, anyway. Details were present but not overhyped. The music on this version had drive and a frisky energy, especially on "Redondo Beach"'s chucking, reggae-flavored rhythms.
I love it, in reviewing, when a "light-bulb" moment coincides with pure pleasure. I was listening to the Amelias powered by the MBL amplifier, with my eyes closed as I often do. I had switched from vinyl to CD and was listening to the Afro-Brazilian–tinged "Candomblé," by Baden Powell, on Brazil Bossa Beat!: Bossa Nova and the Story of Elenco Records, Brazil (2 CDs, Soul Jazz Records, SJR CD242). In my music- (not substance-)altered state, it suddenly seemed that the music was coming from the speakers in a different, more three-dimensional way, as if the speakers' wooden chambers had changed their shape to embody the guitar and its glorious resonance; the sound was very much coming from beyond the actual speaker, but in this music space, the speaker and the guitar were one. The speaker both was and wasn't the source.
Cliché or not, the musicians-in-the-room illusion was strong. Subtle, loud-to-soft dynamics were conveyed well. Crescendos ebbed and flowed like Copacabana waves. Samba shakers skittered.
I experienced similar impressions of instrumental embodiment on Fausto Mesolella's Live Ad Alcatraz, a limited-edition album on Fonè Jazz featuring the Italian classical guitarist playing live (Fonè Jazz, 062). As his fingers moved across the fretboard, the Amelias sounded like the guitar itself: Once again, the music and speaker became one, in texture, timbre, and musical intent.
Conclusion
Plenty of thought and care went into designing and making the Chario Aviator Amelias. Their delivery seems unforced and easy—but not "easy" as in laid-back. Easy as in effortless. They possessed a smooth, vivid naturalism. They're big on immediacy—not shy about delivering a punch.
The Amelias sound bigger than they are. They were easily able to fill my high-volume listening room with sound. They share a bit of "omni" character with my MBL 120 loudspeakers, perhaps because of drivers on three of six surfaces dispersing sound throughout the room. The impression was of a wider, fuller sound than expected, though not to the extent of the MBL 120s, which are true omnis. I'd consider buying these if the time were right. It'd be easy to spend a similar amount of money and get inferior sonic results.
The Chario Aviator Amelia is an easy recommendation. If you like what you've read here, and if the Chario is in your price range, seek an audition.
---
Footnote 2: Probably Adrian Utley's Moog here, although Utley played a real theremin on the original Dummy album, according to that album's credits.