Cambridge Audio Edge A integrated amplifier Page 2
This is one seriously beautiful piece of hi-fi. I was instantly compelled to touch the large, concentric volume/source select control knobs that dominate the center of the faceplate, which permit navigation and volume selection at the touch of its single creamy dual dial. The control dial is assembled from 31 precision-milled engineered parts, all made "from aerospace-grade materials," per Cambridge's website. The substantial metal remote-control handset replicates the dials' functions and adds Skip, Mute/Unmute, Power Off, and four programmable buttons—but I preferred the feel of the Edge A's large round knob.
Use the dial behind the volume dial to gently click through the Edge A's digital and analog source options: D1, D2, D3, D4, D5, Bluetooth, A1, A2, A3. In the faceplate's lower left corner is the Standby/On button, and at lower right is the ½" headphone jack.
On the rear panel are, from left to right: the AC power socket (cord included), and above it the right-channel speaker posts; a voltage selector switch ("For use by Cambridge Audio service personnel only!" warns the manual); the right-channel preamp output (XLR, RCA) and input (XLR, A3), right- and left-channel input pairs (RCA, A1 and A2), left-channel input (XLR, A3), and left-channel pre-out (XLR, RCA). Above the analog jacks, from left to right, are the USB Class 2 audio input, HDMI input Audio Return Channel (for connection to a TV that supports ARC), three digital inputs (one coax, two USB), and a Bluetooth antenna; below the antenna are the left-channel speaker posts. Running along the bottom right of the rear panel are an Auto Power Down switch (to override the Edge A's annoying but EU-required technology that demands powering down if the volume falls below a minimum threshold for 20 minutes), Link In and Out 3.5mm jacks for connection to an Edge W power amplifier, and an RS-232 custom-installation port.
Setup
I recently moved my Thorens TD 124 Mk.I turntable with Jelco 350S tonearm and Ortofon Quintet Bronze cartridge into my main rig, to drive the very refined Luxman EQ-500 tubed phono preamplifier. I connected the Luxman to the Edge A with a pair of Triode Wire Labs American Spirit interconnects. An ATC CDA2 Mk.II CD player met the Edge A via Auditorium XLR-to-RCA links. Auditorium 23 speaker cables joined the Edge A to my DeVore Fidelity Orangutan O/93 speakers.
Listening
The Thorens TD 124 Mk.I with Jelco arm has a generally lighter sound than my Kuzma Stabi S turntable and Stogi arm, but it well suited the Luxman phono preamp and the Cambridge Edge A. I was struck by this combo's shimmering, translucent, finely detailed upper midrange to treble frequencies.
There was no confusing the sound of the solid-state Edge A with that of a tubed integrated amplifier. Octave Audio's V 80 SE tubed integrated, which I reviewed in September 2017, had struck a clear balance between tube bloom and solid-state grip, its sound owing no particular allegiance to either camp—but the Edge A's sound was pure solid-state, of the silk-ear variety. Through the Edge A and Luxman EQ-500, LPs were studies in upper-harmonic sheen and nth-degree tonal shadings between different notes, different instruments, and even different pressings. Whether I listened to rocker Tom Petty, atmospheric jazz combo Bass Desires, master double bassist Dave Holland, or violin virtuoso David Oistrakh, vinyl was sweetly delineated through the Cambridge-Luxman combo.
I recently came into a large collection of dub and reggae records. One LP that sounded fantastic through the Edge A was drummer Sly Dunbar's Sly, Wicked and Slick (LP, Taxi/Virgin FL1042). Not all reggae records are created equal or are well recorded, and some from the 1980s are just shinily produced pop drivel. But Sly, Wicked and Slick is a feast of outsize production, with myriad electric instruments spread across a good-sized soundstage, powered by Dunbar's cross-hemispheric tom drops and driving bass drum. Where my Shindo Laboratory Haut-Brion power amp presents Dunbar's ever-present four-to-the-bar bass drum like a giant wet orange packed with color and humidity, the Edge A laid it out as clean and round, a little dry, the edges highlighted, with less bass depth. The Cambridge reproduced the long bass-drum notes without the dense color saturation of costlier tube gear. Still, when Dunbar drove his bass drum hard, I missed nothing; instead, I enjoyed the drum's singularly clean, crisp punches to my skull. The Edge A was consistently crisp, instruments fully realized, every sonic gradation of every recording fully present.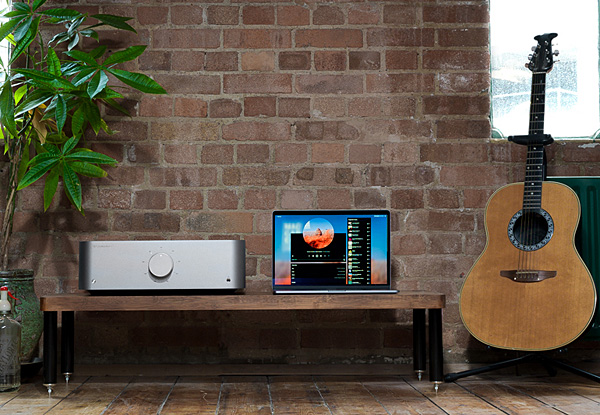 The Edge A produced some of the best soundstaging I've heard in my apartment: deep and wide, with excellent retrieval of micro- and macrodetail. The Edge A dove deep into Marc Johnson's Second Sight (LP, ECM 1351). Johnson's wiry double bass was amply defined in space, but the actual weight of the soundstage—the physical presence of this musical thunderstorm—was even heavier than his instrument. The Cambridge-Luxman pairing recreated all of this disc's intensity and splendor, leaving nothing to the imagination.
Slipping Christian McBride's New Jawn (CD, Mack Avenue MAC 1133) into the ATC CDA2 Mk.II restored some of the low-end weight I was missing with LPs, while sacrificing only a dab of vinyl's gossamer treble richness. McBride's double bass sounded downright sticky, albeit with a kind of one-tone signature. Music became more tactile and immediate via CD, with good treble focus and energy and more bass weight. John Scofield's Combo 66 (CD, Verve 678 021 3) was similarly enhanced from the midrange down, Bill Stewart's cymbals and drums finely hewn. Qobuz streams, too, sounded crystalline and pure through the Edge A's own DAC, the service's CD-resolution fare offering endless fun.
The Edge A performed a largely neutral role, revealing the humanity of vinyl via the Luxman, and the greater low-end punch of CDs through the ATC, all through an aural lens of absolute clarity, sweet tonality, better-than-average spatial reproduction of instruments and recording venues, and good bass performance. As for that last quality, the massive, wet, monsoon-like electric-bass notes I heard from Pat Metheny's Secret Story (CD, Geffen GED 24468) confirmed the superiority of the Edge A's control of the DeVore O/93's 10" woofers in my Manhattan crib space. The vise-like grip the Edge A maintained on the DeVores' woofers exceeded that of any other integrated amp I've heard.
I'd listened to percussionist Kjell Tore Innervik's Utopias (SACD/CD, 2L 2L-141-SABD) many times, but always dismissed these works—Xenakis's Psappha and Feldman's The King of Denmark—as intellectual exercises in contemporary classical music. Not so through the Edge A. Now the ascending and descending lines on toms, bells, and assorted percussion spoke to me clearly, with power and tone. I could feel the densities of hands and mallets on drumheads, the spaces between notes that create drama, scale, and musical flow. Perhaps it was the Edge A's lack of capacitors in the signal path that allowed it to run faster and jump higher, its speed and swiftness helping to bring me closer to the music on this recording than ever before.
Summing Up
I've reviewed many integrated amplifiers for Stereophile. Heck, Herb Reichert and I may together hold the record for most integrateds reviewed in a single year. None has provided me with as much simple, exuberant, at times jaw-dropping fun as Cambridge Audio's Edge A. Totally satisfying, and capable of getting the best out of LPs, CDs, and streams, the Edge A provided a funhouse of music enjoyment, bringing fresh light to old discs and new discoveries with every medium. Granted, I provided very good components upstream, to challenge the Edge A to dig deep. But when an amp can so effectively reveal the true nature of its accompanying components, bringing to the party clarity, spaciousness, good tone, and solid drive, I'd say it's worth your time and your $5000.