NHT SB-3 loudspeaker
I first met NHT co-founder
Ken Kantor
in 1975 when we were both undergraduates at MIT. Kantor was sponsoring an extracurricular class entitled "Musical Ideas." The concept was to stick a dozen or so musicians in a classroom for free improvisation and hope to create music à la Miles Davis'
Bitches Brew
. The result was a mess; although talented guitarist Kantor meant well, there was no common vision or consistency of musical talent. Nevertheless, I had a blast trying to simulate a tamboura drone with a Hohner Clavinet, phase shifter, and volume pedal.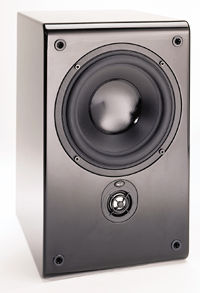 I ran into Kantor at a Consumer Electronics Show in the mid-'80s, where he told me that he was now designing speakers and was at CES to launch his latest project, Acoustic Research's Magic Speaker. I followed Kantor's career with interest, especially after 1986, when he launched, with Chris Byrne, a new speaker company: Now Hear This (NHT). NHT's ownership has changed hands several times since then—International Jensen bought the firm in 1990, and Recoton, NHT's current owner, bought it in 1996. Ken departed somewhere along the line but the company is still run by Chris Byrne and is still based in Benicia, CA. The design team is led by Jack Hidley, a protégé of Kantor's who has been responsible for most of the NHT designs for the last 10 years.
NHT was formed to develop high-quality, affordable loudspeakers. When I auditioned one of their first bookshelf models, the 1.3 (footnote 1), I was impressed with the speaker's resolution of detail, overall neutrality, and quality of construction, but its forward, more-exciting-than-real sound was not to my taste. Nevertheless, I was interested in seeing what the company had been up to since.
I chose to review the SB-3 bookshelf speaker, which, at $600/pair, is midway in the price range of NHT's SuperAudio series, which comprises four models ranging from $300 to $1000/pair. The SB-3, the largest SuperAudio bookshelf model, is a two-way design featuring NHT's proprietary 1" metal-dome, neodymium-magnet tweeter. A large heatsink is attached to the rear of the tweeter. This is intended to improve power handling and strengthen the cabinet to minimize resonant effects. The tweeter is positioned close to and below the 6.5" long-throw polypropylene-cone woofer. According to Hidley, the unusual driver arrangement of this acoustic-suspension cabinet is intended to get the output of both drive-units in phase at the 2.4kHz crossover frequency for listeners seated in typical chairs.
The SB-3 is finished in a stunning seven-layer, hand-polished, gloss-black finish in a slightly rounded cabinet that reminded me more of the original Wilson WATT or Entec subwoofer than a budget-priced bookshelf model. The SB-3 is also available with the equally attractive Last Stand, a $200/pair speaker stand that can be loaded with sand and/or lead shot, with a choice of spiked or rubber feet. For this review, however, I used my customary Celestion Si stands, their central pillars filled with sand and lead shot.
Sound
The SB-3's overall tonal balance was quite natural. Its few minor deviations from neutrality were consonant with the musical experience and, with certain musical programming, quite attractive. Vocal reproduction in the critical midrange was detailed, dimensional, and realistic. Well-recorded female vocals—such as Madeline Peyroux (Dreamland, Atlantic 82916-2) and Aimie Mann (Bachelor #2 or The Last Remains of the Dodo, Super Ego SE002)—were rich and clear, with tremendous body. Sibilants were produced clearly and crisply but without a trace of edge.
Male voices also fared well. Mighty Sam McClain (Give It Up to Love, JVC JVCXRCD-00122) growled with resonance and depth. Woodwind reproduction was so natural that the SB-3 could be the ideal budget speaker for fans of small jazz groups. John Coltrane's tenor on Coltrane's Sound (Atlantic 1419) was biting and brash, yet warm and natural. And I'd never heard Sonny Rollins sound more convincing (Way Out West, JVC XRCD VICJ-60088). It was spooky—Rollins' subtle articulations reminded me of exactly from whom my late father had derived much of his own tenor style.
The lower high frequencies were natural and detailed, with quick articulation of transients. Instruments in this region had a certain crispness and front-of-hall presentation, but without a trace of forwardness or brightness (footnote 2). I did not, however, get the sense that the SB-3 reproduced extreme high frequencies with as much articulation or resolution. Overall, the SB-3's high-frequency performance made it the most realistic reproducer of orchestral marimba and xylophone and jazz vibes of any speaker under $1000/pair I've heard. Classical violins also sounded quite natural.
---
Footnote 1: Reviewed for
Stereophile
by Robert Harley in September 1990, Vol.13 No.9.—
Ed.
Footnote 2: I noted this natural high-frequency reproduction by following NHT's instruction to leave the grilles on. Designer Jack Hidley explained to me that removing the grilles gives the sound a 8kHz boost. I also listened with the grilles off, but didn't like the exaggerated reproduction of the upper partials of orchestral strings, electric guitars, and brass.—BJR