Usher Audio Technology Be-718 loudspeaker
When I attended the
2006 GuangZhou Hi-Fi Show
in China, it seemed as though most of the Asian-built loudspeakers I saw were huge, astonishingly efficient, and had horns. When I walked into Usher Audio Technology's room, however, Paul Chen was making music happen with the Usher S-520s ($500/pair).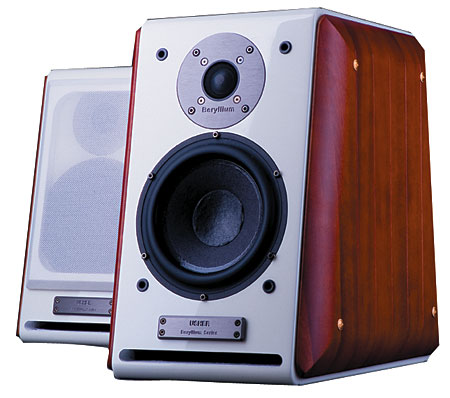 "Ah, sweet music," I said, sitting in the sweet spot. "But what's an American stand-mounted monitor doing in a show so Asia-centric?"
Chen was politely amused. "Usher's more of a global collaboration," he said. "Dr. Joe [D'Appolito] designs the loudspeakers. Mr. Tsai Lien-Shui designs the crossovers, which Dr. Joe then voices for the US market. And, of course, the speakers are manufactured in Taiwan."
I've got to watch out for those assumptions. Immediately, thinking I'd ferreted out an unsung gem, I made another. "Can I review these for Stereophile?"
Um, no. Bob Reina had already reviewed them, an entire year before (December 2005, Vol.28 No.12). "I'm sure we could find an appropriate speaker for you to review," said Chen. "Dr. Joe has some interesting projects in development."
I found out what he was referring to six months later, at Home Entertainment 2007, when I first encountered the smallest speaker in Usher's flagship Dancer Series, the Be-718 ($2795/pair). Usher, which teamed up with Oracle and JPS Labs for HE2007, had one of the best-sounding rooms at the show, and it took me three days to actually get into the room. Once I did, I didn't want to leave.
"We'll send you a pair," said Atul Kanagat of MusikMatters, Usher's US distributor. "You can listen to them as much as you want."
Some days, I love my job.
Little, Big
The Be-718 may be the smallest speaker in the Dancer line, giving rise to its nickname, "Tiny Dancer," but tiny isn't perzackly accurate. Each one weighs close to 40 lbs and measures 15.2" H by 10.2" W by 16.9" D, which makes the speaker fairly larger than the average stand-mounted monitor.
The Be-718 is a good-looking speaker. My sample pair had Usher's Piano Black finish, with bolt-on side panels of rich Pioneer Birch. The baffle rakes back steeply and the front-firing slot is placed at its bottom. The speakers come with protective grilles, which I kept in place to protect them from cats. But only when I wasn't listening—the grilles' sonic effects are not subtle. On the back, the Be-718 has two pairs of rugged binding posts made specifically for the Dancer line.
The doped-paper 7" midrange/woofer is the best Usher makes; ditto for the 1.25" beryllium tweeter. The crossover, designed by Tsai Lien-Shui and tweaked for American ears by Joe D'Appolito, is specced by Danny Richie of GR Research, who stuffed it with Sonicaps, Mills resistors, and various goodies from Erse: polypropylene capacitors and high-purity, oxygen-free, copper air-core inductors. All internal wiring is from JPS Labs, and is designed, I'm told by Usher's PR guru, Jonathan Scull, specifically for the Be-718.
Somewhere to elsewhere
I mostly listened to the Be-718s in my smaller (9' by 15' by 7.5'), acoustically treated listening room, but I did set them up as well in my larger (13' by 25' by 9') main room. The Ushers performed valiantly in the larger room, but it wasn't the perfect space for them. They locked in with the smaller room amazingly well, not only "disappearing," but also delivering a surprisingly robust bottom end.
I mounted the speakers on 24" cement-filled Foundation stands, 20" from the front wall and 19" from the sidewalls. That left about 4.5' between the speakers and put them 9' from my listening position.
After extensive auditions using the 60Wpc Ayre AX-7e integrated amplifier, I finally paired the Ushers with my long-term workhorse, the Musical Fidelity Nu-Vista 300. Wow. I cannot emphasize this enough: These speakers liked to be kicked in the arse—mo' power was waaay mo' better. They sounded fine with the Ayre, but my oh my, with 300W, they woke up and sang.
I'm not saying I had to play the Ushers loud to juice the sound—unlike certain speakers that seem to swallow the music until you goose the volume pot beyond realistic levels. It's just that they seemed to like being controlled. I also had superb results with the 200W Portal Audio Paladin monoblocks.
Lilacs and fireflies
Thinking that Kate and Anna McGarrigle's acoustic folk groove would play to a stand-mounted monitor's strengths, I cued "Midnight Flight," from Love Over and Over (CD, Hannibal HNCD 1405). I was right and wrong. The first note—a sharp rap on Gerry Conway's kickdrum—was deep and realistically dynamic, meaning that the first response the Be-718s elicited from me was to make me jump, then gape in disbelief.