Vivid Audio Giya G1 Spirit loudspeaker
It's been more than seven years since the late Wes Phillips reviewed Vivid Audio's top-of-the-line loudspeaker, the
Giya G1
, for
Stereophile
, and since then the speaker has been seriously revised. At first glance you still notice the sui generis form; closer inspection reveals fundamental changes that make it, in most respects, an entirely new speaker.
The Giya G1 Spirit is slightly shorter and wider than the Giya G1—as if the latter's top had been gently pushed down a few inches and bulged out its bottom half. This change in shape was needed to accommodate the entirely new and larger C225-100 low-frequency driver, which I'll get to shortly. Other changes are an entirely new lower-midrange driver, a new external crossover, and a hefty increase in price: from $65,000 to $93,000/pair (add a bit more for special finishes) (footnote 1).
I was first exposed to the original Giya G1 in a top-floor suite of the Mirage Hotel in Las Vegas, many Consumer Electronics Shows ago, and it was love at first listen. The room was large by hotel standards, and carefully set up. We listened to a short playlist, and it set a high bar for show sound for years to come. In short, as Wes noted in 2010, the original Giya G1 was and still is something special.
In 2017, a few months after arrangements for a review of the Giya G1 Spirit were made, then-US distributor Philip O'Hanlon rented a van and drove the review samples up the California coast, from San Juan Capistrano to our place near Paso Robles. He'd warned me ahead of time about the size and weight of the Spirits' wooden crates, and I'd asked a couple members of the local audio club to be at the house when he arrived.
Wise move. The total weight of each speaker and its 6' by 3' by 2' crate is over 250 lbs. A word of praise here for the most excellent job Vivid has done in figuring out how to protect these weighty speakers, and make it easy to get them into your room and upright. The crates are built to last, with places to grab hold, and rubber wheels on one edge for easy maneuvering. We opened the crates outside, in the driveway, and as we tipped the first speaker out of its sarcophagus, we saw it had a board bolted to its bottom, with handles! We used these to carry each speaker into place, where we laid it on its side and removed the board. Each Spirit's top swirl is sturdy enough to use as a handle, and most of its weight is at the bottom—they were surprisingly easy to set upright and move around.
It's what's inside that counts
The Giya G1 Spirit is a classic example of form following function. It's a four-way, five-driver system, and each of the two midrange and single high-frequency drive-units is enclosed in its own appropriately sized and logarithmically tapered subenclosure. These look like long cones, and each is optimized for its driver's operating bandwidth and hidden inside the main cabinet. All you see are the diaphragms out front, and three bolts at the back, for tensioning the internal cones to keep them from vibrating.
The two opposed woofers—which, like all Vivid drivers, feature aluminum-alloy diaphragms, and which I measured as 11" in diameter (although Vivid specs them at 8.9")—fire from both sides at the bottom of the cabinet, their backsides connected with an internal brace that neatly cancels any reaction between the woofers and the cabinet. Immediately behind each woofer, at the rear of and molded into the sidewall, is a port roughly 10" by 2". The woofers' rather large tapered-cone enclosure comprises the entire interior of the cabinet, including the large curl on top—it's the woofer chamber's cone, wrapping around so it doesn't stick straight up.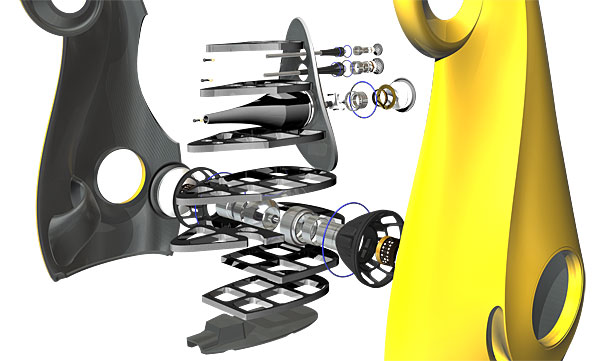 The three mid- and high-frequency drivers are covered by a single sheer-mesh grille of rigid metal that magnetically clings to the front of the speaker. Each woofer also has its own circular grille. It's an ingenious design, and they never rattled or came loose. To remove a grille, firmly pry one edge with the fingertips until it pops off. I tried listening with the grilles on and off, and concluded that they didn't harm the sound in any way. I left them on the entire time the speakers were here.
Wes Phillips's review of the Giya G1 covered Laurence Dickie's design theory and engineering well enough that I'll stick to highlighting the updates in the Spirit. Vivid says that redesigning the cabinet and pulling the crossover out to occupy a separate box has made the speaker substantially less resonant, and made room for two more carbon-skinned braces inside. The completely new woofer's wider, longer voice-coil required the wider cabinet and bigger ports, and, at 600W, it can handle twice the power of the original G1's woofer.
The completely redesigned C125-75 midbass driver has a magnet whose diameter increases from 2" to 3" (50 to 75mm), and has been moved from the driver's rear to a position where it now surrounds the voice-coil. Vivid says that the project began as an investigation into the reoptimization of the form of the cone-and-dome assembly, but with the addition of carbon-fiber rings: "In the same way that applying a peripheral carbon fibre ring to the D50 dome changes the optimum shape and doubles the frequency of the first break up, so the new profile of C125-75 with carbon rings has resulted in a dramatic improvement taking the first break up from 4.3kHz to 10.5kHz."
The shiny, Pearl-finished pair O'Hanlon brought with him looked like two perfectly tufted peaks of stiffly whipped cream carefully dropped onto the carpet. Vivid describes the material these speakers are made of as "glass reinforced balsa cored sandwich composite," and it's a result of designer Dickie's philosophy of light, rigid materials that push resonances higher in frequency, where they're less obtrusive. You'd think this would make for a light speaker, but alas, everything inside still adds up to one heavy product. I used Vivid's spikes (six per speaker; other, non-spikey footer options are included) to lock the speakers securely to the wooden subfloor under the carpet.
The standard finishes are Piano (black) and Pearl (white). Some Vivid ads feature custom colors such as banana yellow, and I've seen red as well. The finish is so luxuriant and appealing that I wanted to stroke and touch them, maybe even lick them. I wasn't sure what we'd think when they were set up in the house, but the first impression was very positive, and they grew on us more over time. Of the dozens of visitors of all genders and ages who listened to them here, only one objected to their unconventional appearance. And he was an artist at that!
It's a setup
The Giya G1's external crossover, new in the Spirit revision, permits both the optimization of the internal chamber of the speaker and custom active or passive crossover alternatives, and now the first order of business was to configure it.
Each speaker's crossover comes housed in its own hefty, gloss-black enclosure measuring 16" wide by 4" high by 11" deep, weighing 13.2 lbs, and resting flat on spiked or flat feet (both are included). At one end of the box is an 18"-long, ¾"-diameter cable that looks like a short, black cow's tail. Fitted to its end is a hefty, round, professional-grade NL8 multi-pin connector that goes straight into the speaker's matching jack. O'Hanlon told me that longer and/or custom cables of your choice can be had, and I'm guessing you can order the crossover box in flaming orange. At the other end of the box are two sets of binding posts, for biwiring to your amp. If you don't want to biwire (I do, however), jumper straps are included.
Connecting the crossover cable to the speaker is tricky—cable and connector fit into a hidden pocket in the base of the speaker cabinet. It helps to have someone tip the speaker forward to get access to this pocket and lock the cable in place—there's not much working room. But unlike most speakers, once the G1 Spirit is hooked up, its back is free of hanging wires and makes for a very clean installation. And if you cut a hole in the floor directly under each speaker and run its cable straight down (somehow hiding the crossover under the floor), the speakers would look perfectly wireless.