Ups and Downs at Munich High End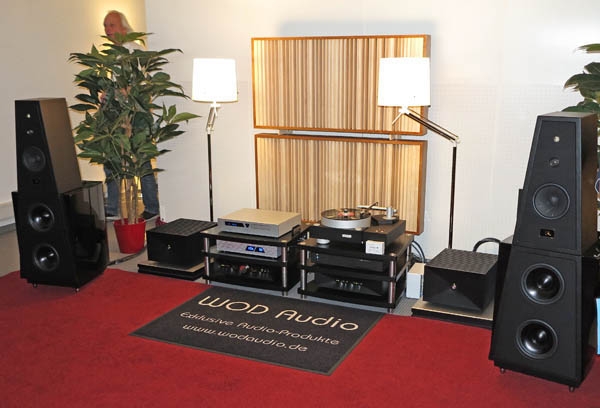 The SAF (
see here
) gave this room an 8.5. Such a high rating wasn't just because he felt the equipment, including the sound treatment and the low racks, was attractive: He also felt the setup could comfortably fit into a living room without competing for living space, and that its sound was very easy to listen to. Note that the exhibitors in the room turned around the system by 180 degrees and built a dividing wall behind the speakers that incorporated sound-enhancing materials.
At the head of the system was the brand new Bergmann Galder air-bearing turntable (€15,000): the only table in Bergmann's line that's sold without an arm. You can mount up to four arms, either radial or linear tracking, on the Galder. It is also more user-friendly than Johnnie Bergmann's other three models (by his own admission), and includes an automatic switch-off. "Everything is controlled from the plinth," he told me.
I neither made notes on all of the equipment nor spent time listening because, sadly, the extremely attractive Rosso Fiorentino loudspeakers and some of the electronics are not imported into the US at present. Here's hoping that will change.
Before I could set foot in the Magico room, which used MIT cabling, Kent Loughlin of MIT greeted me with talk of the world debut of the MIT Articulation Control Consoles—a new technology that, according to Loughlin, "throws more energy into the room, and gives you a visceral impact you can feel in terms of sound pressure." Calling them "the new pinnacle" of MIT's line, Loughlin displayed the entry-level ACC 169 ($46,000/pair with 8m speaker cables, with $1000 for each additional 5m). The ACC 169 has 169 poles of articulation, if you understand what that means. Also in the line are the ACC 206 ($69,000/pair with 8m speaker cables) and ACC 268 ($88,000/pair with 8m speaker cables).
In a by-now-familiar system configuration, dCS officially launched Vivaldi 2.0 transport and DAC software (free to Vivaldi owners) and Vivaldi 2 upsampler software ($2000). The Upsampler upgrade—new USB and network hardware plus new software—requires shipment back to the UK factory. While there was no time to conduct a comparison between upsampling to DXD and to DSD, I have been told that the sonic advantage DXD held over DSD in earlier software versions has now been reversed.
Roon integration is next on the dCS upgrade list. After that comes MQA, whose implementation is slowed because dCS uses FPGAs rather than off-the-shelf MQA hardware.
Even above the booming from the Zellaton room next door—there has been an ongoing war between dCS and Zellaton over the last few years, which would never have occurred were the MOC's dividing walls more substantial—the superior weight and impact of this dCS/D'Agostino/Wilson/Transparent system set it way, way, way above the pack. Dynamics and shadings both macro and micro were nailed, and even the smallest changes in delivery and articulation were audible. Shirley Horn sounded as sophisticated, quiet, and cool as I have ever heard her, and the silences between notes were profound. Scope was huge, depth amazing, and the way the sound of a triangle hung and decayed in space uncannily realistic. Alas, low bass was a mess until, some time after I left, the speakers were repositioned by several inches. When I briefly returned after the show closed on Day Four, the image was set way further back, air was astounding, and bass was 95 percent in control.
The SAF kept returning to this room, which resulted in more than one visit on my part. The first, sadly truncated at day's end, revealed singer Vanessa Fernandez making really beautiful sounds, with instrumental slam pretty nice. On Day Four, colors and image size on a Nils Lofgren track from Acoustic Live benefitted greatly from increased volume, although guitar sounded edgier and overly metallic. An orchestral track from Chesky's Power of the Orchestra exhibited a lovely albeit dominant midrange, as well as nice depth and image size, but highs were a bit glassy. When I later learned that the amps were EL34 Air Tights in triode configuration, the lack of tightness in the bass, the midrange dominance, and the less-than-satisfying highs made sense.
Heard were Blumenhofer Acoustics Genuin FS1 MkII loudspeakers (€25,000/pair), which mate the company's own compression horn with a reflex-loaded paper-cone woofer manufactured to their specifications. Cammino cables and passive Power Harmonizer and a Pluto turntable with Pluto arm and ZYX cartridge completed the chain.
Although most press members opted for Day Two's off-site Wilson Audio evening, yours truly, husband David, Michael Lavorgna of AudioStream.com, and others boarded a bus for the introduction of the 40 lb Sound Galleries music server SGM 2015 (target price: $16,000). Staged at the huge BMW World facility, whose museum and plant are adjacent to Olympiapark, the pull-out-all-the-stops catered evening attracted a number of industry luminaries, including Gary Koh of Genesis, Rob Darling of Roon, and Jared Sacks of Channel Classics.
The backstory goes like this: At last year's Munich show, Michael Lavorgna declared that the Sound Galleries room, which included a $700 computer-based music server assembled by Edward Hsu, was AudioStream.com's "Best Sound of Show." Somehow a $700 effort morphed into a huge, computer-platform music server, designed by a Monaco-, Holland-, and Finland-based team and coordinated by Hsu, that performs real-time conversion of PCM and DSD64 to DSD512 via HQPlayer software and plays music via Roon 1.2.
The SGM 2015 uses software for its conversion project because a server so equipped can look ahead and examine the datastream before it is played. (Hsu claims that firmware and hardware cannot do this.) Enter Jussi Laako, a former sonar expert from Finland, who designed the DSD software for Nokia phones, and whose HQPlayer software can look ahead in the datastream to identify and eliminate all digital artifacts created during the original analog-to-digital conversion process. The server does 1-bit conversion using software that uses 5th- and 7th-order modulators of the listener's choice (I do not pretend to understand this). "The higher order's modulation produces more perfect randomness, performed on the fly, which makes for better quality DSD," this dutiful scribe was told.
Sound Galleries SGM 2015 purchasers receive a lifetime subscription to Roon. Tidal integration is also included.
After lots of introductions—Emile Bok served as chief engineer—we assembled before a system that included, in addition to the server, Hypex NCore-powered Taiko Audio monoblocks ($4000/pair), T+A DAC 8 DSD ($4000) with analog volume control, Vivid Giya G1 loudspeakers, and Sablon Audio cabling. I snared one of the best seats in the house, next to Michael and Chris Connaker of ComputerAudiophile.com. The music must have gone on for at least 45 minutes, with some pieces so loud they spread and distorted. While soundstage size was mighty impressive, and bass control was as fast and absolute as any I have witnessed—one meaningless, take-no-prisoners, pound pound boom boom crash crash percussion track proved that the Giyas are killer loudspeakers—the sound was gray, lifeless, and distinctly unmusical. There was never a time that I felt engaged emotionally. Nor was I alone. Trust me on that one.
Equally unfathomable, although Jared Sacks was acknowledged for his great recordings, not a single classical track was played before dinner. Instead, we heard a variation of the standard audiophile mix. This included a Ray Charles track that lacked the weight I had enjoyed in the Wilson/dCS/D'Agostino room, a stupid cover of "Walk on the Wild Side" that left me wishing for the real thing, and a James Taylor track that at least made SAF David happy. Even with upsampling to DSD512, hi-resolution files always sounded better than 16/44.1
Michael Lavorgna informs me that, after dinner, there was an opportunity to hear what a difference HQPlayer software makes. We had both asked for rides home by then.