Munich: the Race to the Finish Line
Thank goodness the handsome new Pathos gear came with English-language literature, because my sketchy operatic Italian and that of the SAF was of no help in this room. (
Assassino
and
muori
, two favorite words of Tosca, somehow seemed inappropriate). In fact, I'm now discovering that no matter how long I spent trying to communicate, the model names I managed to scribble down were wrong.
Making their debut were several products in the Pathos InPol (Inseguitore Pompa Lineare—literally, Linear Pump Follower) line. These are "fully balanced Class A devices using a single solid-state component in follower configuration, with high current gain and with voltage gain together." Let's start with the InPolRemix MkII integrated amplifier ($4621.10, more or less, if I understood them correctly), which outputs 20Wpc into 8 Ohm, and 35Wpc into 4 ohm. It also has a headphone section, and an optional DAC that enables streaming or wired/wireless input via USB to computer or connection to an NAS drive. I was told the DAC option adds $4400 to the price. I hope that's right. The language thing was intense.
I believe that the Remix MkII only amplifies with the tubes, not the transistors: "The valve amplifier amplifies the input signal voltage and InPol supplies the current to drive the loudspeakers with any further amplification… This technology allows an increase in the theoretical output in pure Class A of between 25% and 50% together with a low output impedance which is fundamental for the damping factor, and further improved by the double InPol." Yes, and that's in English.
The Pathos InPolHeritage ($13,750), shown in the photo, is another fully balanced, pure class-A integrated amp using double-InPol circuitry. It outputs 80Wpc into 8 ohms, and also has a headphone section. You can also choose the InPolEar integrated headphone amplifier. At the end of the chain sang Pathos Frontiers Prime 3-way loudspeakers, which include a rotating rear-firing tweeter.
The sound on my CD of pianist Murray Perahia was entrancing, with lovely iridescence on highs and a beautiful, airy presentation. Tonalities on the Reference Recordings CD of bubblegum ballet music by Delibes were similarly beautiful. Yes, the sound was a mite colored, the highs were not the tightest or strongest, and there were some strange resonances that I believe were room-related. But the overall beauty trumped all.
After first appearing at CES, the second wave of MoFi (Mobile Fidelity) turntable prototypes—the final versions may be available this fall—made it to Munich. Designed by Allen Perkins of Spiral Groove—that's a major feather in MoFi's cap—the US-built tables include Perkins' inverted arm bearing, and represent a distillation of his philosophy to a much lower price point.
Shown were the MoFi StudioDeck with an in-house 10" arm ($999), and the UltraDeck ($1799). The latter has a thicker Delrin platter and Cardas wiring in the tonearm, and adds constrained-layer damping to the plinth. Both come with custom-tuned vibration-controlling feet by Mike Latvis of HRS. Packages including a pre-mounted MoFi cartridge will also be offered.
Were that not enough, MoFi will also sell two "baby phono stages"—Jonathan Derda's words—developed with Tim De Paravicini of EAR fame, who also developed MoFi's mastering chain. Both have mono switches. The StudioPhono (expected at $299) and Ultra Phono ($499) both have mono switches and support MC and MM cartridges. The more expensive model includes a class-A headphone amp. It sounds as though MoFi is poised to give Pro-Ject and several other brands a run for the money.
Finally getting to the four huge, contiguous Halle (hall) exhibit areas, I spent a while with KR Audio Electronics before discovering that their products are not currently distributed in the US. First up, while Eunice Kron was busy, was a visit to one of the MOC's sound chambers for a listen to the Kronzilla SXi 50W standard amplifier, paired with RD Acoustic single-driver loudspeakers from Czechoslovakia. The latter can be outfitted with whatever 8" driver the owner prefers. Voxativ drivers certainly sounded better than Fostex, but both combos yielded brittle highs.
New to KR Audio is the VA200 class-A dual monoblock amplifier (€45,900/pair). A reverse hybrid design, with the first stage solid-state, the second stage employs all-tube circlotron technology that dates back to the 1950s. The amp uses eight KR842 tubes, and dispenses with global feedback. Given how noisy it was in the hall, I didn't even try to listen. Besides, I had about ten more exhibits to cover in maybe 60 minutes…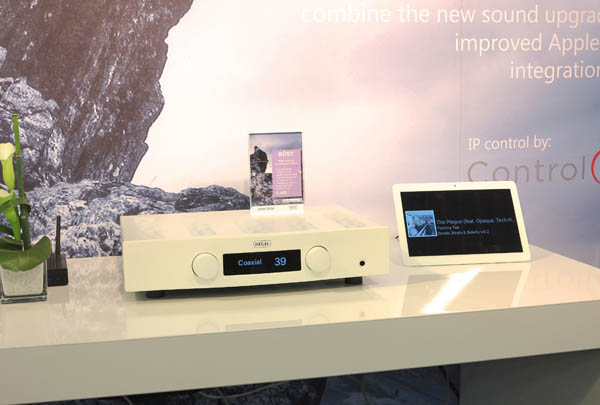 Hegel estimates its new Röst amplifier (approx. $2900)—the name is Norwegian for "voice"—will become available in time for RMAF (Rocky Mountain Audio Fest). A downscaled version of their bigger H360 Reference integrated amp, it will be their first with IP control that can be integrated into Smart Homes. The amp outputs 75Wpc into 8 ohms. Digital inputs include coaxial, optical, and Network UPnP, all of which handle up to 192/24, and USB which only handles up to 96/24. The Röst includes a headphone output.
Also new is the Mohican CD player (approx. $5500)—probably the last CD player from Hegel (Last of the Mohicans? Seriously?—AD)—which is optimized for 44.1/16 Redbook CD playback. The player was discussed for several years among Hegel's Oslo-based staff of six, who make beer-infused decisions collectively, before it was given the green light. "It sounds significantly better than any other source or DAC we have," said Anders Ertzeid.
SOtM's sMS-200 mini network server and player with built-in custom made "Media Player Board" (approx. $450), due the end of June, can work with Roon, MPD, DLNA, SqueezeLite and other player software. It joins their new and already available dCBL-CAT7 Ethernet cable ($500/1.5m), whose filter block eliminates wideband digital noise from router or NAS.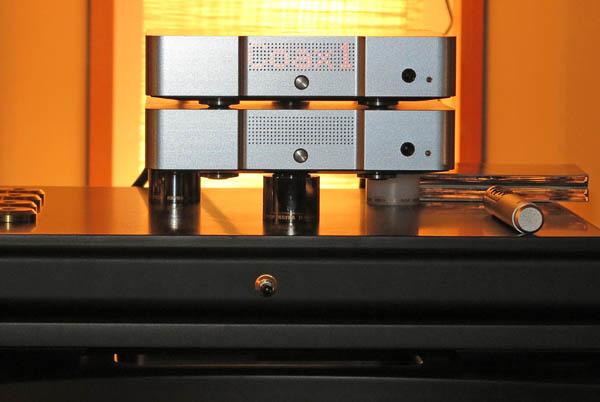 Santy Oropel of Triode Corp. and Robert Lee of Acoustic Zen had started to break down their system when we dashed into their sound capsule in Hall-something-or-other. The reason for our visit: the new Netherlands-made DiDiT High End 212XLR decoding preamp (€3995), which supports up to PCM384 and DSD512 via an ESS9018 Sabre Reference chip, and has its own iOS and Android remote apps. The DAC arrives in a cork container, and weighs 6.8 lbs. Among its other features: aluminum clamshell construction, Sorbothane feet tuned to the resonant frequency of the chassis, 13 independent power supplies, upsampling to DSD, Bluetooth app, and choice of filters.
How this baby would have sounded had Acoustic Zen's Crescendo loudspeakers, cabling, and feet; Triode Corp electronics; and an Acoustic Revive RTP-4 power conditioner been warmed up and settled in rather than in breakdown mode, I do not know. Even though the system was not ready for the prom, the voice of Rosa Passos was beautiful, mellow, and seductive, but the left and right channels were quite forward and the middle of the soundstage far deeper albeit remarkably layered. All in all, the musical presentation was far more delicate than meaty, and bass was sketchy. As I wrote in my notes, "Murray Perahia's piano sounds more yin than yang, with a lovely delicacy to the notes. The bell-like highs predominate over the undertones."
Put that all together, and you get a DAC/preamp definitely worth checking out.
When we emerged from Santy's Space, the hall was abuzz with the sounds of people packing, lifting, hauling, pushing, and tugging. Munich High End 2016 had ended.