Delving Deeper at Munich High End
From time to time, I was joined at Munich High End by David James Bellecci,
aka
the SSAF (Serinus Spouse Acceptance Factor). Here he appears (on the left in the photo above) with Alissa and Alfred Vassilkova of Estelon. A classically trained tenor with a BA in music and a multi-decade career as a sought-after hairstylist, Bellecci brings to the world of high-end audio a rather different aesthetic appreciation than that of many committed audiophiles of both sexes. If you think only wives care about aesthetics, think again.
Awarded an SAF of 8—trust me, that's a very high score—the new Estelon YB (approx. $20,000/pair, depending on color and finish) is the company's first entry in its Y-series of "lifestyle audio products." The YB combines a 1" Scanspeak Illuminator beryllium tweeter, 5.25" sliced-paper cone mid-woofer, and 8" non-ported aluminum woofer in a slim composite cabinet. It is designed for smaller rooms of approx. 20-30 square meters—the 80-square-meter room at Munich High End was larger than ideal—and uses an asymmetrical configuration to build a better sound image in such spaces while minimizing sidewall reflections.
Paired with an as-yet-unreleased product called the Breakthrough in Motion—the folks at Estelon were intentionally vague about the device, but it appeared to be a combination integrated amp and DSD-ready DAC—and connected with Kubala-Sosna cabling, the speaker initially made a very mixed impression. After Alissa and Alfred corrected incorrect bitstream conversion settings on their forthcoming device, I returned to discover a laudably solid and rich bass foundation on David Krakauer's rendition of a Beethoven clarinet trio, as well as lots of air. Strings were a little wiry—who knows if they were in real life?—but minute gradations in volume compensated for a lack of ultimate transparency. Otis Redding's classic "(Sittin' on) the Dock of the Bay" also sounded very spacious, although the voice seemed surprisingly recessed amidst the accompaniment. Godsmack's "Running Blind" further confirmed that bass foundation, air, and smoothness of presentation were the system's high points.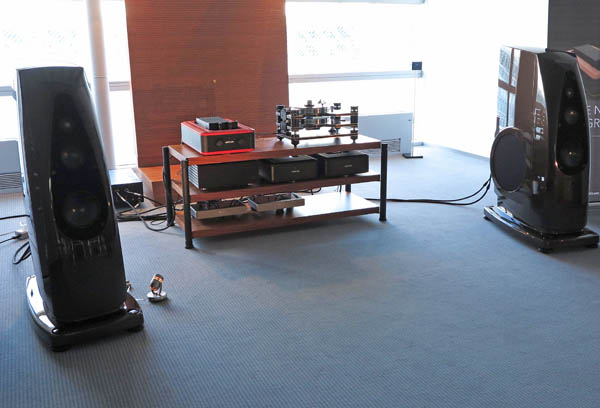 Despite excellent system and speaker-enhancing tweaks from Absolare and Stein Music—I use Absolare's Bybee-derived Speaker Bullets and Stein Music's Harmonizers and Blue Suns to great effect in my own system—Absolare's presentation seems to have been sabotaged by the size of the Rockport Altair V2 loudspeakers ($102,500/pair), which in this setup overwhelmed the room whenever volume was increased. Perhaps repositioning was in order.
All I know for certain is that the combination of: brand new Absolare integrated amplifier ($24,750), which is a hybrid design with a single-ended tube preamplifier section, solid-state dual-mono amplifier section, and separate power supply; brand new Absolare Passion phono stage ($33,500); Kronos Limited Edition Pro turntable ($38,000) with Black Beauty tonearm ($8500) and Zyx Universe premium cartridge ($15,000); Memory Player MP64-16 Core music player ($35,000); Telos GMR Grounding Device and Torus AC15 isolation transformer ($12,500 total); and Echole Omnia cabling delivered somewhat unfocused bass but fine cymbal sound, good drive and slam, and laudably neutral tone on Daft Punk's overplayed "My Name is Georgio."
The lack of focus extended to Harry Belafonte's voice on "Cotton Fields Back Home," where the midrange spread when volume was turned up. At lower volumes, soprano Montserrat Caballé displayed a huge dynamic range and some exquisite soft tones, but the voice spread when she let it rip. The piano accompaniment fared best.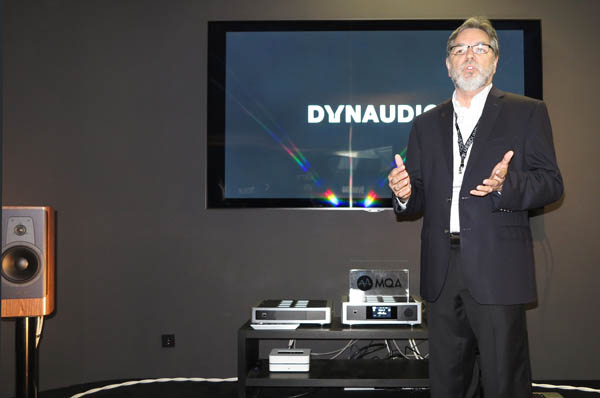 Spencer Chrislu, Director of Content Services at MQA, announced the June 1 launch of Bluesound's MQA-enabled wireless multi-room music systems by calling MQA "a revolutionary technology based in neuroscience." Zipping through his talk at a pace faster than my little pea brain could process, Chrislu said something to the effect of: Humans can process audio cues in times shorter than 6-8 microseconds. MQA can eliminate the pre-ring and post-ring that smear timing and resolution. It can also fold a hi-resolution PCM file into the size of a 16/44.1 file. You end up with music of the best possible quality, authenticated as the sound the engineer signed off on in the studio. No longer will the sound be compromised.
Greg Stidsen (pictured above), Bluesound's Director of Technology and Product Planning, then discussed his company's upcoming BluOS firmware release, version 2.2, which makes MQA playback possible through Bluesound products.
Unfortunately, I was seated much too close to, and too far off center from, the Bluesound–Dynaudio Contour system to say more than that the Guarneri String Quartet's recording of the second movement of Ravel's String Quartet in F, processed with MQA from an original 192/24 digital recording released in 2001 by Surrounded by Entertainment, sounded absolutely lovely, with a very convincing depiction of space. Ditto for Louis and Ella dueting on "They Can't Take That Away from Me."
After showing me the static display of Piega's Master Line Source 2 loudspeaker (€60,000/pair), the company's Head of Development, Kurt Scheuch (above, with said display), explained that Piega has specialized in coaxial systems and ribbon technology since 2000. The Master Line Source 2 strives to achieve nearly the same sound and performance as the 3-year-old Master Line Source 3 (approx. €200,000/pair), but in a cabinet whose size is more suitable to many living rooms.
The design is claimed to be free of time-distortion errors. "I think, using ribbon technology, we can realize a true point source," Scheuch said. The Piega Master Line Source 2 stacks four midrange ribbons and tweeters, mounted one above the other and emitting sound in a vertical, cylindrical configuration rather than, as in most other speakers, spherically. On the speaker's rear is an acoustic lens that is claimed to produce a diffuse soundfield. Because the lens is designed to mitigate harsh rear reflections, the speaker can be placed close to the wall without need of diffusion panels. Overall sensitivity of the bi-wired loudspeaker is 92dB/W/m, impedance 4 ohms, and frequency range 20Hz-50kHz.
Although the Master Line Source 2 was available for audition at an off-site location, navigating the Munich show necessitates moving very slowly due to language issues. I therefore skipped the audition, as tempting as it was, in order to cover more on-site equipment premieres.
As if two text messages were not enough, everything short of literal seduction was employed to corral me into the two-system room showcasing the Wadax, MiZiK, and Fono Acustica brands from Spain. I'm not complaining, because the sound was excellent.
The larger system paired the Wadax PRE One Ultimate Trio (€49,000 for a DAC/preamp/phonostage/server combo); Brinkmann Spyder turntable with 12.1 tonearm, EMT-ti cartridge, and RoNt II power supply; Audio Research Reference 150 SE power amps; Wilson Audio Sasha 2 loudspeakers; Fono Acustica Sinfo distribution block (€9500); and Fono Acustica Virtuoso power cords and cabling (not cheap), with HRS rack, shelves, couplers, and damping plates (not cheap either).
Colors seemed spot on, and images fuller, meatier, and more substantial/believable than in virtually all other systems I heard previously at the show. Although bass was a little flabby, top notes on the piano sounded true, and instrumental weight realistic (within the confines of a convention-hall demo space, of course) on a 1979 LP of Arturo Benedetti Michelangeli playing Beethoven's Piano Concerto 1 with Giulini. There was a bit more midrange emphasis from the CD layer of my hybrid SACD of Carolyn Sampson's Fleurs than I'm accustomed to hearing on my Pass Labs amplification, but the dynamic range was very large, and the delicacy of Sampson's singing filled with beauty.
Wadax, you may recall from Michael Fremer's review some years back, somewhat controversially converts analog to PCM 24/96, and (to these ears) in a most musical manner. The Wadax PRE One Ultimate Trio uses a new mapping system to measure amplitude response and correct for non-linear distortions and phase-response anomalies. "No cartridge we have measured is less than 4dB down at 10kHz, and there are 1-2dB differences between different batches of the same cartridge model," I was told by the company's Javier Guadalajara. "To achieve greater accuracy and fidelity to the source requires a case-by-case approach."
The room's smaller system employed the same technology as in the larger Wadax display, trickled down into the MiZiK dPlay Plus, dVin Plus, dStream Plus "all-source, three-box system control solution" (€2650 euros/box). This time we heard less expensive Fono Acustica cabling and distribution block, less expensive Brinkmann Bardo table/etc., Nordost Blue Heaven HDMI control cables, Jeff Rowland Design Group 125 power amps in bridged mono mode, Wilson Audio Sabrina loudspeakers, and Quadrapsire rack with HRS Nimbus couplers and damping plates. The sound was quite nice, and the midrange just as fine as in the bigger system, but image weight and colors were noticeably diminished. To these ears, the piano sounded a mite toyish. But that didn't stop one show attendee, who hadn't been spoiled by the larger system, from raving about the sound.