More from Munich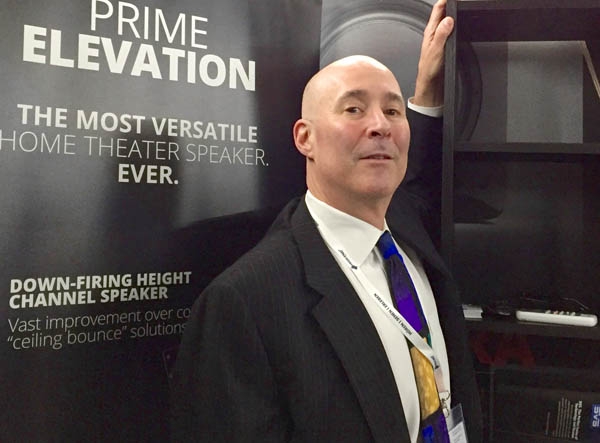 Positioned at a height reachable only by the towering Gary Yacoubian, the CEO/President/Managing Partner/Chief Window Washer of SVS, the aptly named Prime Elevation (approx. $399/pair) is part of the company's year-old Prime Series. Designed for wall mounting, with the ability to be aimed as needed to transcend potentially compromising placement issues, the "exceptionally versatile" speaker is designed "to deliver a very convincing surround experience, including correct height cues."
Audionet exhibited three prototype units, all of which are expected later in the year. The Watt integrated amplifier (target price: $18,800), which outputs 170Wpc into 8 ohms, 280 into 4, and over 400 into 2, can be outfitted with an optional phono stage. The Planck CD player (target price: $18,800) uses a discontinued Philips CD drive, of which the company has a huge stash. The unit has an improved analog output stage that helps open up the sound. The Planck can be operated via its optional Ampere external power supply (target price: $11,300), which is a sizeable box all its own.
"We are really specialists in power supplies," I was told. "Using the Ampere has a classic upgrade effect, because it better decouples the unit from the power grid. With the Ampere, the sound gets adult. The notion that a battery power supply is better is bullshit, because a battery can do anything but be stable."
Discussed earlier in these reports (see here) were Audionet's Heisenberg and Stern "über-amps," the amp and preamp showpieces in the company's Ultimate series. Both were designed by the legendary Hartmut Esslinger of Apple industrial design fame. When I asked how these compare to the other amps and preamps in the company's line, the analogy put forth was the difference between the Alps and the Himalayas.
Musical Surroundings' Jesse Luna happily displays the new AMG 12JT Turbo tonearm ($8500). Based on an evolution of AMG's patented vertical-bearing design, this deluxe arm updates the horizontal bearing to a larger double ball-bearing system, resulting in lower friction as well as greater rigidity. It is due in September.
Also due in September is Musical Surroundings' SuperNova III phono preamp ($3500). The latest of Mike Yee's designs, it incorporates a Smartsensing outboard linear charging supply for the preamp's nickel metal hydrate batteries. Other features include discrete dual-mono circuitry, three selectable EQ curves, and a "unique" subsonic filter.
As at AXPONA, Musical Surroundings scored high points with a fine-sounding system. Here it included the AMG Viella V12 turntable outfitted with the new 12JT Turbo tonearm, new DS Audio DS Master1 optical cartridge ($22,500), new Aesthetix Metis tube line stage ($25,000), Aesthetix's Rhea Eclipse phono stage ($13,000) Eclipse DAC/CD player ($13,000), Atlas mono Eclipse amplifiers (base price $25,000/pair), the new SuperNova III phono preamp, and Verity Parsifal Anniversary loudspeakers ($24,995-$27,495/pair). On a direct-to-disc Audiophile Legends LP of Ray Brown & Laurindo Almeida, Almeida's guitar sounded just lovely, clear, and convincing. The sound was simply beautiful.
And once again, PMC's play on P attracted the attention of a lot of men. Whether anyone declared their designs piss-elegant could not be determined at press time.