Movin' on Up at Munich
I never cover shows with the intention of citing "Best Of." In fact, at Munich High End, any such designation needs qualification, because I missed far more rooms than I visited. But when any system inspires as much joy as this one—a Nagra/Kronos/Wilson combo that benefited from a helluva lot of strategically stacked RPG room treatment—I have no choice but to cheer: "My Best of Show."
First up on the platter: Dead Can Dance's "Yulunga," from 1993. The bass was solid, the top alive. The music sounded as spacious and as right as can be. Next, my CD transfer of soprano Beverly Sills singing Marietta's Lied from Korngold's opera Die tote Stadt, delivered the sweetest, most breathtakingly iridescent highs I have ever heard from this great artist. It also enabled me to get as close as I have ever gotten to her near-miraculous (if, at the time of the recording, occasionally vibrato-laden) instrument, and to the emotional heart of her artistry.
Next, an overdone rendition of Puccini's "E lucevan le stelle," from the final act of Tosca, with every intention fully conveyed. Then, a fabulous midrange on Chie Ayado's Live in Tokyo.
Finally, at the end of a long listening session that I did not want to end, the surprise arrival of Peter McGrath with the CD version of his hi-res recording of the Kalichstein-Laredo-Robinson Trio's Archduke Trio (Beethoven). The recording was made at the live performance that I witnessed and reported on this past February (see here). This was the most wondrous listening experience of all, in that I heard myriad shadings and nuances that the microphones faithfully captured, but that were smoothed over and hard to discern in the hall. The depth and overtones of the piano were so believable that it sounded as if I were seated right next to, or literally hovering over, the strings. Need I say that, while the system's tonal balance was unquestionably on the warm side of neutral, its musicality was supreme?
Doing the honors: The new Nagra discrete class-A ClassicDac ($13,995), which can deliver either DXD or DSD128, and which uses military-grade transistors to emulate the sound of tubes without need of feedback or op amps; Nagra ClassicPre (approx. $18,500), due in September, that uses SCR coupling capacitors, custom-made for Nagra, to bring out transparency and bass depth; Nagra CDT transport ($14,775); Nagra VPS phono ($7650); Nagra 200Wpc ClassicAmp in bridged mode ($16,000 x 2); Kronos Sparta turntable ($21,500) with Helena tonearm ($6500) and Zyx Omega cartridge ($7500); Wilson Audio Alexia loudspeakers ($52,000/pair); Raidho Acoustics rack; Transparent Power Isolator on the sources only (no other power conditioning/filtering/whatever was employed); and a giant helping of setup acumen and musical knowledge that not only tamed the two glass walls and infamously sloped ceiling of the MOC listening rooms, but also rendered them harmless.
Shown in static display were the new Tidal Audio (pronounced TEE-dahl, and not connected to the Tidal streaming service) Piano G2 speakers with new ceramic tweeter, and in new, less expensive Velvetech finish ($22,800/pair, shown in white and orange) and new Piano G2 Diacera speaker ($39,900/pair) with diamond tweeter and enhanced crossover. The G2 replaces the older Piano Diacera.
"We want to give everyone a chance to have their piece of Totem," said the High-End Company's Jasmine Weilenmann. She was referring to Totem Acoustics' system of Kin Mini Flex speakers (outer stereo pair), Kin Mini speakers (inner stereo pair), and Kin Sub and Kin Mini Sub subwoofers (floor, left to right), all designed for near-wall placement. (Think: college dormitory, or "perfect for the kids' room.") The Kin Mini Flex speakers descend to 140Hz, with the subwoofer taking over from there.
Mated with YBA electronics, the system sounded neat on a cut by Rhianna. Listening to Sarah Vaughan sing "Summertime" via Bluetooth was hardly the most transparent experience of Munich High End, but it did the job well for a compact, entry-level set-up.
Kalista by Metronome introduced their top-line DAC (€30,000 during the launch, €35,000 after). Due in September, the DAC joined an impressive system that included what I believe were Focus Audio loudspeakers and Jadis electronics. While I admired the huge depth on "Bye Bye Huey" from Eighth Blackbird's latest CD (see here), my trusted recording of pianist Murray Perahia playing Handel produced irritating highs and a presentation that was strong on delicacy, but topped off a gray depiction with ringing. This was not the magical sound I'm accustomed to hearing from Jadis.
Purist Audio Design, whose cables are handcrafted in the very red state of TX, has released its 30th Anniversary USB cable ($1500/1m). The cable has a tuned ferrite bead for passive filtering, and proprietary connectors. Also new is their 30th Anniversary AC cable ($15,000/meter), which uses Furutech Nanotechnology AC plugs, a 7-stage filter, and 8-gauge single-crystal silver. Finally, Purist's Analog System Enhancer, originally released on CD in 1992 ($150), is now available on vinyl ($175).
On a track by Amy Winehouse, the sound of this system was very liquid, despite bright highs and a gray midrange.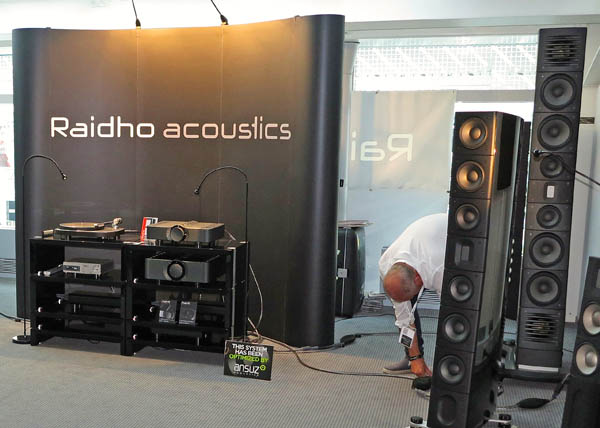 Raidho Acoustics' new D-4.1 loudspeaker ($110,000/pair in black finish) trickles down from their larger D-5. The "true 3-way Diamond Driver loudspeaker" uses four bass drivers, two 4" midranges, and the same Raidho tweeter as in all their models. The Danish company's wonderful Lars Christensen told me the speaker has upgraded drivers with a new magnet that makes them faster, with lower noise.
Raidho speakers—certainly this one—produce a rich, grounded lower midrange and bass that set them apart. At first, such an initially rich sound came as a relief after listening to one too many wiry, treble-awry, midrange-deficient systems, where gray was passed off as music. Auditioned with a Nagra CD drive, Aavik Acoustics C-300 preamp/DAC/phono, Aavik 150Wpc non-switching class-A/B power amp, and Ansuz cabling, Dave Brubeck's "Unsquare Dance" revealed absolutely solid bass, laudably fast clapping, and great snap.
Still curious as to what was going on with the D-4.1's pronounced lower midrange/upper bass, I asked to hear my CD transfer of the classic analog recording of the radiant soprano Elly Ameling singing Schubert's "Die Sterne" to piano accompaniment. While the Raidho tweeter sounded truly fabulous, every time Ameling descended lower in her range, her voice took on a hooty, cupped quality that darkened the acoustic envelope around the voice and failed to truthfully convey her sound. It was as though she was singing through cupped hands. Piano sound, too, was muffled. This leads me to speculate that as seductive as Raidhos may initially seem, this one in particular, at least in this setup, has the potential to mess with the tonal envelope in ways that are not true to the intentions of both artist and recording engineer. Clearly more listening is in order.
Has MSB set a record with the price of their new Select electrostatic headphone amp ($37,950)? This baby has two Stax-style outputs, balanced analog input and output, and an equalization module for optimization.
In order to listen to music through the Select electrostatic headphone amp, you also need an outboard DAC with enough power to drive it. In fact, the headphone amp was designed with the solid-state MSB Select DAC II (base price $89,950) in mind. "This is the first way to listen to a ladder DAC directly through headphones," said Larry Gullman, company CEO. The Select combo claims 173 dB dynamic range and the lowest jitter clock (33 femtoseconds) in the world. Its price, however, may give you the jitters.
There was no way to listen with another system blasting on the other side of the dividing wall. Instead, I chatted more with Gullman, and discovered that MSB is now shipping the new RCA (single-ended) and XLR (balanced) interconnects they first showed at CES: the Diamond RCA and XLR (balanced) interconnects ($3990/3' pair) and Select Diamond RCA and XLR (balanced) interconnects ($24,950/3' pair).
There was no way to listen with another system blasting on the other side of the dividing wall. Instead, I discovered that MSB is now shipping the two new XLR (balanced) interconnects they first showed at CES: the Diamond XLR balanced interconnects ($3990/3' pair) and Select XLR ($24,950/3' pair).
Absolutely shocking, isn't it? This picture provides proof of the lengths to which distributors will go to lure you into their rooms. Here, Doug White of The Voice That Is wanders the halls of the MOC toward closing time, liberally dispensing shots of whiskey to recalcitrant members of the press that, as of the end of the third day of the show, had yet to get past the static display in the Tidal room. Yours truly, who does not partake of alcohol during show hours (or operas, for that matter), and who rarely if ever touches hard liquor, stood by in mute horror as the Devil that is Doug literally ripped the SAF from my side and plied him with the Devil's Brew.
After one sip, the SAF declared, sight unseen, that the Tidal room was a 10+.