On the Move at Munich High End
I don't know about you, but I have a hard time wrapping my head around the computational power required to accurately and consistently upsample to DSDx16 (DSD1024). That, however, is what Ed Meitner automatically does to material played through his new EMM Labs DA2 Stereo D/A Converter ($25,000 base price). Able to receive via USB data up to DSDx2 and DXD (352.8 and 384kHz PCM), the DA2 does real-time transient detection, processing, and upconversion of all incoming audio before sending it to EMM's new DSDx16 DACs. Upconversion is done automatically in real time, and does not require users to fiddle with filters, settings, and all the rest.
Also available is the matching TX2 CD/SACD transport ($25,000), to be produced in a limited edition of 50. That's because Esoteric is no longer making its superior CD/SACD mechanisms available to other companies, and EMM's supply is running out.
Forthcoming from EMM Labs are the new MTRX2 monoblock amplifiers (approximately $80,000-85,000/pair), due in the fall. With technology based on the company's bigger amps, the MTRX2s stress speed and transparency. They also deliver an impressive 600W into 8 ohms, and function all the way down to less than 1 ohm. In the words of the company's Shahin Al Rashid, these completely balanced babies are capable of driving "the most bizarre speaker on the planet."
The sound, through Lansche Audio Cubus speakers and Graditech cabling, was midrange-heavy. My SACD of the Mahler Symphony 9 sounded exceptionally smooth, with beautiful highs, but the exaggerated midrange warmth may have been responsible for some of the smudging I heard.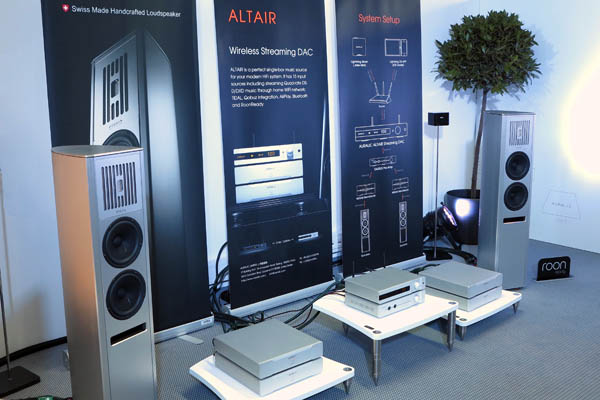 At Auralic's Thursday morning press conference, company co-founder Xuanqian Wang explained that the Chinese company's target customers for the new Altair product series are those who want to spend $4000-5000 for a system. He then detailed the company's "road map" for 2016-2017, which includes, in no particular chronological order: the Altair amplifier (to come), which adds an amp to the Altair streamer-DAC, and which will output approximately 150Wpc; a new Lightning DS iPad control app for Auralic's Lightning series of products, as well as a new Lightning DS desktop version; and a proprietary music recognition and discovery service.
At another press event, Audionet presented a "meet and greet" with the company's Thomas Gessler and the legendary German-American industrial designer, Hartmut Esslinger (left and right, respectively, in the photo above). After founding a design agency in 1969 that was later known as Frogdesign, and designing Sony's Walkman, Esslinger's design strategy for Apple transformed it from yet another Silicon Valley start-up into the company it is now. Also among his most famous designs are the Apple IIc and Macintosh computer.
Esslinger repeatedly stressed that since there's a "wide bandwidth of taste," and you're always designing from yourself, you must create designs that are both timeless and considerate of what customers care for. "The biggest problem is working with cowards," he said of his various associations over the years.
"The ideas will come when they will come," Esslinger said at Munich High End. "Each product I create has its own life, and is designed for others. Every time is a new adventure. You initially agree to do things that you don't know how to do. Since you don't know what is coming next, it's important to enjoy the moment. My goal is so simple: To be the best in the world."
Forthcoming from Audionet and Esslinger in August or September are the Audionet Scientist Series über-performance Ultimate Heisenberg mono amplifier and Stern preamplifier. These are the largest boxes somewhat visible behind the men in the photo above.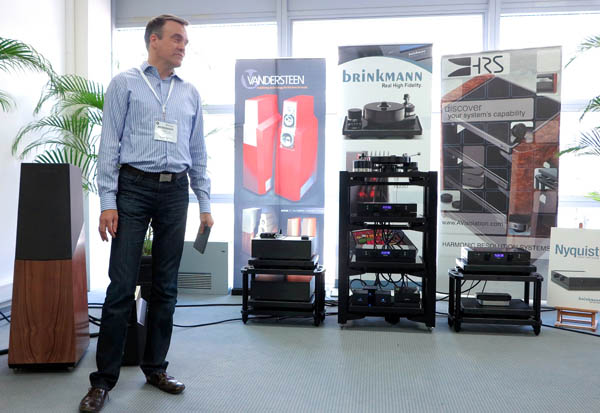 At the Brinkmann–MQA press conference on which I reported earlier (see here), Dr. Mattias Lück, developer of Brinkmann's digital components, explained that the company manufactured its first DAC 30 years ago, in 1986. "It has been a long journey to get DAC chips to stop doing all these things that they think they should do," he said.
Brinkmann then introduced the company's forthcoming MQA-enabled, streaming and playback Nyquist DAC, which uses a Roon endpoint for playback and music management. With balanced and unbalanced outputs and a headphone jack, it can process PCM up to DXD and DSDx2 via separate PCM and DSD DAC chips. It also has an exchangeable DAC module that will make upgrades possible. Circuitry topology is hybrid, with tubes used in the output stage.
Heard via Vandersteen 5A Carbon loudspeakers and M7-HPA power amplifiers, AudioQuest cabling, Shunyata power distribution, and HRS (Harmonic Resolution Systems) racks and bases, the Nyquist DAC helped convey remarkable clarity and liquidity on MQA-decoded tracks of Eric Clapton and B.B. King's "Three O'Clock Blues," Ray Charles & Milt Jackson's "How Long Blues," and Frank Sinatra's over-sentimentalized "With Every Breath I Take." The way in which instruments stood out, as they would in live performance, was exceptional. Sinatra's voice was just gorgeous, with every overly romantic sentiment as palpable as could be. The Brinkmann–Vandersteen combo sounded like an absolute winner.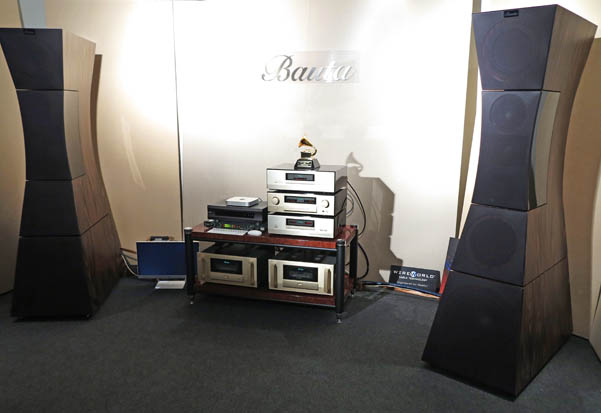 The Bauta loudspeaker (€125,000/pair), not currently available in the US, is the brainchild of Jacek Gawlowski. A Grammy Award-wining sound engineer and mixer with hundreds of Gold and Platinum records to his credit, Gawlowski designed his loudspeaker after finding all existing monitors inadequate.
The Bauta, however, is anything but a standard-sized studio monitor. It is a huge, 3-way, passive loudspeaker, whose active subwoofer supports the bottom frequencies. The MDF-enclosed, heavily braced speaker, which uses Scanspeak and Dayton drivers, has a 91dB sensitivity, a nominal impedance of 4 ohms, and a frequency response of 18Hz–30kHz. It also claims perfect time alignment. Its enclosure is sealed, and recommended amplifier power is 300 to 1000Wpc. Bi-amping, in this case via Accuphase amplifiers, is essential. So is good cabling, in this case Siltech plus WireWorld.
The Bauta loudspeaker was demmed in a small, enclosed space that was lined with acoustic panels from Gawlowski's studio. At first I thought the sound superb. It was gorgeous, smooth, and warm, with lively colors. On the soundtrack from Gladiator, the deep percussion rumbles were thrilling, even if the music itself was bombastic schlock. But the sound on my SACD of Mahler's Symphony 9 was amorphous, with a curious midrange emphasis like no other. Lacking bite and impact, the symphony sounded like a leisurely stroll through the park, which is anything but what Mahler intended. Perhaps the Accuphase CD/SACD player was at fault. All I know for certain is that I really wish I could have heard these loudspeakers in a larger space.