Saturday Arrives in Munich
Jon Reichbach of Sonic Studio/Amarra displayed the latest Amarra sQ+ 2.3 inline DSP processor. The software can equalize music's entire range, if desired, before sending it along for playback. The new version includes multiple EQs (filter topologies) that, in Reichbach's words, "let you build some very complex EQ curves." There is also optional Dirac Live room-correction software and broadband noise reduction.
"In 1989, when we started Sonic Studio, Warner used this noise reduction software and it cost $125,000," he said. "It produced a disc that won an Academy Award for Technical Achievement. It's the coolest thing we've done, and the best noise reduction system available. Most audiophiles don't know how many thousands of CDs have been run through it."
The next release of sQ, coming in a month or so, will have a new headphone processor. Everything works with the Amarra remote app for iOS.
Boenicke's brand new W11 SE+ loudspeakers (approx. $25,000/pair), whose enclosures are milled from solid wood, absolutely disappeared on a track by Norah Jones. Thanks to the CAD 1543 MK II DAC (approx. $11,000) and CAD Audio Transport with 1TB SSD storage and external power supply (approx. $9,000), as well as Boenicke's world premiere E2 class-A/B integrated amplifier (approx. $15,000), clarity and color were lovely. Just as lovely and appealing was the duet, "Là ci darem la mano" (here) from Mozart's Don Giovanni, where the system conveyed much of the hushed expectation, excitement, and command that Bryn Terfel and Cecilia Bartoli could deliver.
In retrospect, after listening to the above YouTube link on my little desktop system, I heard more nuance at home than I did in the MOC. Then again, I have far fewer setup issues in my office than anyone exhibiting in the rooms of the MOC, with their slanted ceilings and front and rear glass walls. David James Bellecci, aka The SAF, thought the presentation a mite smudged, but still gave it an 8 overall because the system would be easy to work into a living space.
Incidentally, CAD's 1543 MK II DAC is a resistor ladder DAC, which designer Scott Berry thinks sounds more natural than sigma delta DACs. It offers neither upsampling, oversampling, or filtering, and can play PCM up to 192/24 or DSD using a discontinued Philips TDA 1543 chip. The 1543 MK II uses five completely independent power supplies and special materials to reduce EMI/RFI. The CAD transport, in turn, uses a highly modified Windows operating system. The company also makes CGI passive ground controls and a USB cable.
Now carried by Michael Woods' Elite Audio Systems in San Francisco, Manger loudspeakers have unique drivers whose ultra-light voice coils have very fast rise times, and whose bending wave principle is claimed to deliver better transient behavior than piston driver loudspeakers, in order to better convey transients and subtlety. The drivers are 91dB efficient, are an easy load for amps, and cover a wide frequency range.
Shown is the Manger s1 active loudspeaker ($18,000/pair). The SAF loved how little space the system took up, and gave it a 10 for understated elegance. Fed by an Auralic Aries network streamer with separate power supply and Mola-Mola Makua preamp with built-in DAC, all connected by Via Blue cabling, a 192/24 recording of piano music by Chopin sounded a little tinkly, and lacking in some of the overtones and resonance that would have made the performance emotionally engaging. A recording of Mozart's concert aria, "Vorrei spiegarvi, o Dio," also had a surprisingly small image. Perhaps the Auralic Aries was the weak link in the chain.
The Manger z1 passive loudspeaker ($8000/pair), which has a sealed cabinet, extends down to 40Hz (-3dB). In a demonstration using Mola-Mola's Makua preamp and Kaluga monoblocks and a computer running Audirvana Plus, the sound's bottom end was more filled-out than on the Manger active system, contributing to a far more satisfying and believable presentation. I'm intrigued, and eager to hear more.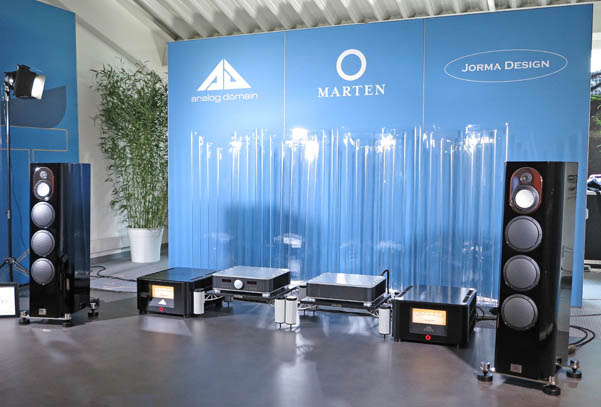 The world premiere of the Marten Mingus Quintet loudspeaker ($53,000/pair) was a major success. The 3-way speaker uses the same technology as in the more costly Coltrane 2 and 3, and claims 100% perfect time coincidence and coherence. With the same diamond tweeters and midrange as in the Coltranes, it also uses three new 7" Accuton cell-technology bass units, Jorma Designs internal wiring, and a first-order three-way filter crossover.
The Mingus Quintets were mated with Analog Domain M75P mono power amplifiers ($38,000/pair), MSB Technology Select DAC II ($120,000) and Signature Data CD transport ($8000), Aurender X100 Hard Disc player ($3500), Gigawatt power conditioner ($3500), Jorma Design Statement/Prime cabling ($30,000 total), Solid Tech Hybrid furniture ($2000), and SMT Wings acoustic treatment. Thanks to the different amps and more room treatment, the system produced sound about 500% better than at High End 2015. It also looked attractive enough for my husband to give it a SAF rating of 9.
First up was a track from Marten's latest CD, Supreme Sessions 2, whose 20 tracks from multiple genres were recorded using only two microphones. Timbres were beautiful. A bit of Sibelius' Symphony 5 sounded very spacious, smooth, and open. Despite a bit of bass booming, the system conveyed the full orchestra with aplomb. Bravo! Expect vinyl versions of Marten's two CDs in a few weeks.
German company Zellaton, whose name translates as cell tone, derives its identity from the cellular construction of the unique drivers it developed in 1932. Debuted in the MOC was the Zellaton Statement loudspeaker (€299,950/pair), which is the culmination of 35 years of research. The speaker uses a sandwich diaphragm, a cabinet composed of different layers of woods and metals with special damping, and a semi-open baffle design. It boasts 20Hz-40kHz linearity, 91-92dB efficiency from drivers that never drop below 4 ohms, and a crossover using premium Duelund CAST capacitors and inductors.
Paired with a Reed Muse 3C turntable, Natural K7 hybrid phono preamp from Russia, NEM preamplifier, NEM USB DAC, and Frans de Wit Signature Origin solid-state 100Wpc amplifier, the speaker delivered surprisingly toned-down colors and a bright top. On a recording of music by Prokofiev, strings were wiry, and the presentation lacked transparency. Another track confirmed gray tonalities and the same lack of transparency.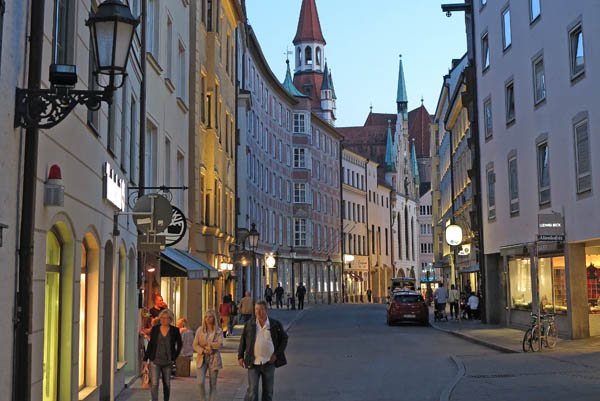 Lets lighten things up a bit. At the end of the show's third day, the SAF and I joined David Chesky and two of his friends for dinner. This is the view as we returned to the Marienplatz to board the Ubahn to our hotel. Springtime in Munich is a lovely thing indeed, even if you end up taking the wrong Ubahn train and arriving back at your hotel at a later hour than you had wished.