Stirling Broadcast BBC LS3/6 loudspeaker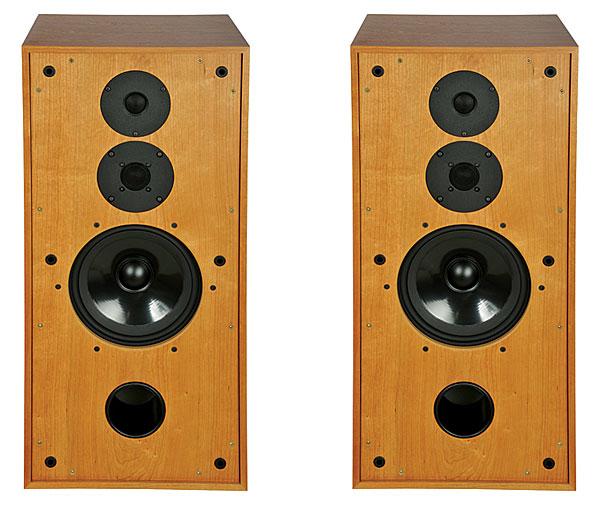 I know someone who bought, for his own kitchen, a stove intended for the restaurant trade, simply because it enhances his enjoyment of cooking. Another friend, a motoring enthusiast, has equipped his garage with a brace of tools, including a hydraulic lift, that would be the envy of some humbler repair shops. Yet another friend indulges her enthusiasm for ceramics with a potter's wheel and kiln that one might find in a well-endowed art school. Among the most serious consumers, it seems, the watchword is
professional
; odd, then, that professional-quality monitors don't account for an even bigger chunk of the domestic loudspeaker market.
They've had their day, of course—especially such smaller monitors as the BBC-designed LS3/5a. But today, one wonders if their relatively spartan, homely cosmetics have augured against the domestic acceptance of pro-audio speakers. Or perhaps it's the genre's resistance to faddism, kookyism, and Emir-of-Qatar levels of opulence and excess that keeps them on the sidelines of the high-end audio marketplace.
Thus it was with the utmost interest that I received an invitation, from distributor Fidelis Home Audio, to review the LS3/6 loudspeaker ($4590/pair), made in Somerset, England, by Stirling Broadcast, themselves the latest in a line of firms authorized to manufacture the BBC's proprietary designs. Although not an entirely new model—the LS3/6 designation appears to have been used by the BBC as long ago as 1970—this new incarnation was recently designed by Derek Hughes, who has created many successful designs for Harbeth and, of course, Spendor, whose name is derived from those of his late parents, Spencer and Dorothy. But that's another story.
Description
I'll tell it anyway: Just as every Cracker Jack box comes with a prize, and inside every chicken in your grocer's case is a little bag of giblets, so should every review of a BBC-designed monitor loudspeaker come with a history lesson. For it was in 1969 that Spencer Hughes, then working as a BBC laboratory technician, designed and manufactured one of the first practical plastic woofer cones—made, astonishingly, not during the workday at his BBC lab, but in his spare time, at the Hugheses' small house, using an electric room heater and a bedpost. Soon after that, Spencer Hughes mated to his woofer a very nice Celestion phenolic-dome tweeter, and designed around that pair of drivers an entire loudspeaker, intended for both professional and domestic use.
Two distinct things then happened with Hughes's loudspeaker design. First and most famously, it turned into something called the BC1 (footnote 1) which became the premier product of the nascent Spendor company. Second, the BBC forged with Spencer Hughes an arrangement in which the BBC was allowed to distill, from the BC1 design, a very similar loudspeaker for its own use. It is also from the BC1 that two somewhat more contemporary loudspeakers were derived: the Spendor SP1/2, a pair of which I owned and enjoyed during the late 1990s, and the Stirling LS3/6.
The Stirling LS3/6 does not appear, at first glance, terribly different from the Spendor SP1/2—or, for that matter, from late-production samples of the fondly remembered BC1. The LS3/6 is a three-way dynamic loudspeaker in a 25"-tall reflex-loaded cabinet of square cross-section, intended for stand mounting; 17"-tall open-frame hardwood stands, made by Resonant Woods, of Manchester, New Hampshire, cost an additional $399/pair. Each speaker is fitted with a black fabric grille that is the very devil to remove, yet to succeed is to discover and appreciate that the LS3/6's front baffle is as beautifully veneered as every other surface of its enclosure.
All of the LS3/6's drivers are manufactured in Norway (footnote 2) by SEAS, presumably to Stirling Broadcast's specifications. The smaller and uppermost of the two tweeters has a 0.75" (19mm) Sonomex dome, while the larger has a 1" (27mm) coated-fabric dome; each has a ferrofluid-cooled voice-coil and a protective mesh outer cover. The 8.6" woofer has, as you'd expect, a polymer cone 6.5" in diameter, along with a compliant half-roll surround, a ferrite magnet, a very nice cast-alloy frame, and a dustcap made not of stiff plastic but of the softest, most pliable rubber I've ever encountered. Interesting. The two high-frequency drivers are rabbeted into the front baffle; a recess is also made for the woofer's mounting rim, but from behind the baffle, in the manner of recent Harbeth speakers. The front-mounted reflex port is formed by a plastic tube 2.9" (75mm) long and 2.7" (70mm) in diameter.
The Stirling's enclosure is built from three different thicknesses of board: 5/8"-thick MDF for the rear panel, 3/8"-thick MDF for the front baffle, and 3/8"-thick birch plywood for the rets of the cabinet. All panels are veneered inside and out, to prevent warping, and all but the front are covered, on virtually every available surface, with thin sheets of damping material stapled and glued into place. The same inner surfaces are also padded with thick sheets of acoustical foam. The front baffle and rear panel are both removable—a vestige, one assumes, of the breed's history of field use, wherein frenzied techies require quick access to damaged drivers—and are held in place with 12 wood screws each. The screws are secured not with threaded inserts but are screwed directly into furring strips mounted within the enclosure: an eyebrow-raising economy in a $4590/pair loudspeaker that is otherwise exceptionally well crafted.
The Stirling LS3/6 speaks to the world courtesy of two pairs of gold-plated brass terminals, with gold-plated links that can be removed for biwiring. A 6" by 9" circuit board, fastened to the inside rear panel, holds the crossover components: six chokes of varying size (two of them quite large), six film capacitors, and six resistors. I also spotted two sets of miniature jumper switches, both marked "+0.6dB." Interesting.
A word about the packaging: brilliant. The carton and packing for the Stirling Broadcast LS3/6 appear to have been designed by someone with an understanding of physics, some practical experience in sending and receiving large consumer goods, and a distaste for overkill. The carton is spare but sturdy, the packing simple and smart. It works—and it appears as though it could withstand repeated use. Support literature, on the other hand, appears to be nonexistent.
Installation and setup
Perhaps it was good design, good luck, good instincts, or some combination of all three—whatever the cause, the time I spent setting up the Stirling LS3/6s was brief and untroubled. Blessedly, their stands required no assembly, apart from screwing optional spiked feet in the threaded inserts at the bottoms of their feet. (I ultimately uninserted them and settled instead on the comparatively unfussy sound of the wood stands resting directly on my wood floor.) And because thin rubber pads were pre-installed on the top surfaces of the stands, I didn't ever have to subject myself to the drudgery of rolling little bits of Blu-Tak into pea-size balls, as one must do with virtually every other stand of this sort.
---
Footnote 1: I have been told that the C in the model designation BC1 stands for
Celestion
; I have no idea what the
B
stands for, but I would like to think that it's
bedpost
.
Footnote 2: After opening the cabinet and making note of the labels on the drivers, I began my research by Googling the words Norway and tweeter; my first several hits pointed to a November 25, 2013 article in The Local: Norway's News in English, with the headline "POLICE IN NORWAY ARREST RACIST TWEETER." Interesting.