Primephonic Expands Classical Streaming/Download Service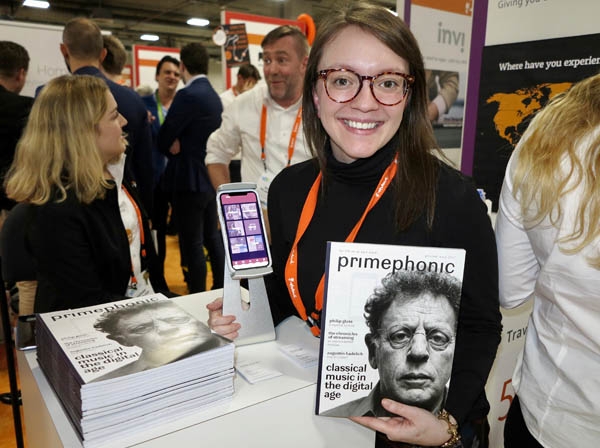 Bet your bottom dollar that most folks involved in the high end never saw the exceedingly narrow space occupied by classical music download/streaming service Primephonic.com. That's because the company's marketing manager, Jennifer Harrington (pictured), and Chief Operating Officer (COO), Veronica Neo, were virtually hidden amidst a plethora of booths in the Holland Pavilion, itself situated over the hills and through the woods and turn right after the house that Jack built and then ask your bloodhound to lead the way to the far-right side of Hall G in the Sands Convention Center and then search and search some more for booth 51.
The time-consuming treasure hunt was more than worth it, because I learned that 100,000-track Primephonic, whose soft launch has attracted 5000 US subscribers, already has an iOS phone app and promises iOS and android phone and tablet functionality in July. Also promised are a refreshed interface, offline streaming for files saved in Spotify or any service equipped for offline listening, in-home audio integration with NAD BluOS, and a major redo of the site's Search function.
"We're hoping for 24-bit downloads this year, and in talks with many hi-res providers," said Harrington. "We also promise downloads from Universal Classics, and are working toward becoming the only classical streaming service with music from all classical labels. In response to requests from our subscribers, we're also beefing up our back-catalog."
Primephonic costs $14.99/month, offers a 30-day free trial, and gives subscribers a 10% discount on downloads. When hi-rez streaming and downloads enter the picture, additional subscription tiers and pricing options are expected.