Nagra HD Preamp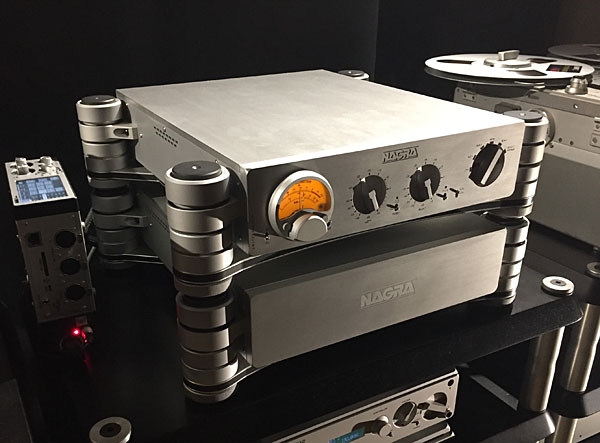 Swiss audio company Nagra won an Innovation Honoree award this year for their ingenious motorized volume control design in the tubed HD Preamp. René Laflamme, based in Montreal himself, describes the product: "The preamp is two channels of mono in a single chassis. There are two Super Cap capacitor power supplies, two independent circuits, and each channel has a single triode input stage featuring a NOS (new old stock) Mullard tube hand-selected by Nagra."
The award however is for the volume control design, "where you select a particular transformer tap with one of the volume controls and the result is the impedance is very low at .2 ohms so you can drive any amp with it," says Laflamme.
Nagra later emailed some information further clarifying how this works: "The voltage amplification is passively done with high-end shielded toroidal audio transformers whose voltage ratio is variable and digitally controlled. The variation of voltage ratio is done switching the multiple windings of the transformers. Multiple . . . relays are used for that purpose while an alternate volume control circuit bypasses the transformers while their windings are being switched in order not to hear any kind of switching noise. With this simple but revolutionary technique, the audio signal remains intact after the voltage-current conversion through the transformer. The transfer of energy is close to ideal. It is not the case with any other resistor-based volume control because part of the signal is turned into heat through the attenuating resistance."
Furthermore, the two motorized volume controls (one for each channel) track each other. Laflamme explains "as soon as you touch one volume control, the other one will, by computer, match the one you are moving. To set balance you can temporarily unlock one control to offset from the other and then they will track with this offset.
Nagra claims a 160dB signal to noise for this preamp, "so probably 60dB better than any tube preamp and 20-30dB better than any transistor preamp," notes Laflamme.
The first batch was shipped just a few weeks ago, but the company is already backordered. Like everything Nagra creates, these are works of metal/audio art with a price to match: $59,500.