Music in the Round #92: Digibit Aria Piccolo +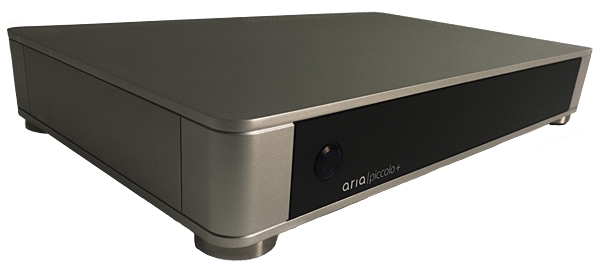 Lovers of high-resolution multichannel sound still don't have it easy. While the two-channel market is replete with snazzy, efficient music servers in stylish boxes, the only multichannel equivalents are Merging Technologies'
Merging+Player Multichannel-8
, and a handful of stereo devices that are rumored to do multichannel, though no such claims are made in print. To be candid, the latter will play multichannel tracks via USB, Ethernet, or HDMI outputs to suitable DACs (but that's another story), but because they're aimed at the two-channel market, they tend to skimp on the CPU horsepower and RAM needed to handle higher-resolution multichannel files. Even the Merging+Player Multichannel-8 ($13,500), with its Intel i3 CPU running Roon, couldn't entirely keep up with everything in my library.
Among the many multichannel wannabes was DigiBit's elegant Aria music server, which I reviewed in March 2015. At the time, I noted that DigiBit's website made "no mention of the playback of multichannel files," though their representatives told me that all Arias could play multichannel files. Sure they could.
The datasheet for the Aria Piccolo + boldly announces "Multichannel Support via HDMI and USB outputs." This piqued my interest, not only for the overt declaration of multichannel support but also for the mention of HDMI. Given the fact that, currently, there are only three multichannel USB DACs on the consumer market, we should welcome support for HDMI so that we can play multichannel audio through an AVR or preamplifier-processor.
The Piccolo + runs a Celeron CPU and 4GB RAM and comes in three configurations, depending on the internal storage capacity: 1TB SSD, $2999; 2TB SSD, $3299; or 3TB HDD, $3499. It includes a standalone USB DVD drive for ripping CDs, with automatic ripping and tagging features. I opted for the 3TB version, as uncompressed multichannel files are about six times the size of equivalent two-channel files. On the other hand, none of the three configurations is constrained by the internal storage—the Aria can access and play files from a NAS or a directly attached USB drive.
At 17" wide by 2.4" high by 9.8" wide and 13.25 lb, the Piccolo + is somewhat smaller than the original Aria, and though it lacks its predecessor's beautifully sculpted, and no doubt expensive to machine heatsinking, its looks are equally elegant. There are no visible heatsinks—the Piccolo + clearly relies on radiating heat from its sealed and smoothly machined case. Throughout my testing and listening, it never got more than barely warm to the touch.

The black front panel is empty but for the illuminated On/Off button. A lot more goes on around back. At left are pairs of RCA and XLR analog output jacks that are fed from the internal stereo DACs, and above them is the single HDMI connector. In the middle of the panel are AES/EBU (XLR), S/PDIF (RCA), and USB output jacks, along with a LAN (RJ45) jack and a USB in/out port for local storage devices. To the right are an IEC power inlet, the main power switch, and a connector for a possible future dedicated linear power supply.
The Piccolo + is operated via DigiBit's iAria app, which I downloaded to my iPad from the Apple Store. (There's a version for Android devices.) After I'd connected the Piccolo + to my LAN and powered it up, the app found it, then presented me with a well-designed GUI, with which all setup and playback functions can be controlled. The iAria supports automatic tagging and display of album-cover art via web access to Discogs, FreeDB, GD3, MusicBrainz, and SonataDB (classical). Albums and tracks are accessible by almost any category, and there is full playlist support. In addition, the GUI permits user editing of tags and cover art, as well as library backup.
The setup options offer a degree of user control suitable for a music server. But, consistent with DigiBit's intention of making everything as foolproof as possible, there's no real access to the Aria's operating system. For instance, I could send files from the Piccolo + via the stereo analog outputs of the built-in DAC, or via USB 2.0 if no special driver was required. (The Piccolo + is compatible with Apple AirPlay and DLNA.) But to use my exaSound e38 DAC, I had to e-mail DigiBit, who then magically downloaded and installed the driver in the Aria overnight. Now, I prefer a more hands-on approach, but I have to admit that, with DigiBit's way of doing things, there's no way the user can screw things up.
After testing the Aria's communication and playback via the exaSound e38 with the provided sample files, I directed the Piccolo + to access my NAS, then told it to add to its library all of the more than 20TB worth of music files stored there. This was not accomplished instantaneously. While the Piccolo + was busy doing all that, I played some of the files. All two-channel formats played well, as did multichannel 24-bit/96kHz PCM and DSD64 files, but to my great disappointment, all higher resolutions played only with frequent interruptions. "Here we go again," I muttered.
But the Piccolo turned out to be much better than that. First, I canceled the comprehensive library process and instead downloaded only about 2TB of music to the Aria's HDD. Listening to those, I found that the Piccolo + played everything, including DXD and DSD256 in multichannel, without a burble or hesitation or interruption. The sound from the e38 and the rest of my Manhattan system was as clean, smooth, and satisfying as ever. From this, I concluded that the frequent interruptions I'd heard earlier were the result of playing hi-rez multichannel files while the Piccolo + was busy transferring my entire library over the network.
I then asked the Piccolo + to add another 2TB of files to its library, but without downloading them to the Piccolo's internal HD. Only after that process was completed did I try to play any of them over my LAN, and again, it was everything I'd hoped for. The logical conclusion: The Piccolo + could play every music format I had on hand, either from internal or network storage. That it couldn't play the highest-density files while simultaneously adding files to its library over a network was no big deal. As my mother said, "First, finish your homework; then you can go out and play."
What about HDMI? I toted the Aria Piccolo + up to our place in Connecticut, intending to plug it into one of the HDMI inputs on my Marantz AV8802a preamplifier-processor, but there was another wrinkle: HDMI output is not enabled on the Piccolo + by default, but requires an e-mail request to DigiBit to activate it via the Internet.
Playing files on the Piccolo + and sending them via HDMI to the Marantz was completely successful, with two small limitations and one convenient advantage. The first limitation is a common one: HDMI output from the Aria's Intel motherboard doesn't support DSD, but converts DSD to hi-rez PCM on the fly. The second limitation is the Marantz's inability to accept any input resolution higher than 24/192. If your pre-pro can handle more, the Piccolo + will do it, as I proved by using it in my Manhattan system. The advantage: You can apply to the feed from the Piccolo + all of your AVR's audio-processing facilities, including room EQ, bass management, or whatever else it has onboard.
Given the closed structure of the Piccolo +'s GUI and its not-ready-for-gaming CPU, there's no easy way to implement bass management or equalization. For the same reason, massive library operations should not be performed while listening. Normal operations, such as adding a few albums, are not problems.