MQA: Questions and Answers Sidebar 3: Example: Portland State: Amazing Grace: Audibility Analysis
Sidebar 3: Example: Portland State: Amazing Grace: Audibility Analysis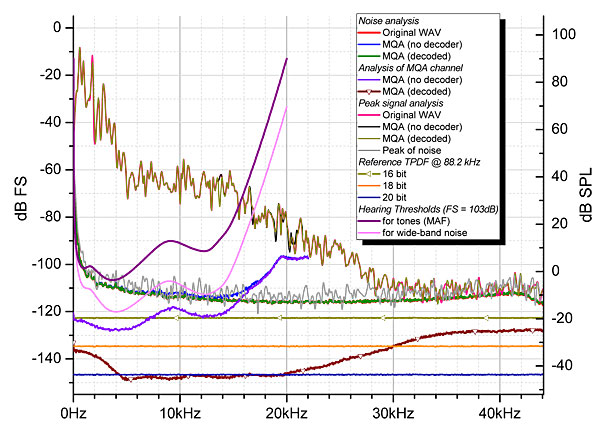 As before, this graph examines the run-out noise (at around 5:24) for the original WAV file (peak and average), for MQA (with and without decoding) and for the underlying MQA channel noise in this recording (also with and without decoding). Also shown are reference levels for 16, 18 and 20-bit TPDF dither in a channel sampled at 88.2kHz (footnote 1).
Additional plots show the peak level in the recording for the original WAV file and for MQA (with and without decoding). This snapshot uses the same windowing and is taken at 3:49.6. It can be seen that the signal and noise converge around 32kHz.
In the graphs the peak level curves overlay for the original and for MQA (decoded up to 44.1kHz and undecoded up to 22.05kHz) showing that all listeners receive the correct levels and frequency response.
In the graphs the noise-floor curves overlay for both MQA decoded and Original master.
We can also see that the shaped HF noise introduced by the MQA encoder and 'heard' without a decoder is removed by the decoder (the purple line falls to the brown one).
We established with John Atkinson that the correct playback level corresponds to a system acoustic gain of 0dBFS = 103dB spl. The thresholds of normal hearing for pure tones and for wideband noise are overlaid in correspondence. Sounds below these curves are expected to be inaudible (footnote 2).
Note: The noise seen by a no-decoder listener is the sparse signalling channel, not lossy noise in the file.
Without Decoder (at 44.1kHz): MQA channel noise is lowest around 4kHz @ 17.5 bits with a channel capacity of 15.8 bits which has been shaped. It is also comfortably 10dB below the threshold for hearing this noise, i.e. it is predicted to be inaudible at this gain (which is confirmed by listening).
With Decoder: MQA channel noise is lowest around 5kHz @ 20.1 bits with a channel capacity of around 19 bits in an 88.2kHz channel, which has been shaped to exploit the content (footnote 3). The MQA channel noise is 4 bits below the hearing threshold at 4kHz. At all times the MQA process retains 24-bit precision.
---
Footnote 1: The analysis uses 21.53Hz bins (=44100/2048 and 351800/16384) giving an offset of +13.33dB wrt 1Hz.
Footnote 2: The uniformly-exciting noise as behavioural threshold is shown for 21.53 Hz measurements.
Footnote 3: Of course not all DACs can reach this low level of in-band noise.