MQA: Questions and Answers Sidebar 1: Example: Nielsen: 2L-120 Track 1
Sidebar 1: Example: Nielsen: 2L-120 Track 1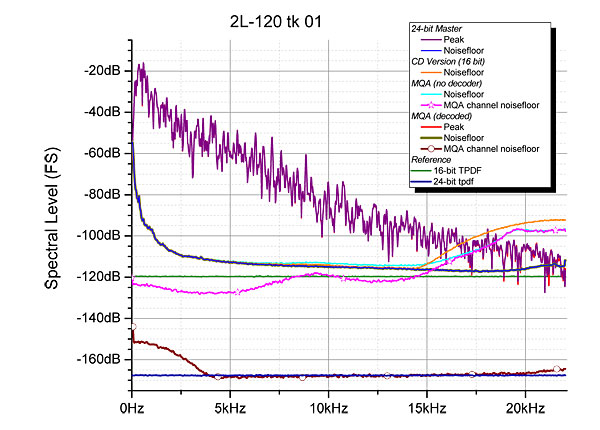 The Nielsen recording is issued by 2L and samples can be found on their website.[41][42][43]
As can be seen in the following, the inherent noisefloor of MQA in this recording is actually:
Without Decoder: MQA channel noise is lowest around 4kHz @ 17.5 bits with a channel capacity of 15.8 bits which has been shaped. The MQA noise is always below that of the CD release.
With Decoder: MQA channel noise is lowest around 4kHz @ 24.3 bits with a channel capacity of over 23 bits which has been shaped.
We have added to the graph (from our earlier note on the 2L website) to make this clear.
Note: the 24-bit Master and MQA (decoded) peak noise curves overlay and are not separately visible.
These graphs confirm that 2L's Original, CD and MQA versions of the files are consistent in level and response. Of course spectral plots using FFT have no time-domain information, but we can use them to compare the peak spectrum of the Original, CD, and MQA with and without a decoder.
Also shown is a comparison of the background noise throughout each version and the reference level for 16-bit TPDF dither in a channel sampled at 44.1kHz (footnote 1 & 2).
In the graphs the peak and noise-floor curves overlay for both MQA decoded and Original master.
We can also see that the shaped noise introduced by the MQA encoder and 'heard' without a decoder is removed by the decoder and is also below that of the CD release, even without decoding.
Additional curves explained:
With a Decoder: Brown (with open circles): This shows the underlying end-to-end MQA channel noisefloor (with a decoder) in this recording, which clearly shows that here the inherent noise of the MQA process is at least 10 bits (ie, 60dB) below the noisefloor in the recording at all frequencies up to 22.05kHz and close to 24 bits between 4kHz and 20kHz.
Navy: shows the level of 24-bit TPDF dither for reference.
No Decoder: Magenta (with open stars): This shows the underlying MQA noisefloor for the listener with no decoder. It is lowest around 4kHz and 12kHz to minimise impact; is essentially below the 16-bit level up to 14kHz and is always below the noise of the CD version. The inherent noise in the recording dominates below 15kHz (footnote 3).
Note: The noise seen by a Legacy (no-decoder) listener is the sparse signalling channel, not lossy noise in the file.
---
Footnote 1: The analysis uses 21.53Hz bins (=44100/2048 and 351800/16384) giving an offset of +13.33dB wrt 1Hz.
Footnote 2: 2L sensibly uses shaped quantisation for their CD releases.
Footnote 3: Of course not all DACs can reach this low level of in-band noise.