Michael League: That's One Snarky Puppy Page 2
Matson:
Let's get to musical influences and sources. What about Frank (Zappa)?
League: My dad was a huge Zappa-head. It was in the house. On Christmas day, instead of listening to Christmas carols, we listened to Apostrophe (Zappa Records ZR 3851C LP 2018). I heard Zappa so much as a kid that I never really went down the hole with him as an adult, though I love him. He's less of an influence on Snarky Puppy than some people think.
Matson: The whole jazz-fusion thing?
League: People bring up Mahavishnu or Return to Forever as influences. But they're actually not. You could call Snarky Puppy a fusion band, but the guys in the band don't actually listen to fusion. We listen to electronic music, we listen to blues, we listen to gospel, we listen to hip-hop, we listen to Brazilian music, we listen to Cuban music. When you put all those things together, it has common traits with fusion.
Matson: How about Jerry Garcia and the endless Grateful Dead catalogue?
League: I only dug American Beauty and Workingman's Dead. I like Jerry's playing outside of the Grateful Dead. I've heard a lot of this from working with David Crosby—my respect for Jerry increased. I didn't know a lot of the stuff that Garcia did as a sideman, playing on his friends' records and sounding beautiful.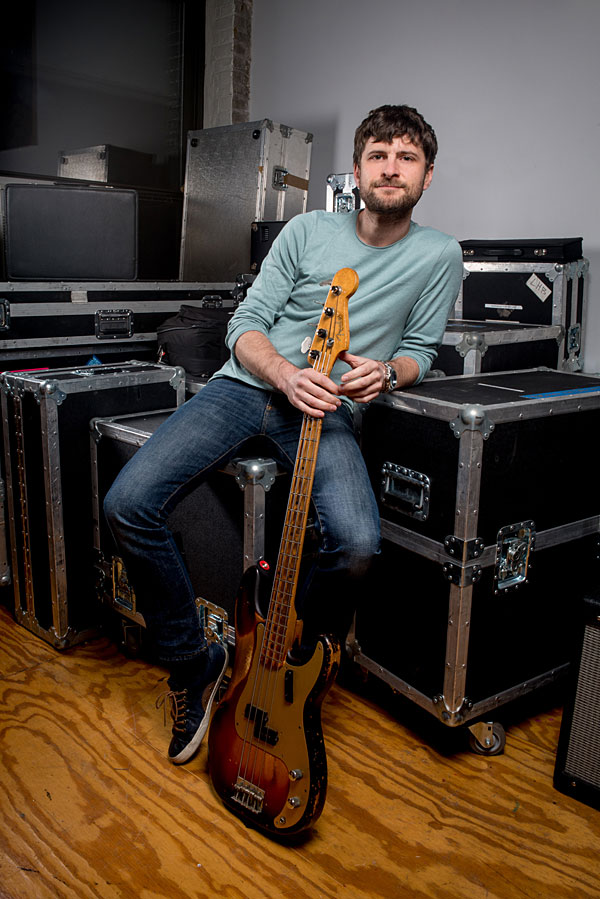 Matson: Give me a few fave recordings, from any era, that you couldn't live without.
League: For jazz: Ella and Louis, Mingus Ah Um, We Get Requests by the Oscar Peterson Trio, Sorcerer by Miles Davis, Speak No Evil by Wayne Shorter, Thrust by Herbie Hancock, Soul Station by Hank Mobley. For soul: Innervisions by Stevie, Michael Jackson's Off the Wall and Thriller, Prince's For You, Sam Cooke, Otis Redding. Muddy, Howlin' Wolf. Albert King is my favorite! Voodoo by D'Angelo.
Matson: Classical?
League: Ravel, Debussy. Copland I love. Stravinsky's my favorite.
Matson: Sylva (Impulse!/Universal Music 472 225 6 CD/LP 2015) was your first venture into more composed orchestral types of things. You want to do more?
League: I love it. The sound of an orchestra is an addicting thing. When you start doing it, that's all you want to hear. But I am more interested in figuring out new roles for it. I'm not a classical composer.
Matson: Is there a Snarky Puppy book? Are there written charts?
League: We do it all by ear, and then we chart it. It's not my favorite thing to do, so we have help. We do sell the sheet music.
Matson: There's something creative and left-field going on with big-band writing in the New York area. Do you agree?
League: Yeah, there are a lot of young composers doing interesting stuff, and others like Maria Schneider, who changed up that canvas.
Matson: Back to recordings. Several feature a "live in the studio" setup, with the addition of an audience, sometimes wearing headphones so they are hearing the tracks too.
League: Yes, they are hearing it the same way the band is.
Matson: That seems like a nice way to go; you are in a controlled studio for good sound, not a nightclub, but you have listeners with you. How did you get going with that approach?
League: It came out of some of the comments we were getting at early gigs, where people would say "I didn't get your music until I heard it live. I didn't enjoy the records because they didn't make sense, but when I see it live it does." I told the band that I would only want to do a live record in a studio, and then we thought about it and figured out it could work—that an audience could just hear what we were hearing in a studio, unmixed, unmastered, in the moment. We did that, and put it on YouTube, and that was the moment we first started getting some attention.
We've done that for five albums. Then we took a break, as we didn't want to be the band that only did that one thing.
Matson: More than one way to skin a cat. Serve the project.
League: We will go back to that approach next year.
Matson: I see you are doing a solo record. What will be different about that from what you would do with your Puppies?
League: It will be a vocal record. I will be singing and playing everything, like Stevie Wonder and Prince!
Matson: You have a new house in Spain: Have you found a more sympathetic audience for what you're doing in Europe than in the States? Why do you think that still is? That whole tradition of jazz musicians going to Europe.
League: I find that the average European is better educated in terms of music—in some countries more than others. There's less of a line between pop music and jazz. Miles Davis is more famous there than Britney Spears. The United States has one of the richest musical traditions in the world, and yet sometimes the American audience is the last to appreciate an American musician. It's a bitter irony. We don't fund the arts here. When you sink money into the arts, into music education, into festivals, into grants for musicians, you create an environment that is more accepting of what they have to offer. I think it's sad and embarrassing what goes on in this country.
Matson: Tell me about the Metropole Orkest, working with them.
League: It was started in Holland as a radio-studio orchestra. So, they were playing shows, film soundtracks, whatever. Over the past 25 years, they've been a part of a lot of important recordings. They've done every kind of music, and they are the only orchestra I'm aware of that can do all that. They came to us for Sylva, then I asked them to do the Bokanté album. Now I'm very close with them. I'm going next week to work with their student orchestra. Jules Buckley, their conductor, is a very impressive guy in terms of classical, contemporary, and other kinds of music.
Matson: Tell me a David Crosby story I haven't heard, that you won't get in trouble for telling.
League: Most of them I would get in trouble for. There's one time we were writing a song together—me, Becca Stevens, Michelle Willis, and Crosby (Here If You Listen BMG 538431461 LP 2018). We were working on a song with chords David had written, and a melody that I had written, and some lyrics I had written. We were creating new lyrics at my studio in New York, and David fell asleep on the couch.
So Becca, Michelle, and I continued to work. We were trying to come up with the lyrics for the hook of this song. Then David suddenly snaps out of his sleep and yells: "Buddha on a hill!" And we were like, "David, go back to bed." And he said: "No, no, that's it!" We said: "That has nothing to do with this song, it's a nice phrase, but it doesn't mean anything." He's like: "I don't care. It sounds right, that's the chorus." So we sang it, and it felt good. Then we really looked at the song, and what the song was about. It was talking about being at home. David's home is on a hill, with a stone garden, and a Buddha sitting there. I don't know if he was thinking about it, or dreaming about it, but it taught me about the power of intuition.