Recording of April 2019: Here If You Listen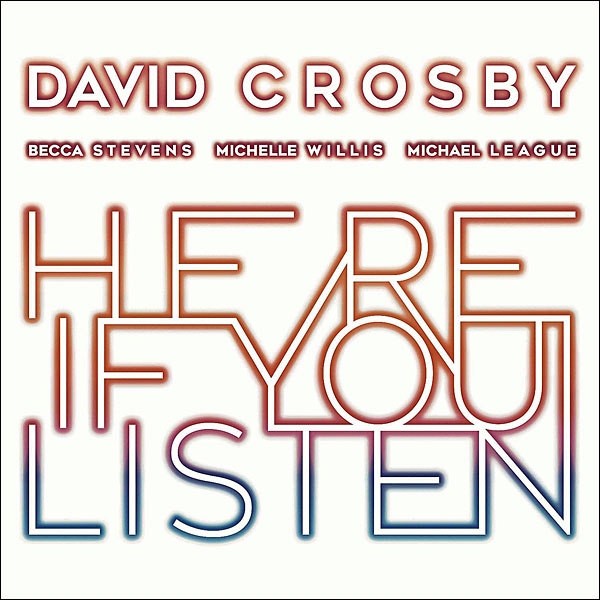 David Crosby: Here If You Listen
BMG 538431461 (LP), 538429532 (CD), none (FLAC 24/48). 2018. David Crosby, Michael League, prods.; Fab Dupont, prod., eng., mix; Josh Welshman, eng.; Greg Calbi, mastering. ADD/DDD. TT: 45:08
Performance ****
Sonics *****
In 1967, the year the Byrds would fire him, David Crosby sits in a room—a small space, from the sound of it—with a cheap microphone and a recorder of dubious merit. He's improvising some jazzy, open-tuned acoustic guitar strumming, adding nonlexical vocables on top. He then files away the resulting tape—clearly ahead of its time and of no use to his bandmates—for 50 years.
Then it's 1974, probably somewhere on that year's infamous, cocaine-saturated, "doom" mega-tour with CSN&Y. Crosby sits alone in another room. This time he's got a better mike and recorder, but he's still just strumming his acoustic and scatting some nonsense vocalizing. Again, he files the tape away for another time.
Then, in 2018, those creaky tapes are dusted off and transferred to a digital workstation, to become the seeds for two tracks, cleverly titled "1967" and "1974," of Crosby's new album, Here If You Listen. The genius move is that, instead of re-recording these older sketches, he conspires with producer Michael League to let them roll as-is a few minutes before overdubbing new parts, and finally finishing what he began more than half a century before.
The result is the audio equivalent of the moment in The Wizard of Oz when that film shifts from black and white to luxuriant Technicolor. Halfway through these tracks, as new voices and guitars come cascading in, the sound opens up and fills the room. There are no words in "1967"—it's clear the musicians are indulging in the glorious sounds of their voices and instruments, and it's an audiophile treat. To "1974" Crosby has added words and music, and transformed his aimless sketch into a complete and compelling new song.
This is the fourth album Crosby has released in almost as many years, and part of its strength derives from his claim that, from start to finish, it was written and recorded in just eight days. Its other strength is that, as in his recent past, to fill out the sound Crosby leans heavily on the talents of the Lighthouse Band, named for his album Lighthouse (2016). Grammy-winning Michael League of Snarky Puppy leads the Lighthouse pack with bass and vocals, with additional voices and instruments provided by Michelle Willis and Becca Stevens. Crosby knows a magical blend of voices when he hears it, but also lets each member take turns at the lead-vocal mike, which turns this latest solo album into more of a group effort.
Probably the most inspired choice of showcase for each singer's talents is the closing track, a reworking of the Joni Mitchell classic "Woodstock." Originally composed in 1969, "Woodstock" was released in quick succession in 1970 by CSN&Y, Mitchell, and Matthews Southern Comfort, in that order. So it's fair to wonder if we really need another version five decades later. It turns out that we do. A lone finger-picked acoustic guitar sets the mood as Crosby tenderly sings the first line, followed by League's reply for the second. They all come in on the chorus—and then, in the second verse, you'd swear Mitchell's tremolo voice has dropped in from the clouds. But it's Becca Stevens channeling ghosts from the song's past, and the subsequent choral harmonies, rearranged and updated, have a depth and complexity the original versions can't match.
David Crosby's solo career never really existed, partly due to his numerous musical collaborations, and partly because of his notoriously bumpy ride through most of his life (that tale coming soon in an "unflinching" documentary film directed by A.J. Eaton and produced by Cameron Crowe). But at 77 he seems to have landed softly, and is determined to make up for lost time with one brilliant flash after another before the lights go out, doling out wisdom ("Buddha on a Hill") and, in "Your Own Ride," grappling with mortality: "'Cause I been thinking about dying / and how to do it well / how to stand up and face it / or just lie where I fell."
But there's also a bit of the old fight left. He leans on the women of the world to take a turn in "Other Half Rule," and warns of a possible apocalyptic future in "Vagrants of Venice." But all of these tracks have one thing in common: They all sound wonderful, with rich bass lines carefully balanced against the nuanced voices, pianos, and guitars.
Here If You Listen is pressed on LP, though it seems the colored-vinyl Limited Edition is already long time gone. Not to worry—the album is available on CD and splendid-sounding 24-bit/48kHz FLAC download, and I'm pretty sure the latter won't sell out.
Many of you have probably stopped buying music by your past heroes. Here's a perfect opportunity to resume that broken habit. As Croz himself said in 1969, in the live 4-Way Street album: "This is wooden music again, so you gotta be cool; otherwise, you won't hear it."—Jon Iverson