2016 Records To Die For Page 6
---
Robert Schryer
---
Frank Zappa: Apostrophe (')
Zappa ZR 3851-1 (LP). 1974/2014. Frank Zappa, prod.; Steve Desper, Terry Dunavan, Barry Keene, Bob Hughes, Kerry McNabb, engs. Mastered directly from the original ½" analog master tapes. ADA. TT: 32:02
Evidence suggests that what Frank Zappa feared most was to create music that might be classified as easy listening. No surprise, then, that Apostrophe ('), a straight-ahead rock record by Zappa standards, became his biggest-selling US release. This doesn't mean it's watered-down Zappa; to quote his son Dweezil, Apostrophe (') has "everything you could ever want. It's got the rock, jazz, funk, the attitude and the humor, all at once." The music is still elaborately arranged and composed, but you can tap your foot to a lot of it. Still avant-garde, 40 years after its release. (Vol.10 No.8)
Randy Weston: The Spirits of Our Ancestors
Randy Weston, piano; Talib Kibwe, alto flute, alto saxophone; Billy Harper, Dewey Redman, tenor saxophone; Pharoah Sanders, tenor saxophone, gaita; Dizzy Gillespie, Idrees Sulieman, trumpet; Benny Powell, trombone, bass trombone; Alex Blake, Jamil Nasser, bass; Idris Muhammad, drums; Big Black, Azzedin Weston, percussion; Yassir Chadly, genbri, karkaba, clapping, vocals; Melba Liston, arrangements
Verve 511 857-2 (2 CDs). 1992. Randy Weston, Jean-Philippe Allard, Brian Bacchus, prods.; Joe Lopes, J. Newland, engs. ADD. TT: 106:29
The liner notes allude to a rough birth for The Spirit of Our Ancestors, but these two CDs of Morocco-inspired jazz betray no such hardship. Instead, they highlight the "two peas in a pod" dynamic that occurs whenever Randy Weston and Melba Liston collaborate. Here, Liston's arrangements are as warm and open as the African vistas they channel, infusing Weston's compositions with enough breathing room to allow such jazz stalwarts as Billy Harper, Dewey Redman, and guests Pharoah Sanders and Dizzy Gillespie, to shine unfettered. Weston himself is superb on piano, hitting notes that reverberate forever, like a thunderous reply to our ancestors. (Vol.33 No.2)
---
Jason Victor Serinus
---
Carolyn Sampson: Fleurs
Songs by Boulanger, Britten, Chabrier, Debussy, Fauré, Gounod, Hahn, Poulenc, Purcell, Quilter, Schubert, Schumann, Strauss
Carolyn Sampson, soprano; Joseph Middleton, piano
BIS 2102 (SACD/CD). 2015. Jens Braun, prod., eng. DDD. TT: 68:50
Not for several decades has anyone brought such a fresh voice to art song. Treasured as an early-music specialist, Carolyn Sampson waited until she was almost 40 before recording this delightful anthology of songs about flowers. While Sampson may not yet radiate her predecessor Elly Ameling's exquisite refinement, Victoria de los Angeles's incomparable charm, or Arleen Augér's emotional depth, her tone is so pearly fresh, her innocence so compelling, that Fleurs demands to be heard. The piano is occasionally too dominant, but the beauty of the singing and the sound's hi-rez clarity deserve a major recommendation.
Mahler: Symphony 9
Iván Fischer, Budapest Festival Orchestra
Channel Classics CCS SA 36115 (SACD/CD). 2015. Hein Dekker, prod., eng.; Jared Sacks, eng. DDD. TT: 75:55
What a musical and engineering triumph! Iván Fischer, far less indulgent than Leonard Bernstein, prefers a direct approach that allows Mahler's cries of pain and near-overwhelming sadness at the state of his health to pour over the listener. Fischer's fortes are things of wonder, horns piercing a huge soundstage in which the glowing colors of different instrumental groupings speak with an emotional directness and clarity too rarely encountered in recordings of such large forces. To sit before a great system and play the entire symphony, from its first sighs to its last dying whispers, is a revelatory experience. (Vol.38 No.9)
---
David Sokol
---
The Zombies: The Singles Collection: As & Bs 1964–1969
Big Beat/Ace CDWIKD 200 (mono CD). 2000. Various, orig. prods.; Nick Robbins, mastering. AAD? TT: 71:22
Although they had only three Top 10 hits in the US and none in their homeland, the Zombies are rightfully regarded as one of the most inventive British Invasion bands of the mid- and late 1960s. "She's Not There," "Tell Her No," and "Time of the Season" stand the test of time, but it's their lesser hits and deeper cuts that make this collection such timeless fun. Blessed with golden-throated singer Colin Blunstone, classical- and jazz-influenced keyboard whiz Rod Argent, and bassist Chris White (individually, Argent and White wrote most of the songs), the Zombies were masters of pop melody and romantic angst. White's "I Love You," a big hit for San Jose band People in 1968, is full of delicious lovelorn drama, as is his masterful B-side "Leave Me Be." Arranged chronologically, the 28 tracks of The Singles Collection, in original punchy mono, take us from 1964 to 1969, with all the hits, shoulda-been hits, and misses. From start to finish, these Zombies nuggets are to die for.
Aimee Mann: I'm with Stupid
DGC DGCD-24951 (CD). 1995. Jon Brion, prod.; Mike Denneen, Jack Joseph Puig, Jonathan Wyner, engs. AAD? TT: 56:19
Aimee Mann's early struggles in the music business are legendary, and she never again reached the commercial heights of "Voices Carry," the song that took her band, 'Til Tuesday, into the Top 10 in summer 1985. But as Mann's star power declined her songwriting blossomed, beginning with her glorious swan song with TT, Everything's Different Now—perhaps the greatest breakup album ever recorded—and continuing with her solo career in the 1990s and beyond. I'm with Stupid is her second solo album, and never have the themes of love and longing and record-company neglect been more articulately woven together, particularly in the perfect album-closing "It's Not Safe," in which she throws down the gauntlet: "A thousand compromises don't add up to a win." I'm with Stupid is power pop at its richest (see radio hit "That's Just What You Are"), and the guest list includes composer and record producer Jon Brion, Squeeze's Glenn Tilbrook and Chris Difford, and Mann's soon-to-be husband, Michael Penn. For the squeamish (I doubt Stereophile has many of those), Mann has no problem using the F word, and no one sings it with as much genteelness and relish as she does in "Long Shot" and "It's Not Safe." Mann would see a much-deserved commercial spike a few years later, with the Magnolia soundtrack, and would continue to make acclaimed top-shelf albums—but I'm with Stupid remains her greatest and smartest masterpiece. (Vol.19 No.6)
---
John Swenson
---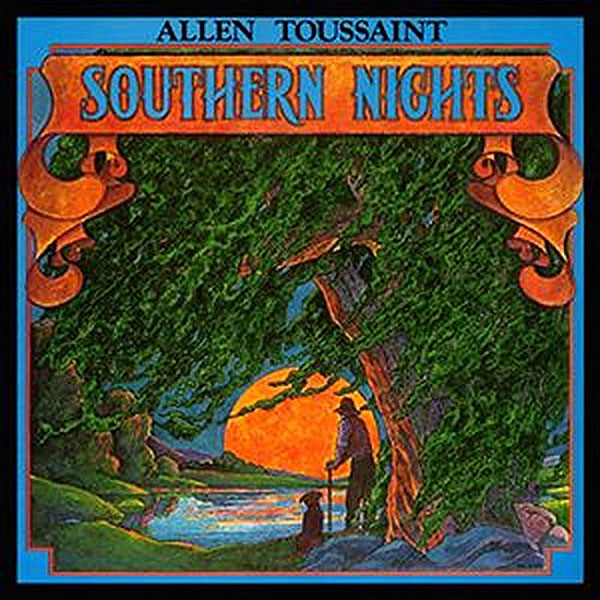 Allen Toussaint: Southern Nights
Reprise MS 2186 (LP). 1975. Allen Toussaint, Marshall Sehorn, prods.; Ken Laxton, Roberta Grace, engs. AAA. TT: 35:32
Over the course of the past half century, Allen Toussaint (1938–2015) was the most important musician of New Orleans music: a peerless producer, songwriter, performer, organizer, conceptualist, and public persona, and a man who had time to listen to everyone he met and a kind word for all. Southern Nights, his masterpiece, underscores the subtlety of his approach to music. Toussaint was a master craftsman in the studio, with an unerring ear for popular success in his productions of other people's music, but his own records are understated, magnificent works of art. The title track is well known for the thumping hayride that Glen Campbell turned it into, but Toussaint's original shimmers like gossamer in an ethereal whisper that actually evokes the spooky feeling of a humid night in subtropical Louisiana, when the gentle Gulf breezes caress the live-oak leaves into a soothing, rustling dreamscape. This aural fantasy shows a great artist at work on material that is beyond commercial considerations.
The Golden Eagles featuring Monk Boudreaux: Lightning and Thunder
Rounder 2073 (CD). 1988. Ron Levy, prod.; Mark Bingham, eng. DDD. TT: 46:53
The chants and dances of the Mardi Gras Indians are now fairly well known, especially after the Black Indians were used as one of the main story lines of David Simon's epic HBO series Treme, about the recovery of culture in New Orleans after the flood that followed hurricane Katrina in 2005. But only a few years before, the Black Indians were still virtually secret societies whose Sunday "practices" at various New Orleans locations were hermetic undertakings attended only by the initiated. In 1987, this historic recording took us inside one of these practices for the first time, when engineer Mark Bingham, who would later open the studio Piety Street Recording, in New Orleans, recorded for posterity Big Chief Monk Boudreaux and his gang, the Golden Eagles. Accompanied only by voices and percussion, Monk is more than just a storyteller in these tracks as he sings "Two-Way-Pak-E-Way," "Shallow Water, Oh Mama," "Shotgun Joe," "Indian Red," and "Sew-Sew-Sew." Monk is a conjurer, a celebrant at a profoundly spiritual event, and the reverie that built at this service must be heard to be believed.