John Coltrane's 1963: New Directions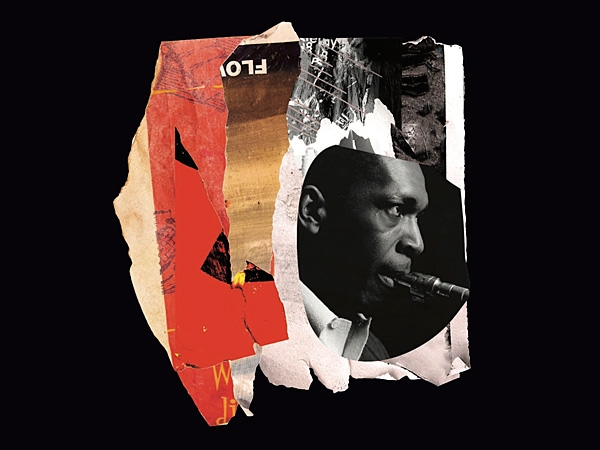 Only a few months after the extraordinary news and release of John Coltrane's
Both Directions at Once: The Lost Album
on Impulse! Records, which revealed the tenor and soprano saxophonist deep in transitional mode, comes Universal Music/Verve's attempt to cash in on the Trane fever. Joining music from
The Lost Album
with selections from other albums recorded by Coltrane in that year,
1963: New Directions
brings Coltrane's legacy to our commercially crass, modern marketplace.
Okay—that's how I imagine my compadres in the press describing this mother lode of early-'60s recordings, available as sets of three CDs and five LPs. Some journos bashed and trashed the authenticity of The Lost Album, noting that since the original tapes had been put up for auction before Universal claimed copyright, they weren't "lost" at all—or that the album was a middling-quality grab-bag of unfinished ideas, standards, and typical Trane repertoire. This sort of niggling, cynical, ungrateful thinking makes me ill.
Both Directions at Once: The Lost Album offers a glimpse into Coltrane's fabled world and meditative, exploratory mindset, and is cause for celebration. Though the new album sounds different from a classic Rudy Van Gelder production—the overall sound is somewhat muted—the sheer thrill of hearing fresh Coltrane recordings (as I did at the Van Gelder Studio), including two new compositions, performed at a critical point in his career, was simply a revelation.
The tracks gathered on 1963: New Directions (Verve AVER 10701) are in chronological sequence, the first being Coltrane with pianist McCoy Tyner, bassist Jimmy Garrison, and drummer Elvin Jones recording, on March 6, 1963, what would become The Lost Album. The next day, the quartet recorded classy standards with singer Johnny Hartman for the album John Coltrane and Johnny Hartman, Trane's label successfully positioning him as a middle-of-the-road, swinging balladeer. Never one to be dictated to by his label or producer Bob Thiele, Coltrane then upended any notions of tranquility with two blistering and beautiful live albums recorded that year, Newport '63 and Live at Birdland. Tracks from Dear Old Stockholm, half of which was also recorded in 1963, show the quartet swinging hard in a structurally more cerebral setting, with drummer Roy Haynes replacing Elvin Jones.
LPs 1 and 2 comprise the entirety of Both Directions at Once: The Lost Album (Deluxe Version), with its four versions of "Impressions," two versions of "One Up, One Down," "Nature Boy," "Slow Blues," and two "untitled originals"; LPs 3 and 4 comprise Dear Old Stockholm, John Coltrane and Johnny Hartman, and Newport '63, and disc 5 is devoted entirely to Live at Birdland and its expansive versions of the Trane stalwarts "Afro Blue," "Alabama," and "I Want to Talk About You." Revelations abound from these 10 clear-sounding vinyl sides, as well as brilliant soloing, unanswered questions, and musings on the eternal "what if?"
Also included in the LP set's heavy cardboard packaging are a 16-page booklet of photos and liner notes, a black-and-white photo of Coltrane, a reproduction of the original handbill announcing Coltrane's gig at Birdland of October 3–16, 1963 (call "Judson 6-7333" for reservations), and reproduction of the album's cover art by David Carson.
Remastered by Erick Labson and Robert Stoughton at MCA Music Studios, the sound on the advance pressings of the five-LP set I received was very good. The vinyl was flat, the surfaces surgically clean, and I heard no annoying pops, ticks, or other egregious noise. This was a largely silent set, and in lieu of finding the corresponding original mono pressings of Coltrane's Impulse! albums from the period, the discs satisfied. However, when directly compared to my original mono pressings of Crescent (1964, Impulse! AS-66) and Coltrane (1962, Impulse! AS-21), the five new LPs couldn't compete. The original pressings were more dynamic and powerful, presenting a deep soundstage from my Kuzma Stabi turntable with Kuzma Stogi tonearm and Hana EL cartridge. But as original Impulse! pressings are very hard to find in good shape on the non-auction market, this new set, with its lost treasure and well-chosen supporting material, is a steal at $92.34 from Amazon, and worthy of jazz and Coltrane fans. You could spring for some dodgy European import LPs most likely taken from unidentified digital sources, or go with this set and its solid provenance and consummate packaging. Mint original pressings of the Coltrane/Hartman LP sell in the neighborhood of $400, Live at Birdland for roughly $350, and Newport '63 for around $280.
As already confirmed by Both Directions at Once, 1963 was a pivotal year for John Coltrane and his rugged quartet. He would never score another popular hit, as he had with "My Favorite Things," and as his music became more personally internal and atmospherically external he would change bands and wives, lose an audience, and challenge norms of what constitutes jazz. That discussion rages on, with camps divided, and jazz audiences and musicians perhaps more polarized than ever. But John Coltrane's music lives on.