Bowers & Wilkins CM5 loudspeaker
With all the affordable loudspeakers I've written about in recent years, I couldn't remember the last time I reviewed one from the revered British firm Bowers & Wilkins. When I searched www.stereophile.com, I learned that the last time a B&W speaker had graced my listening room's carpet was more than seven years ago: the DM603 S3,
reviewed in the August 2005 issue
. I thought it was time to revisit the brand, and as the DM603 S3 was a floorstanding speaker, this time a bookshelf model seemed in order. But despite B&W's prowess in that most-affordable speaker size, I was in the mood to listen to a
serious
bookshelf speaker—not quite something in the league of their 805 Diamond ($5000/pair), but something between the flagship 800 Diamond series and B&W's entry-level 600 series. The midline CM series, comprising four models ranging from $1000 to $3000/pair, seemed to fit the bill. The CM1 ($1000/pair) looked interesting, but I was more intrigued by its newer, slightly larger sibling, the CM5 ($1500/pair), which is designed to handle more power and go deeper in the bass.
Designing
According to B&W's product manager, Mike Gough, the CM5 was designed as a step up from the CM1 in sound quality while still meeting the requirement of "generating excellent sound levels in confined spaces." The CM5's 1" aluminum-dome tweeter is tube-loaded, a technology pioneered in B&W's Nautilus series. The tube is intended to help absorb and damp any rearward-traveling vibrations that might color the sound. The CM5's 6.5" mid/woofer of woven Kevlar is impregnated with a stiffening resin, then coated with polymer to seal and damp the fibers. The surface of B&W's rear-firing Flowport is dimpled to reduce friction between the port and the air passing over it, and thus eliminate chuffing.
The CM5 is biwirable with two sets of binding posts. Magnetically attached grilles are included. I left these off; the drivers' nakedness slightly enhanced detail and transparency, and did nothing to detract from the speakers' beautiful real-wood veneer. My review samples were drop-dead gorgeous in rosenut, despite the CM5's conventional shape: a rectangular prism with sharp edges. (The speaker is also available in wenge or gloss black.) Although B&W offers the CM stand in black brushed aluminum ($400/pair), I used my trusty Celestion Si stands, loaded with sand and lead shot.
Listening
Right out of the box, with all of the first dozen or so recordings I threw at them, the CM5s evinced four remarkable strengths:
Detail Resolution, Transparency, and Noise Floor: As the music emerged from a silent black space with copious, transparent room sound, familiar recordings revealed inner instrumental details that I hadn't noticed before. It was easy to get lost in the music; these speakers made it effortless for me to pick out every subtle nuance in the performance.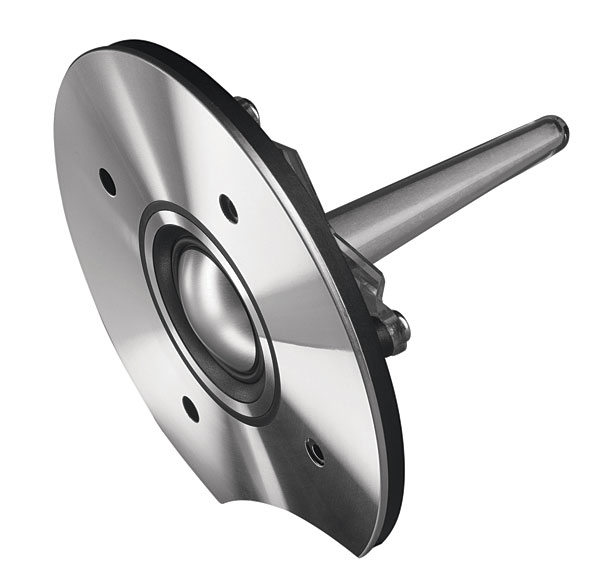 Transient Delicacy and Speed: The CM5 was able to reproduce lightning-fast transients with never a sense of sharpness or of a mechanical quality. Every transient seemed to float on its own bed of air, as in a live performance.
Huge Dynamic Envelope: Although the CM5's articulations of detail and transients went hand in hand with its ability to unravel low-level subtleties, it was its strengths at the opposite end of the dynamic range that knocked me for a loop. With all recordings I listened to, the speaker handled fortissimos as if it were a large floorstander: with nary a hair of compression or strain.
Neutrality: With one minor exception on certain recordings (see below), the speaker reproduced a dead-neutral balance throughout its frequency range, with coherent integration of high-frequency, midrange, and bass timbres.
Here's the greatest compliment I can pay the CM5: When I listened to each of three of my favorite recordings in its entirety, I experienced a level of pleasure and involvement that was beyond my experiences of these records with most other loudspeakers. George Crumb is my favorite classical composer, and for me, the recording of his Makrokosmos III: Music for a Summer Evening—by Gilbert Kalish and James Freeman on amplified pianos, and percussionists Raymond Des Roches and Richard Fitz—is definitive (LP, Nonesuch 71311, footnote 1). In 1979, I was blessed to have attended a performance of the work by these musicians in New York City, followed by a question-and-answer session with the composer. According to Crumb, the pianos are amplified not to distort or to otherwise alter their sound, but to give each instrument the dynamic range of a full orchestra. Makrokosmos III is replete with air and space—silences followed by delicate, barely audible textures or crushing fortissimos. Listening to this work through the CM5s, what floored me was the speakers' articulation of the densely modulated high-frequency flourishes that Crumb frequently scores for the percussion and the pianos' upper registers. As I noted while listening: "High-frequency transients. My God!!!" Although I thought I knew the sound of my Clearaudio Virtuoso Wood moving-magnet cartridge, for the first time, through the CM5s, it seemed to resolve transients like an expensive moving-coil.
The title track of King Crimson's Larks' Tongues in Aspic (UK LP, Island ILPS 9230) has textures similar to that of the Crumb work, in that subtle, delicate figures emerge from silence and culminate in sudden fortissimos. The piece opens with percussionist Jamie Muir's subtle noodlings, which get denser as the music swells to the climactic opening statement of the melody. This passage blasted through the CM5s with no trace of compression or strain. Moreover, as the louder passages grow more densely active, it was easy to pick out the subtle interaction of percussionists Muir and Bill Bruford, which, through lesser speakers, is buried under guitarist Robert Fripp's loud, distorted playing on his Les Paul.
Next year I'll be making a concert recording with my jazz quartet, Attention Screen, in which I'll trade in my piano for a recently refurbished pipe organ in a church with a wonderful acoustic. In preparation, I've been researching the 20th-century organ repertoire, with emphasis on works by György Ligeti, Olivier Messiaen, and Petr Eben. In Volumina, my favorite of Ligeti's works for organ, he stretches, harmonically and dynamically, what is possible to be produced by a pipe organ. Not only does the work test the frequency extremes of the instrument and create barely audible textures, as well as pull-out-the-stops fortissimos; Ligeti also creates unusual dissonances and unique timbres with partially opened stops. Listening to Gerd Zacher's recording of the work (LP, Candide CE 31009), I was in awe as the groaning, dissonant crescendos filled my smallish listening room. I was able to follow each note in the score, despite the density of the most difficult sections. The highest frequencies were reproduced by the B&W CM5s with crystalline clarity, extension, and air; the little speakers seemed not bothered at all at being asked to reproduce realistic pedal tones and volume levels.
But "simple" music, too, shone through the CM5. The speaker's detailed and dead-neutral midrange made it a natural match for pop vocal recordings. I was able to follow and enjoy Bob Dylan's every subtle vocal inflection in his "Desolation Row," from Highway 61 Revisited (LP, Columbia 9189). The three-part harmonies in "Mr. Spaceman," from the Byrds' Fifth Dimension (LP, Columbia/Sundazed 5059), had a rich, silky, angelic, three-dimensional quality. And in "(You Make Me Feel Like A) Natural Woman," from her Tapestry (LP, Ode SP77009), I noticed inner details in Carole King's voice that I'd never heard before.
The CM5's high-frequency extension and purity enhanced my enjoyment of well-recorded jazz. In Miles Davis and the Modern Jazz Giants (LP, Prestige 7150), the master's trumpet had just the right amount of metallic bite—but I was more impressed by the B&W's reproduction of the shimmering ring and decay of every mallet stroke dealt by vibist Milt Jackson. It was very easy to discern Jackson's signature dynamic envelope, even in softer passages.
---
Footnote 1: The sound quality of this 1974 recording is impeccable, though the surfaces of my LP are noisy. I fantasize that someday it will be issued on vinyl once again, by Chad Kassem's new audiophile pressing plant, Quality Record Pressings, in Salina, Kansas. If you do, Chad, I'll order 20 copies.