Aqua Acoustic Quality Aqua Formula xHD D/A processor Page 2
Three days and three pages of extremely detailed notes later, after the Formula xHD had passed the 400-hour mark, its top began to open up, revealing a sound suffused with light and a beautiful, warm midrange. Burning it in further while reviewing soprano Sonya Yoncheva's
The Verdi Album
, with Massimo Zanetti conducting the Munich Radio Orchestra (CD, Sony Music 0889854179823; 24/96, Primephonic), I finally noticed the emergence of a three-dimensional soundstage, and the Formula xHD's ability to reveal the changing colors and weights of voice and orchestra as emotions shifted—as well as moments when Yoncheva's vocalism was less than spot on. I threw out my notes and started over.
One familiar recording that I love, and play regularly to test systems, is Eileen Farrell's Sings Verdi (CD, Sony Classical Masterworks 62358/ArkivCD). Through the Formula xHD her low tones sounded wonderful, and the warmth of her voice remained intact. That said, her highs were softer and didn't float as freely as I'm accustomed to hearing, and the cello section of the Columbia Symphony Orchestra (conducted by Max Rudolf) had less weight. Ditto Beverly Sills's performance of Richard Strauss's transcendentally beautiful song "Breit' über mein haupt," with Aldo Ceccato conducting the London Philharmonic, from The Art of Beverly Sills (CD, EMI Classics 64425/ArkivCD): the midrange was gorgeous, but the highs seemed less radiant than I'd hoped for.
Some of the gruffness that has recently surfaced in the voice of baritone Matthias Goerne is audible in his and pianist Markus Hinterhäuser's recording of "Meine Rose," from Schumann's Six Poems, Op.90, on their recital Einsamkeit (24/96 WAV, Harmonia Mundi HMM 902243/HDtracks)—but the Formula xHD smoothed it over. In addition, the deepest resonances of the voice and the bottom line of the piano were shortchanged.
When I turned to Murray Perahia's recording (on piano) of one of my favorite Handel works, the Harpsichord Suite in E, HWV 430 (CD, Sony Classical 62785), his instrument was less naturally percussive than I'm accustomed to—it sounded as if the soft pedal was depressed. Given that I also heard less bass foundation and natural treble ring than usual, the joy at the center of this superb performance touched me less.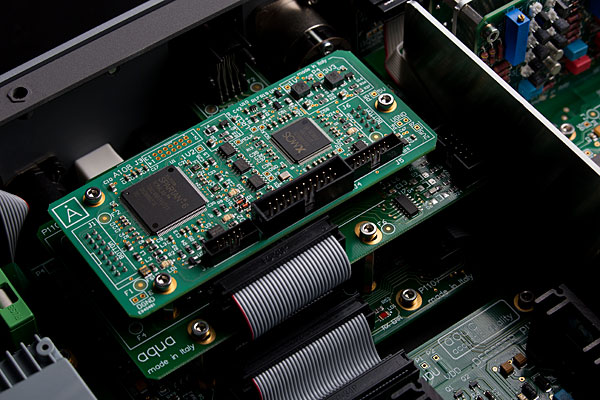 Although I couldn't play the two-channel DSD layers of SACDs from my Paganini transport, which requires a DAC with dual AES/EBU inputs, I listened to the 16/44.1 layer of a recording of Vadim Gluzman performing Brahms's Violin Concerto, with the Lucerne Symphony Orchestra under James Gaffigan (SACD/CD, BIS 2172). Focus was excellent, with beautiful warmth and fullness in the midrange, a sweetness to the sound, and a credible halo of air around the violin. I didn't hear the level of color saturation I know this recording contains, but that may well be because I was listening to PCM 16/44.1 instead of DSD64.
Computer Playback
After John Atkinson pointed out that almost no-one who buys a Formula xHD will own a dCS Network Bridge, out came ye olde MacBook Pro running Audirvana Plus, a Nordost Valhalla 2 USB cable, and two AudioQuest JitterBug USB noise attenuators. Around the same time, I switched amplification from my Pass Laboratories XA200.8 monoblocks to Dan D'Agostino Master Systems Progression monoblocks, which, from previous experience, I expected to deliver tighter, stronger bass, as well as more detail and wider dynamic range.
While previous listening had convinced me that the sound of files played from a computer could not equal that from the Network Bridge, my MacBook Pro came into its own after I'd spent half an hour subjecting it to warm-up and demagnetization tracks. Only then did its soundstage widen and its edginess decrease, and listening again become a pleasure.
Nonetheless, the sonic limitations of using a multipurpose computer as a source became apparent when I played a bass-response demo track given me by Wilson Audio's Peter McGrath: "Limit to Your Love," from James Blake's James Blake (16/44.1 WAV, A&M 949999). As much as this track sounded clear and transparent, low bass was present but of lesser impact than what I'm used to. Ditto "Electrified II," from Yello's Toy (24/48 WAV, Polydor 4782160/HDtracks), in which the bass response was more moderate than through my reference DAC, and the annoying sizzle around voices was toned down. When I briefly listened via the dCS Network Bridge, the sound of both recordings was wetter, with brighter highs, clearer snaps in the Blake, quieter backgrounds, and slightly more bass.
Further exploration of treble and bass response via computer confirmed that, in a high-resolution version of Bach Trios, by mandolinist Chris Thile, cellist Yo-Yo Ma, and double bassist Edgar Meyer (24/96 WAV, Nonesuch 558933/HDtracks), Meyer's instrument was diminished in presence and prominence. As for Ludovic Morlot and the Seattle Symphony's recording of Stravinsky's The Rite of Spring (24/96 WAV, Seattle Symphony Media SSM1005/HDtracks), the bass was less heart-stopping, and the extra frisson in the highs that I'm used to hearing was absent.
How Does It Stack Up?
Were this lack of bass from audio files and the toned-down response on top due to the computer source alone, or was it also revealing limitations in the Aqua Acoustic Quality Formula xHD? I removed the dCS Paganini transport and replaced it with the dCS Rossini DAC ($23,999), whose MQA update I evaluated in our May 2018 issue.
To ensure an even playing field, I set the Rossini's volume control for unattenuated output, and used the Lamm L2.1 Reference preamp to control volume. I also used the same MacBook Pro and Nordost USB link to send digital files.
To those tempted to cry foul at this comparison of the Formula xHD with the dCS Rossini, which costs $7000 more: First, the Rossini has its own volume control. In an all-digital system—even one with a BD player such as the Oppo Digital UDP-205, which can output to an external DAC—this feature obviates the need for a preamp (here, one that costs $22,790).
After several days of warm-up, the Rossini was ready. Upsampling to DXD (the Rossini's upsampling can't be defeated), it delivered more profound bass, greater three-dimensionality, and more deeply contrasting colors with the James Blake track. The Stravinsky was even more telling: the Formula xHD's lovely warmth was replaced by a more saturated but neutral color palette. The Rossini also produced a more convincing impression of the so-so acoustic of Benaroya Hall, where the Seattle Symphony performs and records: the image of the orchestra was set farther back, and the soundstage was wider and higher. Finally, the Rossini's greater bass translated into a more thrilling listening experience that made it more clear why the audience erupted in cheers after that huge, final bass wallop.
Conclusions
Aqua Acoustic Quality's Formula xHD is an extremely fine-sounding DAC whose warmth and ability to decode files of extremely high resolution should win it many admirers. Many will also applaud its designer's rejection of digital filters, oversampling, upsampling, and MQA. Thanks to the Formula xHD's ability to smooth over digital's rough edges, I don't hesitate to recommend that it be auditioned by anyone with $17,000 to spare, and whose system suffers from bright or harsh sound, or who values, above all else. the warmth and bloom often ascribed to analog sources.